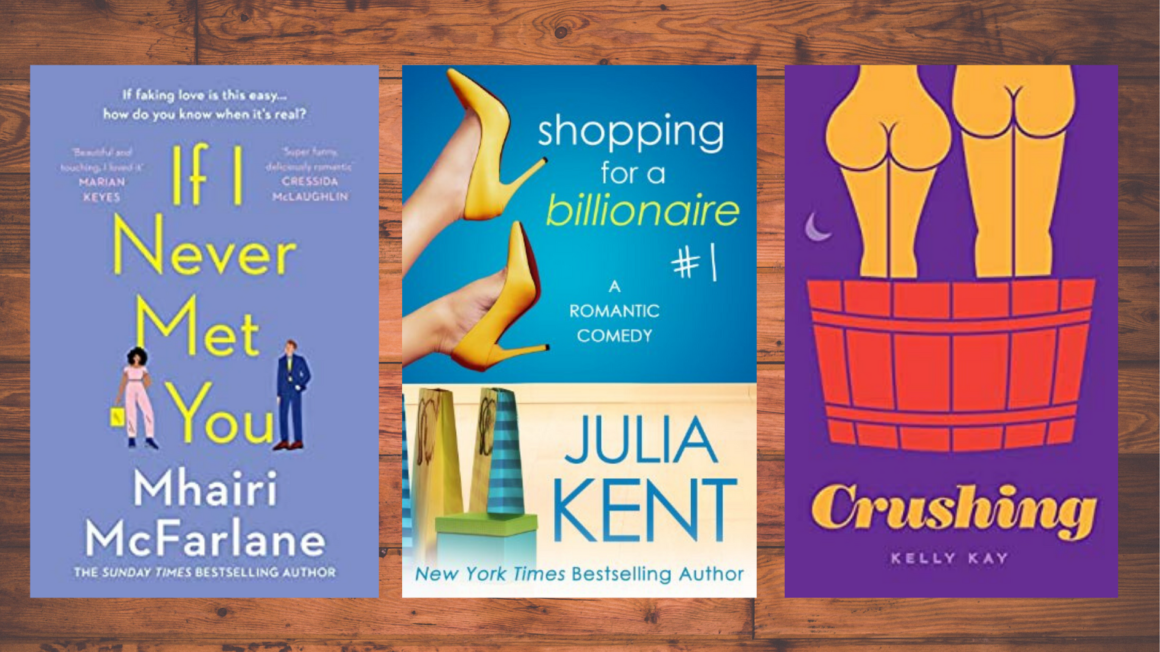 The next top picks from my Kindle library are a crazy billionaire romance with a meet cute in a men's bathroom, a steamy drama set in a Sonoma county winery, and a fake romance novel set in Manchester. The books were either recommended to me by authors, or found by my eternal quest to find writers like me.
They were fantastic reads and I hope you enjoy them too. If you can think of a book I should be reading then please let me know via email or social media.
Evie x
_________________________________
'Crushing' by Kelly Kay
Crushing starts with a romance between Noelle (Elle) and Asher, a silver fox wine expert. I got a bit concerned as they became intimate as he sucked (not in a good way) in bed, and was more concerned with folding his clothes and getting himself off in the shortest possible time than making sure it was good for Noelle. I kept thinking 'he can't be the one. Surely not? Don't inflict this arse on her!'
Thank goodness, pretty soon after she kicks him to the kerb we meet the man who puts the A into alpha. Josh is hot, hard and horny and they spend a night together that blows their minds and trashes her hotel room. They part ways, believing they will never see each other again, however you know how things go in romance novels, and the very next morning, he's there at the important presentation she's giving and thinks she sought him out to get insider intel.
From this point on lust turns to hate and they spar with each other until he pushes it too far and nearly destroys her business. This is a turning point for Josh as he has to take a good hard look in the mirror and work out if he wants to be like his domineering grandfather, or like his wonderful parents who he keeps cutting out of his life. But just as his relationship is getting back on track, a client of his, a heavy hitting mobster, comes into his personal life with the subtlety of a wrecking ball…
I absolutely loved this book. It's fantastically written, incredibly engaging and super hot. Kelly has also done her research and the world of wine growing and making is detailed and immersive. It's a wonderful read and I couldn't put it down.
The only flag to raise is that this fabulous book ends on a cliffhanger, so you need to be ready to move straight onto book two to find out what happens next!
The story continues in 'Rooted' and concludes in 'Uncorked'.
Official Book Blurb
An Enemies to Lovers Wine Country Romance Set in Sonoma, California's Wine Country.
If Only That Night Weren't So Damn Good.
Noelle
He was most certainly not going to make another appearance in my life. A year ago, I went to sleep alone every night. I prayed to be heard and seen. I wanted a life that made me happy. I thought it would be my successful Manhattan marketing business that would bring me joy and a fulfilled life. I knew I could be enough. I don't need anyone but myself. And then my heart and life got unexpectedly cracked open. I hate that I'm vulnerable and hopeful now. I'm not good with hopeful. And I really freaking hate that the most arrogant, obnoxious, rude, gorgeous and perfect man is the one that made me hopeful. I'm desperately trying not to remember that one electric night but his face keeps creeping back into my mind.
Joshua
She's the most irksome human I've ever met, and I've met some irksome humans. I don't have time for this. I'm the master of my world. I slay anyone in my way. I conquer business, and my personal life is under my control. Well, it was until her blonde bangs fell over her face while she was sipping bourbon. There is no one on this earth who is more maddening than her. I don't know why she's at my family's winery or where she came from. But what I do know is that I was never supposed to see her again. That night, it was supposed to be one night. One! And now she's here and driving me crazy with her flawless face and condescending attitude. We're either going to screw up each other's lives or… end up screwing.'
Want a sneak peek inside Crushing by Kelly Kay? Click on the image below!
Follow Kelly's work through her website and social channels –
_________________________________
'If I Never Met You' by Mhairi McFarlane
One of the many brilliant things about this book is how it slowly reveals itself, picking apart the beliefs of the protagonists as well as the reader, and dropping little stones into a bucket of water until the truth comes spilling out. So often we get so accustomed to a situation that we think it is normal. For Laurie, she's been in a relationship for 18 years, and not only is this her normal, but she feels lucky. She thinks she's got a good one.
But when her boyfriend dumps her out of the blue she's left with her whole world cracked. They were not only living together, but they work together, and when she finds out he is seeing someone else, everything falls apart. It calls her to question everything about her relationship and her life, including her absent music producer father, a star from the 'Madchester' days of house music.
Into this maelstrom comes the gorgeous Jamie. He needs a foot up at work, yet everyone thinks he's an immature player. He proposes a fake romance to Laurie. It will help him look credible, and help her get revenge on her ex.
But of course the path of fake love never does run straight, and as Laurie and Jamie grow closer, those around them start losing it. Mhairi McFarlane has talked about wanting to write a book that spends a lot of time detailing the reality of grief following the end of a relationship and she has done an amazing job. It is so painful at points that I was begging for the romance to heat up. She also deals deftly with misogyny both in and out of the workplace as well as race and prejudice. Even the gorgeous Jamie has his own issues, and being as good looking as he is comes with its own set of problems.
I loved this novel. It's brilliantly written and a book that makes you think.
Official blurb
Laurie and Jamie have the perfect office romance
(They set the rules via email)
Everyone can see they're head over heels
(They staged the photos)
This must be true love
(They're faking it)
When Laurie is dumped by her partner of eighteen years, she's blindsided. Not only does she feel humiliated, they still have to work together.
So when she gets stuck in the lift with handsome colleague Jamie, they hatch a plan to stage the perfect romance. Revenge will be sweet…
But this fauxmance is about to get complicated. You can't break your heart in a fake relationship – can you?
Want a sneak peek inside If I Never Met You by Mhairi McFarlane? Click on the image below!
Follow Mhairi's work through her website and social channels –
_________________________________
'Shopping for a Billionaire' by Julia Kent
I was chatting to one of my writer friends about authors who wrote good romantic comedies and she said I had to check out Julia Kent. So I downloaded Shopping for a Billionaire 1, not realising that it is a novella which ends before the story does.
Julia Kent is a writing machine, and her Shopping for a Billionaire series runs to 15 books. Each one is novella sized – around half the length of a regular book. So if you like the sound of the story after my review, get the Shopping for a Billionaire box set which covers books 1-5 and gives you more billionaire bang for your buck.
So, despite this being a novella which doesn't have a satisfying end, it is very funny, smart, well written and hot. Shannon has a crazy life, a psycho cat and a bonkers mother. But she's also sweet, kind and loyal and instantly attracts the attention of Declan when she encounters him in a men's bathroom. She's a mystery shopper so even though she's a woman she has to give a full report on the state of all the bathrooms in the cafe, not just the female ones.
During her inspection, Declan comes in and finds her rescuing her mobile phone after it has dropped down the toilet. The consummate professional, Shannon can't let on that she's doing a mystery shop so has to think on her feet, concocting a ridiculous story that she sticks to no matter what. After their brief encounter, they meet a few hours later at a business presentation, spark fly and he is determined to make her his.
Shopping for a Billionaire is super fun and the kind of book you read when you want to give your mind a holiday. And if you like the story and the characters then rest assured that Julia has written 14 more books in this world…
Official book blurb
Ever meet a hot billionaire while your hand's in a toilet in the men's room of one of his stores?
No? So it really is just me. Hm.
When you're a mystery shopper, you get paid to humiliate yourself, all in the name of improving customer service. Romance isn't in my job description.
But the day I met Declan McCormick it was love at first flush.
Until I nearly castrated him with my EpiPen.
How Hot Guy and Toilet Girl became an item involves my crazy mom, a trip to the ER, my homicidal cat, my fake wife, and true love.
Don't look at me like that. I'm just doing my job.
I'm shopping for a billionaire.
Want a sneak peek inside Shopping for a Billionaire by Julia Kent? Click on the image below!
Follow Julia's work through her website and social channels –
_________________________________
So those are my latest top reading picks. For an up to date sneaky peak into my library, check out my social media and see what books are tickling my fancy. And don't forget to tell me what you're reading at the moment.