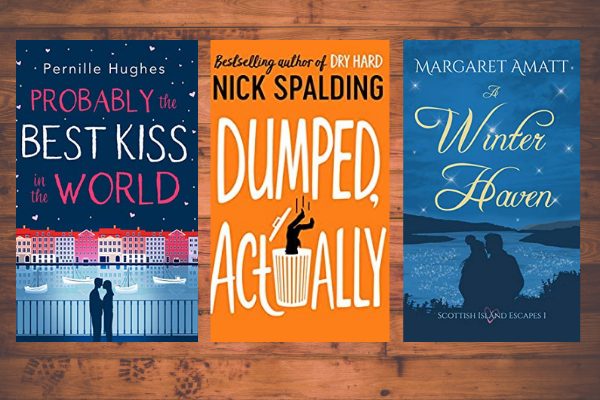 I've got a fabulous gift basket of books by (mainly) British authors for you in this blog. Pernille Hughes takes us from her home in the UK to her birthplace of Denmark in search of great beer and the best kiss in the world; Nick Spalding takes on a quest to discover why he's so unlucky in love; and Margaret Amatt whisks us north to the Isle of Mull for a heartfelt second chance romance.
You'll learn about crocheted tampons, and home brewing, waxing for men, and what a Scottish winter is really like. These books are fabulous reads, and if you're after something with a little less steam than some of the books I've been recommending, then any one of these will fit the bill. Let me know what you think of them via email or social media, and don't forget to send me your reading recommendations too!
Evie x
______________________________________
Probably the Best Kiss in the World by Pernille Hughes
Jen Attison has got her life just so. She was only just an adult when her parents died in a car crash, leaving her to parent her fourteen-year-old sister, Lydia, who lost half her leg in the accident. Jen had to put her dreams of becoming a professional beer brewer on hold, and so has a hideous job marketing incontinence pads and crocheted tampons. Her bosses are self-absorbed, workshy nightmares, and their brother, Robert, is her boyfriend. Her relationship with him is safe, predictable and exactly what she wants. The only nod to her passion is her microbrewery at the bottom of the garden.
However her sister and best friends want more for her, and when she accepts a marriage proposal from Robert, they take her off to Copenhagen for weekend minus spreadsheets and boredom. When a boat trip goes wrong, Jen ends up being fished out of a canal by a Scandi hunk called Yakob. A few hours in his company and she'd blindsided. And when he kisses her goodnight, she knows her world will never be the same again. Back in the UK, her real life starts to feel a little less than perfect. She's being railroaded by Robert and his family into doing what they want, and her sister is rebelling against being coddled and smothered by her. As Jen starts to unravel, Yakob comes back into her life. Can she make the right choices for her life and not lose everyone closest to her?
I read this book over a couple of days, only putting it down when I had to sleep. It's really well written, heartfelt, and deep. If you're after steam then it's behind closed doors, but the description of the 'best kiss in the world' is simply magical. The supporting characters are really well drawn, in particular Jen's younger sister, Lydia. It helps that I have a Lydia in my life who is just as strong-willed as the one Pernille Hughes has created, so that struck a very personal chord. It was meticulously well-researched, and both Copenhagen and the process of brewing beer really came to life in my mind.
I loved this book and hope you do too!
Official Book Blurb
Jen Attison likes her life Just So. But being fished out of a canal in Copenhagen by her knickers is definitely NOT on her to do list.
From cinnamon swirls to a spontaneous night of laughter and fireworks, Jen's city break with the girls takes a turn for the unexpected because of her gorgeous, mystery rescuer.
Back home, Jen faces a choice. A surprise proposal from her boyfriend, 'boring' Robert has offered Jen the safety net she always thought she wanted. But with the memories of her Danish adventure proving hard to forget, maybe it's time for Jen to stop listening to her head and start following her heart…
Want a sneak peek inside Probably the best kiss in the world by Pernille Hughes? Click on the image below!
And follow Pernilles's work through her website and social channels
______________________________________
A Winter Haven by Margaret Amatt
A Winter Haven is the first book in the Scottish Island Escapes series by Scottish romance author Margaret Amatt. The series is set on the isle of Mull, and the writing is so evocative that after reading one of Margaret's books you'll feel you've been there too. One of the things I love about this book is that it doesn't sugarcoat island life, especially what a Scottish winter is like. We may have visited Scotland during the summer, but these books allow us to experience it in winter from the warmth of our homes.
The story is a second chance romance, following Robyn, as she returns home to the family hotel to find a business struggling and her mother bitter and angry. Robyn's got enough on her plate, but she feels she has to help, even though her presence, and her help, aren't welcomed. On top of everything, she has to see Carl, her first love. They broke up after a tragedy, many years ago, and things are still not right between them. Can she mend bridges with her family and find her way back to Carl, or should she cut her losses and leave before things get any worse?
It's testament to the power of Margaret's writing and storytelling that I became really anxious reading A Winter Haven. I so desperately wanted to go into the book, shout at Robyn' mum, kick her brother in the nuts, and give her a big hug. Luckily (no spoiler alert), it all ends happily, and not only that, we get to catch up with Robyn and Carl in the rest of the series.
So, if you love Scottish island life, beautifully drawn characters, love and romance, then I heartily recommend reading Margaret Amatt's Scottish Island Escapes series, starting with A Winter Haven.
Official Book Blurb
She was the one that got away… Now she's back. Career-driven Robyn Sherratt returns to her childhood home on the Scottish Isle of Mull, hoping to build bridges with her estranged family. She discovers her mother struggling to run the family hotel. When an old flame turns up, memories come back to bite, nibbling into Robyn's fragile heart.
Carl Hansen, known as The Fixer, abandoned city life for peace and tranquillity. Swapping his office for a log cabin, he mends people's broken treasures. He can fix anything, except himself. When forced to work on hotel renovations with Robyn, the girl he lost twelve years ago, his quiet life is sent spinning.Carl would like nothing more than to piece together the shattered shards of Robyn's heart. But can she trust him? What can a broken man like him offer a successful woman like her?
Want a sneak peek inside A Winter Haven by Margaret Amatt? Click on the image below!
And follow Margaret's work through her website and social channels
______________________________________
Dumped, Actually by Nick Spalding
Journalist Ollie has just been dumped after a spectacular marriage proposal involving a roller coaster and an Oompah band goes tits up. Wallowing in a pit of self-pity, he writes an article about his public humiliation and disaster of a love life, which then goes viral. His readers give him advice on how to move on, and he decides to follow it, hoping that it will not only lead to good stories, but stop himself getting perpetually dumped by every girlfriend he's ever had.
This leads to a series of unfortunate and hilarious episodes, from accidentally masturbating in front of Bambi, to having every pubic hair removed by a mad Scotsman. In the process, he discovers a deeper truth about love and himself.
I've been attracted to Nick Spalding's books for a while now, mainly because they have such amazing titles. 'Dumped, Actually' is my first introduction to his stories and style and I loved it. He writes fantastic comedy and characters, all wrapped up in a great premise. The humour is universal but also uniquely British, and Ollie's the perfect antidote to the alpha billionaires found in so much of the romance genre.
If you're after a fabulous and funny read then give 'Dumped, Actually' a go!
Official Book Blurb
When Ollie Sweet is very publicly dumped by 'The One', his seemingly perfect world dissolves into misery, self-pity, and a bizarre rooftop meeting with a suicidal man in flip-flops. While most would seek out the support of loved ones at such a torrid time, natural-born journalist Ollie asks the subscribers of his website: how did they get over their failed relationships?
When Ollie follows some of their more extreme advice, chaos inevitably ensues, including accidentally exposing himself to some unsuspecting wildlife, jumping out of a perfectly serviceable aeroplane, and suffering from an extremely painful bottom, courtesy of a maniacal Scotsman.
Of course, all of this goes down a storm with his online following, and Ollie soon finds himself the centre of everyone's attention – whether he likes it or not!
With his eclectic collection of supporters to guide him, can Ollie mend his broken heart, heal his broken bottom, and learn to find happiness again?
Want a sneak peek inside Dumped, Actually by Nick Spalding? Click on the image below!
And follow Nick's work through his website and social channels
______________________________________
So there you go! I hope I've piqued your interest to give one of these wonderful books a whirl, and I'd love to know your thoughts if you've already read any of them. Get in touch via my social channels to let me know, and don't forget to follow me for all the updates from Evie land. If there's a book you think I need to be reading, then tell me! I'm always on the hunt for my next great read.
Evie x