Evie Alexander is a British author who knew from an early age that she liked a Happy Ending. She writes steamy romantic comedies to make you smile, and her Kinloch series of books is being launched in 2021.
Follow her blog for musings about the writing process, book reviews, and between the covers looks at her stories, and follow her across social media for even more.
And if you'd like exclusive access to the prologue and first chapter of Highland Games, plus much more bonus content, sign up for her newsletter!
Welcome aboard!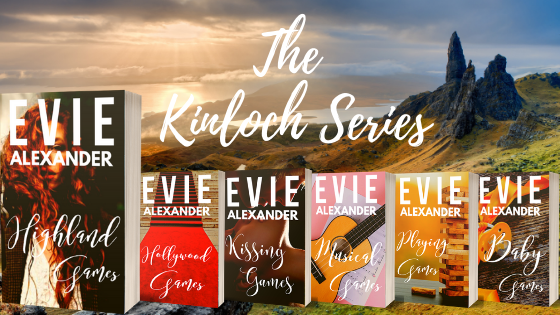 Latest Blogs
On creating characters

When this comes to finding characters for my stories, I usually don't have a problem. I think about an idea for someone, and then look at what events in their culture or childhood have shaped them the way they are. Then I ask what their wants and needs are at the start of the story and how I can make it difficult for them to achieve what they desire.

150 Romance novel tropes

Tropes are everywhere. In Shakespeare, Austen, everyday language and your favourite TV shows. Tropes are common situations in narratives that help structure a story. 'Enemies to Lovers' is a very popular trope which can be found in The Taming of the Shrew, Pride and Prejudice, The Hating Game, and You've got Mail. Tropes are commonly used story devices that we all recognise on some level.

What Evie is Reading

This month my books are all debuts from three incredible new authors! Our heroines are a Victorian lady scientist, a Kiwi carpenter, and a young woman on the run who finds safety and solace in a tattoo parlour.