Evie Alexander is a British author who knew from an early age that she liked a Happy Ending. She writes steamy romantic comedies to make you smile, and her Kinloch series of books is being launched in 2021.
Follow her blog for musings about the writing process, book reviews, and between the covers looks at her stories, and follow her across social media for even more.
And if you'd like exclusive access to the prologue and first chapter of Highland Games, plus much more bonus content, sign up for her newsletter!
Welcome aboard!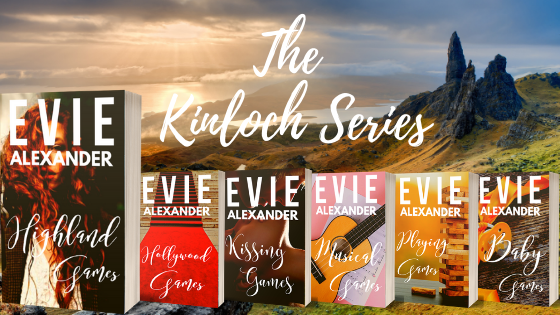 Latest Blogs
Behind the Scenes in Evie Land – July 2021

We're half way through 2021 and I thought I'd celebrate by finishing book four, having a near-death experience, buying a broken mobility scooter and destroying the garden with a ninja farmer. If you want to know more about this, plus meeting the SAS, seven foot blue aliens with ridged penises, and the latest on Highland Games, then read on!

What does a book editor do? (And do I need one?)

When you can't see the wood for the trees, an editor can bring out their chainsaw or clippers, cut out the dead wood, prune your sentences, and give your words room to breathe. Many editors also specialise in certain genres and stages of production.

What Evie is Reading

f you're in the mood for high octane, super-charged, filthy romantic comedy then the three books I have for you this month will knock your socks off, as well as the rest of your clothes. If you've ever wanted to know what happens when you make pizza toppings spell 'fuck you', what happens after you have several orgasms in a lift whilst cursing the person giving them to you, and what happens when an entire town bets on when you will have sex, then you need to read these books immediately. All three are by American authors, and each one is bold, brash, hot and hilarious. I absolutely loved them and hope you do too!