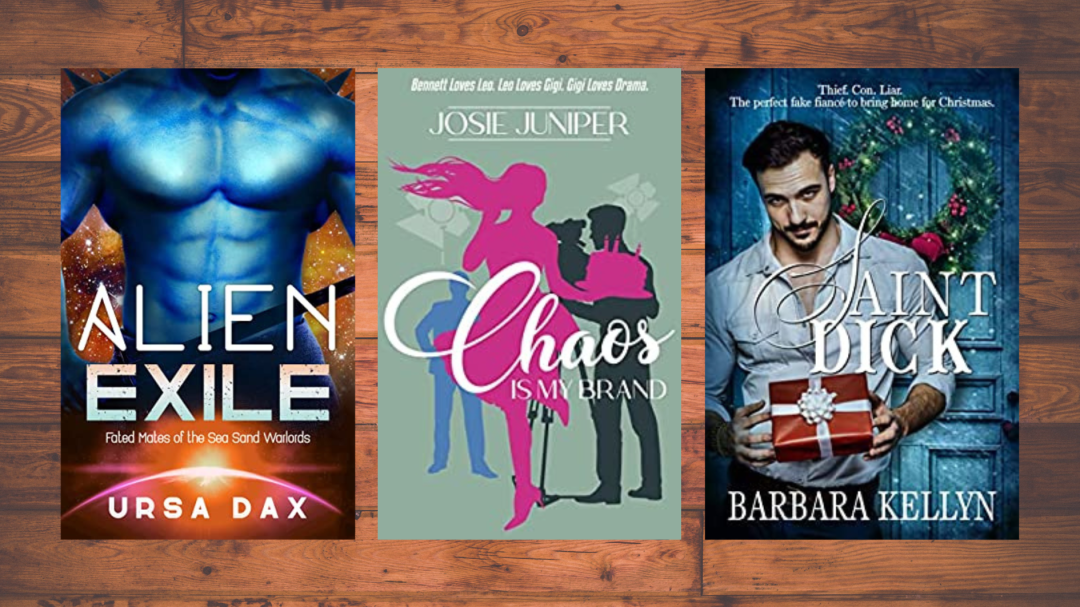 I love the diversity of romance novels and this month I've got three very different books for you which are all absolutely fabulous in their own unique way. Saint Dick is a phenomenal Christmas romance that should be read at ANY time of the year, Chaos is my Brand is one of the most intelligent and vibrant books I have ever read, and Alien Exile is yet another beautifully written, page-turning, heart wrenching book from Ursa Dax. I loved them all and can't wait to share my reviews with you!
Evie x
______________________________________
Saint Dick by Barbara Kellyn
Kyla's not looking forward to Christmas. She's promised her parents she's bringing home a fiancée but it's all gone terribly wrong. She's lost her job as well as her future husband and is now selling her engagement ring to make ends meet. But turning up at home empty-handed is the least of her worries when the jewellery store is robbed by gun-wielding Santas. And if that was bad, discovering one of them is the bad-boy she was in love with in high school is even worse.
Digby's life has always been hard, but now, fleeing a crime scene in a hail of bullets with his ex-best friend's little sister in tow, things have gotten a whole lot worse. Her idea to hide out at her cop parent's house? Crazy. Her idea to fake an engagement? Insane. But with his accomplices and their murderous crime boss hot on his heels, he bites the bullet and steps foot inside the house he hasn't seen for thirteen years.
Kellyn is an extremely intelligent and nuanced writer. She understands that relationships are messy, awkward and complicated, whether they're with a friend, family member or partner, and those in Saint Dick are complex and engaging. Kyla's decisions, no matter how back-to-front they may seem, are firmly rooted in her character and backstory. Digby is also the perfect anti-hero. He's damaged and makes the wrong choices over and over again, but this makes his redemption all the more satisfying.
Saint Dick has it all. Laughs, feels, suspense, steam and an attack dog named Donut. If you're looking for a brother's best friend, second chance romance, enemies-to-lovers, fake relationship story then you need this book in your life. It's brilliantly written, utterly captivating and I couldn't put it down. For a fabulously festive read, download Saint Dick now!
Official Book Blurb
Effing up the last job he swore he'd pull for a merciless crime boss wasn't in Digby's plans. Neither was reuniting with his best friend's lippy little sister in the middle of the bungled jewel heist. But there's no time to reminisce. Unwilling to leave Kyla at the hands of his trigger-happy accomplices, Digby risks everything to flee with her in a hail of bullets and bickering.
So, now what? Despite being burned in the past by Digby's skeevy, self-destructive behavior, Kyla hatches a mutually-beneficial scheme to lay low at her parents' home over Christmas by faking their engagement. The pair still must dodge a minefield of holiday hazards including fooling her family of naturally suspicious cops, eluding the goons gunning for them, and most perilous of all, revisiting their complicated romantic history while sharing a twin-sized bed.
If your favorite tropes are brother's best friend, enemies to lovers, fake relationship, and second chance romance, you'll fall for Saint Dick – a funny, steamy holiday crime caper featuring a morally questionable anti-hero with a softer side, and the wily woman who hates to love him.
Get your hands on a copy of Saint Dick by clicking here!
And follow Barbara Kellyn's work through her website here. And on social media
______________________________________
Chaos is my Brand by Josie Juniper
TV star Gigi Becker's life is not going according to plan. She's a 'comedy cook' and her show rates high. But her boss, an all-round cockwomble celebrity chef of a husband, wants her out of sight and out of mind so he can carry on with whatever starstruck young thing he's managed to persuade to sample his sausage. He relocates Gigi to the backwoods of Alabama, where he hopes she and her show will die a quiet death. But what he doesn't count on is Gigi's irrepressible energy, and the relationship she builds with cameraman Leo and director Bennett.
I went into this story with no expectations and was captivated from the first page. Chaos is my Brand is a riot of colourful characters, whip-cracking wit, spicy heat, and deep emotion. It made me snort laugh on one page, then squeezed my heart on the next. Juniper has written an incredibly polished and mature piece of work, that shows not only that she understands people, but that she can write in a way that drags you completely into their lives.
As a character, Gigi is a hot mess. But she is also real and multi-faceted, and when Leo and Bennet split apart her public persona, her true light shines out in all its technicolour glory. Gigi, Leo and Bennett are all brilliantly drawn, nuanced characters. Juniper understands that real people and real relationships are complicated. We may say one thing, but we mean another, and the scariest thing of all is to risk our hearts and open ourselves up to love.
The tropes in Chaos is my Brand are handled expertly, feeling as fresh and alive as the writing. Traumatic backstories are handled sensitively and believably, and the Alabama setting leaps viscerally off the page. I cannot speak more highly of this book and the author. I took a punt on reading Chaos is my Brand and was absolutely blown away. Plus, any author who champions the artist Anselm Kiefer has my vote…
This book is brilliant. It's intelligently and beautifully written, vibrant and alive, and I could not put it down. Leave your expectations at the door and go read this book now!
Official Book Blurb
A hot-mess TV personality with a wild reputation. An enigmatic country boy with secrets behind his Elvis smile. Unlikely friends… trying to avoid a collision into benefits.
Irrepressible "comedy cook" Gigi Becker finds herself far from the comforts of Los Angeles when her on-paper husband – world-famous loudmouth chef Gavin Yates – relocates her show. But the spiteful plans of "culinary empire ogre" Gavin backfire when Gigi trust-falls into the safety of fast friendship with captivating cameraman Leo and talented director Bennett.
As Gigi navigates a new life of dramatic change and culture clash – and endures repeated sabotage by Gavin – will her two Southern gentlemen besties help her to cope and find the "home sweet home" she's always longed for, or drag her into a very unusual love triangle that will tear their friendship apart?
Content warning: this book has boundary-pushing explicit sexual content including M/M/F, strong adult language, alcohol and cigarette use, references to past drug use, a brief fight scene, and belittling language from the "villain" character.
Get your hands on a copy of Chaos is my Brand by clicking here!
And follow Josie Juniper's work through her website here. And on social media
______________________________________
Alien Exile by Ursa Dax
Zoey's been abducted from earth with other expendable women and tasked with investigating what resources a distant planet might have. But as soon as they touch down, everything goes south. The ship is attacked and the soldiers guarding them ripped apart by giant crab-like monsters, leaving the women abandoned to their fate. Rescued from certain death by seven foot tall aliens, the women have found themselves living with the Warriors of the Sea Sands, a humanoid race who are short on women, and big into following the will of the 'Lavrika', a magical dragon-like creature that shows a lucky few who their fated mate is. Unlucky for the women, the Lavrika decides that each of the women is destined to be with a giant kangaroo-like man.
Even though four of her friends have fallen in love with alien warriors, Zoey can't see that happening to her. The last thing she wants is a seven foot tall boyfriend with a tail. However there's a creature lurking in the night, who not only has eyes for Zoey, but also a snout, claws, and a massive spiked tail…
Kor has lived in exile all his life. His father came from beyond the Bitter Sea, and followed the call of his people's Lavrika, the "Kell" to seek out a woman from a race he did not even know existed. After abducting his mother and having Kor, he knew that neither of their races would accept him, so the family stayed hidden, Kor's mother raising him after his father died.
But now, called by the Kell and shown a vision of Zoey, Kor has no choice but to search for his mate, not knowing that the mating bond does not work the same for human women. Kor may be in love with Zoey, but she's horrified to discover a nine foot crocodile man has put her at the centre of his entire world.
If that isn't bad enough, a new enemy has arrived, and threatens to destroy everyone on the planet. The only solution is to get Kor to seek out his father's people and ask for their help – that is, if they don't kill him on sight. As Zoey travels with Kor to the shores of the Bitter Sea, she starts to see her alien suitor in a whole new way. But has she found love only to lose it all?
Alien Exile is another fabulous book in the Fated Mates of the Sea Sand Warlords series. Ursa Dax is a phenomenal writer. Her worldbuilding is incredible, and each character she writes leaps off the page into your heart. Her writing is poetic, powerful and emotive and once I start reading one of her books, I cannot put it down. Her heroes are Universal Fantasy butter, that will make your heart soar and your underwear melt. One of the most beautiful aspects of alien romance books, and Alien Exile in particular, is that the human heroines fallin love with their alien heroes in spite of what they look like. Kor may look like a nine foot godzilla, but his words and his actions show what lies beneath the claws and fangs, and his heart and the content of his character is what Zoey falls in love with.
If you want a hero who will tear the world in two to protect you, and devote their life to your happiness, then you need to read this book.
"I have travelled days upon days upon days to get here. Half an age spent crossing the desert to find her, searching with no map and no plan beyond the beauty of her face, hanging in the stars before me, leading me onward. You can brand me a liar if you wish. You can exile me as I have been exiled my entire life. But know this: the greatest truth, the only truth, that rules my life now, is her."
Official Book Blurb
"I know that I may be frightening, my mate. But beneath all that makes me strange to you, my heart recognizes yours…"
ZOEY
I've spent most of my time on this alien planet alone in the wrecked human ship. So now that I'm living with the other girls and the barbarian warriors at the Cliffs of Uruzai, I'm finding it hard to adjust. These Sea Sand guys are just so… alien.
But they're nothing compared to the monster that comes stalking out of the shadows of the cliffs one night. He has a snout, and claws, and a massive spiked tail. He's more like a crocodile than a man, and even worse than that, he claims he has a human mate. When his dark eyes settle on me, I know with a sinking feeling exactly who it is he's been looking for.
I want to stay as far away from this nine-foot-tall lizard man as I possibly can. But when a mission across the sands throws us together, I find myself spending a lot more time with him than I'd bargained for. And I find myself starting to grow closer to him than I ever would have imagined.
But as my feelings for him grow, so does my fear. Because this mission we're on? It could be the end of him.
The end of both of us, before we even begin.
KOR
I have travelled days upon days to find my soft, strange mate. But now that I have found her, she recoils from me. I am the in-between, the exile, caught halfway between the sea and the sands and the only one of my kind. I am aware that I am strange, but I never thought my own beautiful mate would regard me as a monster.
The Sea Sand men tell me my mate does not feel the mate bond for me. If I am to have her, I must somehow win her. But before I can figure out how to do that, we are forced into a journey to the Bitter Sea. The Sea Sand tribes need me to find my father's people, a race of beings I have never even seen.
Crossing the Bitter Sea is the most dangerous thing I've ever done.
But it is in service of my mate, so I will do it. And I will not hesitate.
I would do anything to keep her safe.
Even if that means tearing myself from her side forever.
Get your hands on a copy of Alien Exile by clicking here!
And follow Ursa Dax's work through her website here. And on social media
______________________________________
So there you go! Three amazing books for you to get your teeth into! Let me know if you've read any of them and what you think… As ever, keep in touch via my newsletter and social channels and let me know what books are currently keeping you up at night!
Big hugs,
Evie x