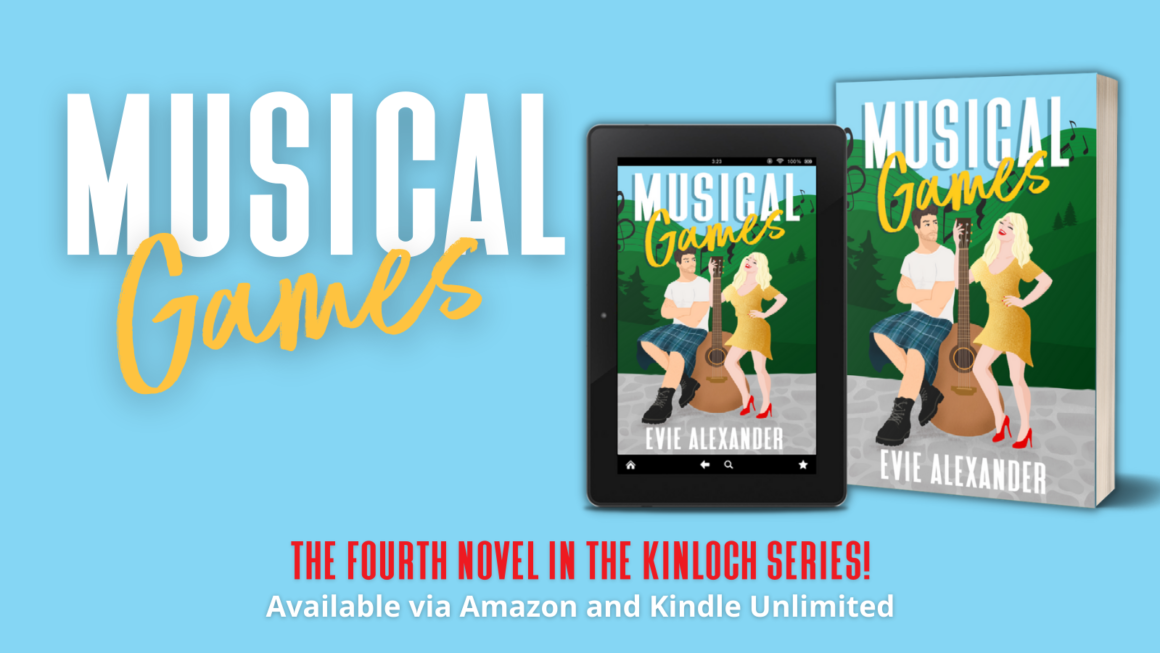 Musical Games is the fourth and final novel in the Kinloch series, and, like Kissing Games, has had an unusual gestation. Sam and Jamie's story originally featured in Hollywood Games, but when we were going through years of edits, my editor and I decided that they deserved their own book. So I removed some of the extra detail about them getting together from Hollywood Games to put in Musical Games.
Musical Games reads perfectly as a standalone, but if you want more context, and some fabulously funny and sexy books, then check out the rest of the Kinloch series first!
Originally Sam and Jamie's story was going to be number three in the Kinloch series, however then my 'novella' for Charlie and Valentina accidentally turned into a full length book, so Sam and Jamie were bumped down. I also had never planned on making Jamie a virgin, and the scene where they first kissed, had Sam shooting her mouth off and Jamie shutting her up by Kissing her.
However, two people had me making a one hundred and eighty degree turnaround on both counts. Firstly, I read the blog Top Ten Romance Tropes That Need to Die Already by the incredible Sarah Lin Turner and had a 'omfg what am I doing?' moment about the idea of Jamie kissing Sam to stop her talking… I was brought up on romance novels from the seventies, eighties and nineties, which utterly normalised lack of consent, passive heroines, and toxic sexuality and relationships. And because there were no alternative voices, either from my family and friends, or through the books I read, this behaviour was seen to my subconscious as 'normal' and I had internalised it without question.
In fact, this trope was arguably started by Shakespeare at the end of Much Ado About Nothing, where Benedict says to Beatrice 'Peace! I will stop thy mouth with a kiss', does so, and then Beatrice no longer talks for the rest of the play. My mother played the part of Beatrice in a performance of Much Ado when I was a child, and I also studied the play at A Level, so I knew it inside out and was unintentionally going to re-use that moment in Musical Games.
Around the same time as reading Sarah's blog, I also came across the amazing virgin trope rants by Erica on Instagram. They were so funny and so accurate and made me immediately want to reverse this trope and write a male virgin. The more I thought about this, the more it made perfect sense for Jamie to be a virgin. He's grown up in a small village in a single parent household where he feels a sense of duty to look after his mum. He's painfully shy and works solely with men. Once I had made this decision, his character just flowed.
I adore Sam and Jamie. To me they're the ultimate clash of grumpy and sunshine and different worlds, and I can't wait for you to read their story!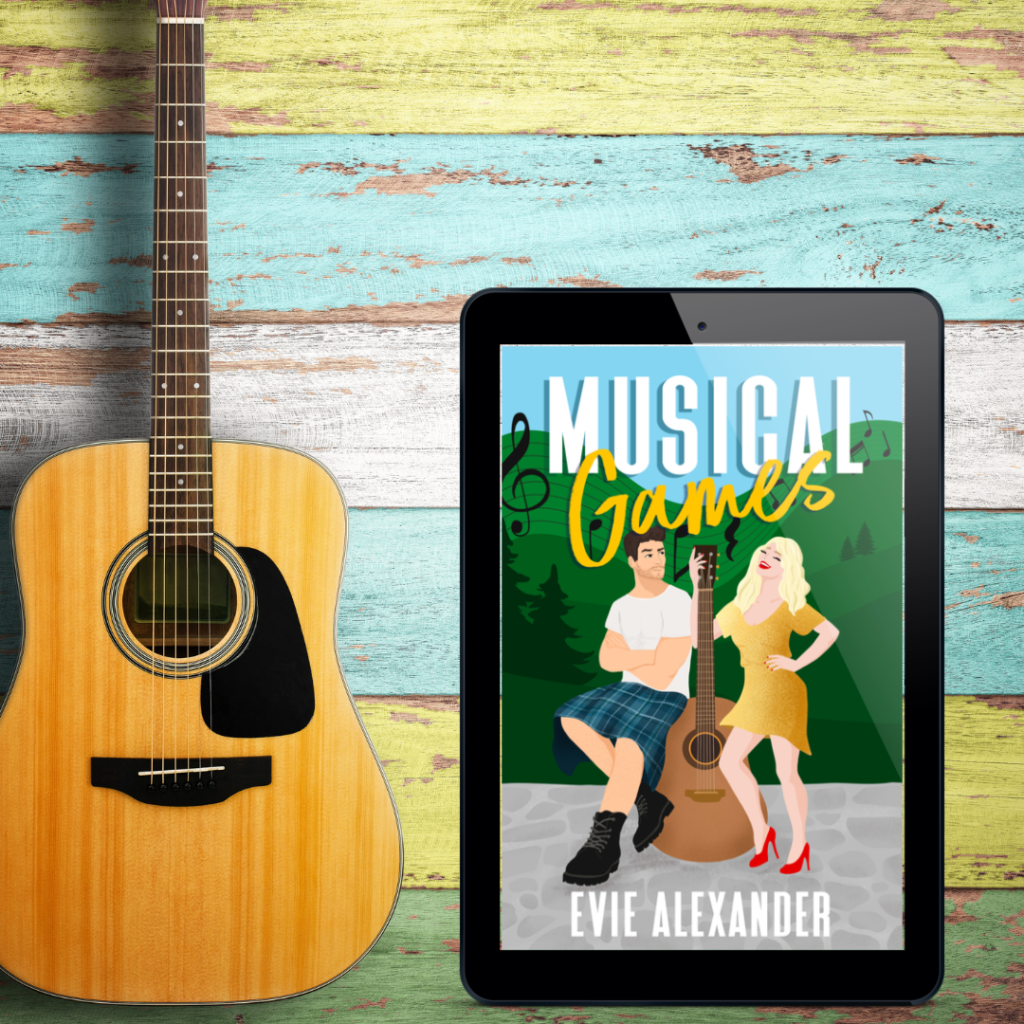 True stories in Musical Games
Truth is often stranger than fiction, and there have been many real life stories from my life and those close to me that I wish I could put in a book. Unfortunately they are so outlandish that readers would probably be taken out of the story, thinking they were too nuts.
There are still lots in Musical Games though that are based on truth, and here are some of them I can share without giving away any plot spoilers!
Helminth therapy – when you read one of the medical interventions Sam employs to help manage her Crohn's disease, you may be completely grossed out and think I've just made it all up. But using human friendly parasites to treat a wide variety of conditions has been used for years, our immune system evolved with them, and millions of people around the world have them. I myself use the same one Sam does to help control my auto-immune disease and it has been amazing.
A hot male virgin in his late twenties – About fifteen years ago, one of my friends met a guy. Now, my friend had previously slept with more men than she could count. At the time she reckoned it was over three hundred. When she met this dude, he was twenty-nine, and had never even kissed a girl… It wasn't for any religious reason, he was just shy and worked on his own as a landscape gardener. They got together, had a decade long relationship and are still friends now.
Musical Games reviews
Musical Games has been so long in the making that I've been living with these characters on my own for nearly five years. It's so exciting to finally have them out in the world and to read the incredible responses to the book from readers. Here are some of my favourite early reviews:
I can't say enough good things about this story, but my eyes are watery from swooning and my cheeks are sore from smiling! An easy 5 stars. ⭐⭐⭐⭐⭐ Barbara Kellyn
The Kinloch Series comes to a brilliant closing with Musical Games. This series is a must have. It goes from raw funny to crazy funny, then sweetly funny, and ends in silly funny. With gorgeous Scottish men in Kilts and lots of wild, sexy times! ⭐⭐⭐⭐⭐ Azalea Hudson
Once again Evie Alexander has created a perfect blend of humour, drama, craziness, emotion and steam. ⭐⭐⭐⭐⭐ Sarah
OMG just when you think it can't get any better it does! Evie Alexander has done it again with Sam and Jamie's love story! I absolutely devoured each word, Line and sentence! ⭐⭐⭐⭐⭐ Marie
Emotion, humor, adventure, steam and all the small town fun! One of the most delightful grumpy/sunshine dynamics I've ever read spiced up with a delicious sexual tension that kept me smiling and waiting impatiently!⭐⭐⭐⭐⭐Chula Gonzalez
Reviews make SUCH a difference, don't have to be long, and I appreciate each and every one of them!
You can review Musical Games on Amazon, Goodreads, Bookbub and wherever else you like!
Steamy scenes in Musical Games
Once I'd made the decision to make Jamie a virgin and for Sam to be clueless about it, I wanted to make the intimate scenes between them make sense on every level. Jamie's terrified he's not going to please her and somehow mess it up, whereas Sam is gobsmacked that he actually likes her and wants to know where he's learnt all his skills from… I did want to keep the fact he was a virgin a secret from readers, but then realised that they might get so much more out of the scenes knowing what Sam doesn't.
As with all of my books, there's a healthy dose of spice alongside the humour, and I had so much fun playing around with the scenes, including kilts, going commando, and Jamie's first ever sex injury. There's also an extremely hot scene with the two of them either side of a wall which I think you will love!
And, as ever, at the back of the book there's my greatest contribution to the world of literature – the sex index, so you can easily find the steamy scenes again and re-read them at your leisure.
Musical Games trailer
I love this so much! Enjoy!
Musical Games edits
If you'd like to create one, or post about Musical Games on your socials, then you must check out our special page here which contains graphics and elements you can use for free! I love this one from @filipinobookworm
Musical Games blurb
You should never meet your heroes. And you should definitely never lie to them…
Bubbly actress Sam is on the brink of the bigtime — all she needs is one lucky break. But when she drops everything for the chance to meet Hollywood's biggest star, she blows it by blurting out a lie.
Now, she's got ten days to write an album with a man who wants nothing to do with her.
Shy electrician Jamie has never set foot outside Scotland — or his comfort zone. Then beautiful and vivacious Sam gatecrashes his world, and he's unwillingly swept up in her grand plan. But though Jamie has the voice of an angel and the body of a god, he's never even kissed a girl… and fame is the last thing on his mind.
As the songs emerge, so do feelings — but Sam's determination to reach the top is matched only by how fast her lies are catching her up.
When the duo are offered the opportunity of a lifetime, the spotlight illuminates their glaring differences. Can Sam and Jamie face the music, or will fame tear them apart?
Read Musical Games today
Musical Games is available in print, eBook and via Kindle Unlimited. Click here to get your copy now and fall in love with Sam and Jamie!
Evie xxx