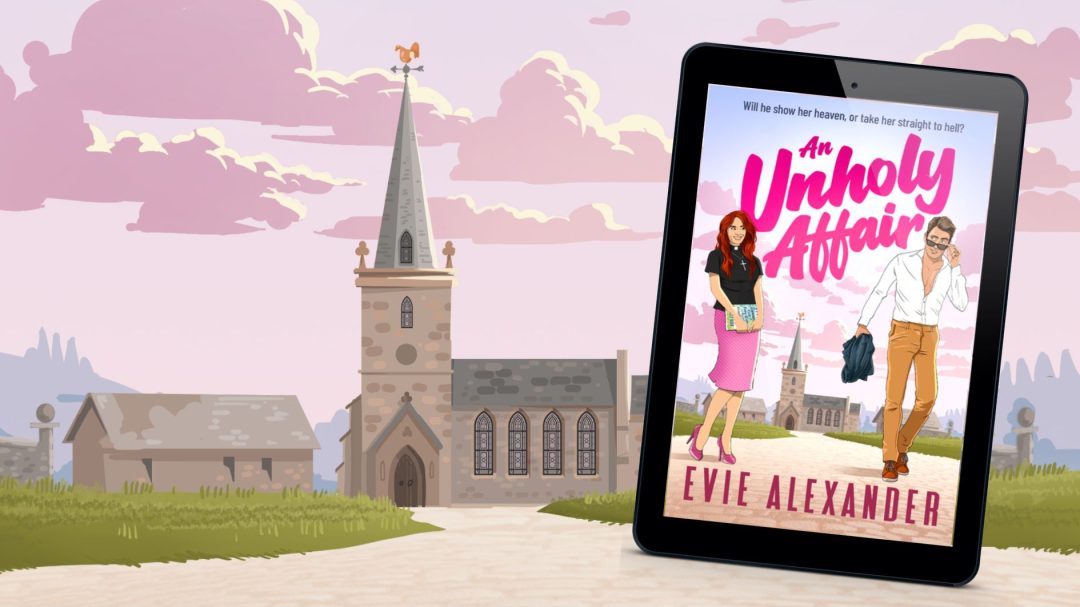 Welcome to An Unholy Affair, the second full length novel in my new Foxbrooke series! Set in Somerset (where I live), it's got a female vicar, a male escort, awful enemies, fabulous friends, and part-time pig farming!
I've had this story in my head for years and I'm thrilled to finally bring it to you! Like all my books, An Unholy Affair is hot AF and laugh-out-loud funny, but it's also got the angst and depth of a book such as Kissing Games and the drama of Love ad Lib .
If you love:
😮 Forbidden love
💞 Soulmates
😍 Fabulous friends
🔥 Scorching steam
🤣 All the lols
💦 A male escort with skills…
Then you need An Unholy Affair in your life!
True stories in An Unholy Affair
Truth is often stranger than fiction, and there have been many real life stories from my life and those close to me that I wish I could put in a book. Unfortunately they are so outlandish that readers would probably be taken out of the story, thinking they were too crazy to be believable.
However, here are some of the characters and situations from An Unholy Affair that are based on truth (without giving away any plot spoilers!!)
I did research with a female vicar who gave me the pew plot line as well as a version of the reason why one row had to be removed (see the scene between Jack and Eveline when they are feeding the pigs)
I once knew a Simon character who behaved towards me like Simon does to Eveline in chapter 16…
I have many friends who are part-time pig farmers
One of my oldest friend's sister had a religious revelation at night which I based Eveline's on.
Another friend of mine researched male escorts for a film and enjoyed their services…
An Unholy Affair reviews
An Unholy Affair was very challenging to write because I wanted to treat Eveline's faith and Jack's view of God with sensitivity, not making any judgements on either. The fact that Christian reviewers have picked this out as something I've done well is extremely gratifying. An Unholy Affair does have laugh-out-loud moments, but it's also a book with more serious issues than I normally write and so it was so fantastic to get such fabulous reviews! Here are some of my favourite early ones:
This book is so much more than a romantic comedy…the heart of the story to me was the unconditional acceptance and caring that Jack and Eveline had for each other. I laughed, cried, hated some characters, loved others and truly enjoyed reading about their journeys, growth and eventual HEA. It was well-written, fast paced and I could not put it down.
Lisa Bennison ⭐⭐⭐⭐⭐
It's also a brave, stand-out book. I mean, I'm a Christian and I went in a bit nervous. But the author's good judgment shows on every page.
If you enjoy books that explore an unfiltered gamut of human experience: heart, humour, heat, heaven and hell, PICK THIS UP. It's a deeply satisfying read.
Enni ⭐⭐⭐⭐⭐
This book is jam packed with sexual tension and steam, realistic characters with flaws and less than ideal families/backgrounds.
There's a guaranteed happy ever after, but the author has you worrying a fair bit before you get there! And not in the typical 3rd act break up kind of way, this is life and death and very gripping! 😱
Chloe ⭐⭐⭐⭐⭐
HOLY SMOKES!!!!!
This book, the second in the Foxbrooke series checks every box for me!
I devoured this book and could not get enough of Jack and Eveline. The steam is off the charts, Evie's best work in my opinion!
Teresa ⭐⭐⭐⭐⭐
Even if you haven't read any of the previous books by Evie Alexander, you'll right away note that she is just a talent when it comes to writing. In this book, I was expecting the humor and laugh out loud scenes that are key in Alexander's novels, but what I found was so much more! This was a much deeper and serious romantic story. Jack and Eveline are dealing with many issues that are so human and so relatable. It is very much dealing with mental health struggles and I praise Alexander for highlighting these as we can relate and be further drawn into the story, all the while seeing that happiness is possible.
I really enjoyed this heartwarming story . I highly recommend reading this!
JenReviews4U ⭐⭐⭐⭐⭐
This was such a beautiful story. A story about love, forgiveness, and acceptance. On top of all the beauty, it has just the right balance of spicy to keep it fully engaging.
I have never felt such a connection with fictional characters. I just wanted to reach through the book and crush them in a lovely hug. This book will be hard to top.
Tami ⭐⭐⭐⭐⭐
One of the things I always love about an Evie Alexander book is the heady excitement I feel from the very first page knowing that it is going to be great. Honestly, Evie never disappoints! 'An Unholy Affair' was absolutely fantastic. I adored both Eveline and Jack, and found their love story to be full of intense passion, faith, selflessness, forgiveness and unconditional love. A perfectly crafted and thoughtful tale with plenty of banter, humour, steam and swoon.
Sarah ⭐⭐⭐⭐⭐
These characters captured my heart in such a big way!!
Now let's talk about the spice! The building sexual tension between them is so electrifying! I don't want to spill any juicy details, but there are so many descriptive spicy scenes and they are written so well! You will be able to feel the heat coming off the pages!!!
Lindzanne1_bookworm ⭐⭐⭐⭐⭐
Another adventure to Foxbrooke did not disappoint!
The chemistry between her and Jack at the start was off the charts and their slow burn was delicious. The spice in this one had me staying up late reading in bed and kicking off the covers, lol. It was fire! Not entirely surprised given Jack's vocation. Evie, how do you do it?! Another wonderful story and I hope there will be more to come.
Hannah ⭐⭐⭐⭐⭐
I may have found my new favorite fictional small town/village and it is Foxbrooke in Somerset, England. ❤
I enjoyed reading this book immensely and Evie Alexander's writing and her stories keep getting better and better after each book! Once you start reading you want to stay in Foxbrooke with it's quirky and hilarious set of characters and the adorable main couple forever.
Sara M ⭐⭐⭐⭐⭐
Reviews make SUCH a difference, don't have to be long, and I appreciate each and every one of them!
You can review An Unholy Affair on Apple, Amazon, Google Play, Kobo, Barnes & Noble, Goodreads, Bookbub and on any other platform you like!
Steamy scenes in An Unholy Affair
My books are always spicy, but Jack employs ALL the skills he's learnt as an escort to show Eveline heaven. She's never had an orgasm before and doesn't believe she can. However Jack is on hand to show her exactly what it's all about…
There are six super steamy scenes in An Unholy Affair, and (as ever) there's my amazing invention—the sex index—at the back of the book so you can easily find and enjoy all those moments again!
An Unholy Affair trailer
I love this sooooo much! Enjoy!
An Unholy Affair edits
Once again, the Bookstagram community has shown their love with some absolutely stunning edits and reels. Here are a few for An Unholy Affair which I adore! Just click on the image to watch the reels 🙂
If you'd like to create your own edit, or post about An Unholy Affair on your socials, then check out our special page here which contains graphics and elements you can use for free!
An Unholy Affair blurb
Will he show her heaven, or take her straight to hell?
Vicar Eveline Shaw has always dreamed of finding 'the one', but her job keeps getting in the way. She may be kind and beautiful, but men run a mile when they discover who her boss is. Only one person has ever made her soul sing — a perfect stranger who walked away without a second glance.
Escort Jack Newton's got a talent few men have, and it's made him rich. But his job's a dirty secret, and as his bank account gets bigger, his heart gets smaller. He left his one chance at happiness at a bar and didn't look back.
When Jack's dragged back to Somerset after his abusive father dies, he falls into a nightmare. His dream woman may be living in Foxbrooke, but she wants a happy-ever-after and he's an escort with no plans to stick around.
Can Jack show Eveline heaven and keep his secret safe, or are they both headed straight for hell?
An Unholy Affair is a laugh-out-loud, forbidden love, super-steamy, small town romantic comedy with a heavenly happy ending! It's written as a standalone but we think you'll enjoy it even more after reading Love ad Lib first!
Read An Unholy Affair today
An Unholy Affair is available in print, eBook and audio. Click here to get your copy now from our Shopify site, or here to get it from your preferred storefront, and get ready to fall in love with Jack and Eveline!
Evie xxx