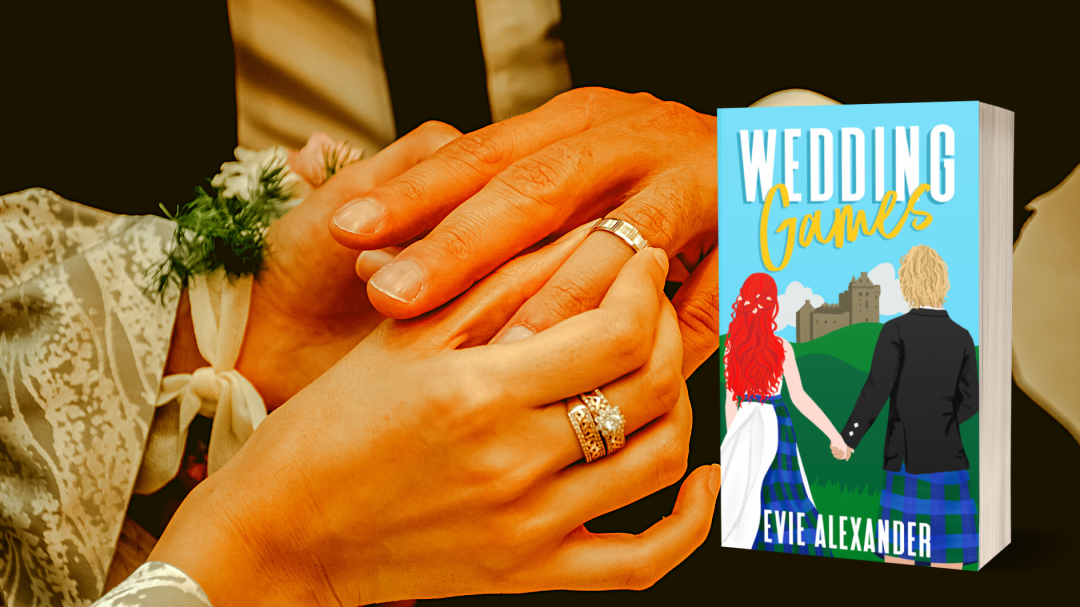 I'm so excited to share this book with you! We first meet hot Scottish grump Rory and firecracker Zoe in Highland Games and then follow their story in Hollywood Games. I always wanted to write about their wedding as there was such a lot of comedic potential, especially when all the other characters from the Kinloch series are involved…
I had an absolute blast writing this book. It was the chance to bring back everyone from the series and see what happened when they all got together. And, as well as the comedy, rest assured there's still the steam that many of you have come to love and expect from me.
Wedding Games is a 34k novella and can totally be read as a standalone, but it's even more delicious if you've read the rest of the Kinloch series first.
Wedding Games trailer
I love this so much! Enjoy!
Wedding Games reviews
Wedding Games is (to date) the funniest story I have ever written and it's been so awesome to see readers enjoying it as much as I do. Check out some of the early reviews!
"…Well, I cried through the last several chapters of this book. Having been an arc reader from the start, I am so invested in these characters and this story. So this was very much like a friend getting married.
As sad as I am to be saying goodbye to this incredible cast of characters, I look forward to whatever hilarity, and chaos Evie brings next…"
⭐⭐⭐⭐⭐KKEC Reads
"…Wedding Games is overflowing with wonderful heart-felt emotions that make you feel overwhelmed with love, friendship and family. No one else offers up the love, laughter and steaminess quite like Evie Alexander, so do yourself a favor and grab the Kinloch series now for one the best series to ever hit your TBR…"
⭐⭐⭐⭐⭐ Katie
"…This is the perfect ending to the amazingly entertaining Kinloch series! I could not stop laughing while I was reading this book! From page one I was in stitches!
I'm so sad to see these characters go but I am left fulfilled and happy knowing that they are all in an amazing place..!"
⭐⭐⭐⭐⭐ Teresa
"…Hilarious scenes notwithstanding, this is also a tale of love – not just between Rory and Zoe, but the love between friends, between parents and children, between those who have been together for years and those who have found unexpected happiness later in life. All that love culminates in a truly memorable wedding, which serves as both a fitting end to this excellent series and an intriguing glimpse at the Foxbrooke family whose stories are coming next…"
⭐⭐⭐⭐⭐ Sarah
"…I've just been to the wedding of the year & it had it all: humour, emotion, more humour, romance & a little spice.
Evie Alexander has a way of writing that just simply makes me happy. If you've read any of the Kinloch series you'll know what to expect. Wedding Games is a hilarious weekend trip to Kinloch with all our favourite characters from the series. I didn't think I could love Charlie any more than I already did, but turns out I was wrong…"
⭐⭐⭐⭐⭐Rebecca Tait
Reviews make SUCH a difference, don't have to be long, and I appreciate each and every one of them!
You can review Wedding Games on Amazon, Goodreads, Bookbub and wherever else you like!
Wedding Games edits
If you'd like to create one, or post about Wedding Games on your socials, then you must check out our special page here which contains graphics and elements you can use for free! Check out these awesome ones from filipinobookworm, thirstyreadingqueen and mycatismybookmark
Wedding Games blurb
Say "I do" to Scotland's wedding of the year!
Wedding bells are finally ringing for Rory and Zoe! But setting a date and saying yes to the dress is a lot more complicated when their mothers are mortal enemies and Rory's stepfather is a Hollywood star with a death wish.
And if their families weren't complicated enough, their friends are determined to make the bachelor and bachelorette parties ones they will remember forever – or desperately try to forget…
A castle, a cast of thousands, a superstar who's lost the plot, and an unlikely stripper. Can Rory and Zoe unravel the tangles in time to tie the knot, or is eloping the only answer?
Get your glad rags on and hold onto your hats as it's time to unleash matrimonial madness!
Wedding Games is a steamy, laugh-out-loud romantic comedy, with a guaranteed happy ever after and all your favourite characters from the Kinloch series.
Read Wedding Games today
Wedding Games is available in print and eBook. Click here to get your copy now and join in with Rory and Zoe's wedding!
Evie xxx