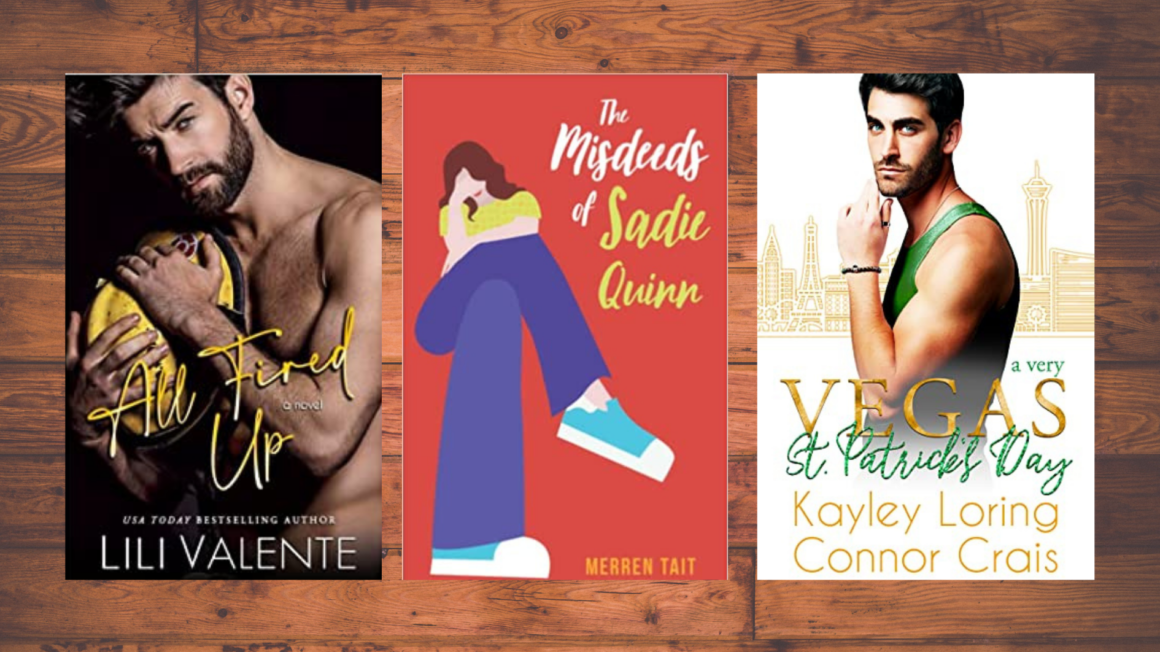 This month's top picks from my kindle library are a rollicking Vegas wedding romcom, a steamy romance with a scorching hot firefighter, and a magical and glorious love story between a police officer and a six foot three woman who keeps getting into too much trouble courtesy of her wayward grandfather. I just adored these books. Two of the writers are already one-click authors for me, and the third is set to join them. Read on to find out more!
Evie x
______________________________________
The Misdeeds of Sadie Quinn by Merren Tait
Merren Tait is one of my absolute favorite authors. She writes the most fabulous characters and settings in her native New Zealand, and her books are filled with pathos, humour and love. The Misdeeds of Sadie Quinn starts with Sadie on the run from her ex, driving a car that's on its last legs and having accidentally adopted a goat. She's heading to an out of the way town to hide at her grandfather's house, Poppy. But when she arrives, the curmudgeonly man she remembers growing up has been replaced by a man with the mental age of a naughty, eight-year-old boy. Poppy tells Sadie she can stay, but only if she helps him recreate the 'misdeeds' he did as a kid. Sadie isn't sure if Poppy is genuinely experiencing a new lease of life, or if he's officially losing his marbles, but she's got nowhere else to go so sticks around to try and keep him out of the trouble he so wants to be in. Complicating matters is the town's only policeman, Callum. He grew up in the house next to Poppy and has only ever interacted with Sadie three times, each occasion resulting in his bodily harm. Now Sadie can't seem to get rid of him and she's not sure if he's hanging around because he might like her, or he's onto Poppy's mad schemes.
This book is simply brilliant. Sadie is a character who has never truly embraced who she is, both physically and emotionally. She's six foot three, and as a woman who is six foot herself, I know exactly what it feels like to have people making your height the most important thing about you, and usually for all the wrong reasons. Sadie feels like a failure in everything she does, but she's determined to do the best for Poppy, when the rest of the family are trying to get him into a home. And Callum is one of the most understated and hot heroes I have ever read. He's just wonderful, with lots of Rory vibes from Highland Games.
The side characters and locations are also richly drawn and utterly engaging. This book drew me in from the first page and didn't let go until it wrung tears from me with the last line. Merren Tait is a writing tour de force, and The Misdeeds of Sadie Quinn is a multi-faceted diamond of a book. Go read it now!
Official Book Blurb
Business in ruins: one.
Money in the bank: $4.82.
Crime scene: one and counting.
Sadie Quinn's been down on her luck before, but never like this, and the moment of folly that forces her to go on the run has pushed her out of the fire and into a thermo-nuclear disaster.
Fleeing to the one place she knows she can get her life back on track – her grandfather's small-town home – presents a complication: The Misdeeds List.
Her grandfather's non-negotiable condition for letting her live with him is that she must help him relive the misdemeanours of his youth. The problem is, the wilder the acts become, the more attention she gains from the handsome local cop, and for all the wrong reasons.
At first Sadie thinks the misdemeanours are just random acts of madness brought on by an elderly mind that's beginning to lose its hold on reality. But as she helps her grandfather tick off the items on his list, she begins to see the pieces of a puzzle slotting together – a puzzle that offers clues to her own troubled past.
Now, not only does Sadie need to redeem herself to win the right kind of handsome-cop attention, she must also commit one last and spectacular misdeed to fit the final piece of the puzzle into place.
Something has to give.
The Misdeeds of Sadie Quinn is the third of four stand-alone novels in the award-winning Good Life series.
Get your hands on a copy of The Misdeeds of Sadie Quinn by clicking here!
And follow Merren Tait's work through her website here and on social media
______________________________________
A Very Vegas St Patrick's Day by Kayley Loring and Connor Crais
Nolan Cassidy has the luck of the Irish. He's used to fighting and charming his way into getting what he wants, but when his accidental wife, Cora Delany wants to immediately annul their drunk marriage, he's determined to change her mind and persuade her to give their marriage, and him a go. But if convincing Cora to trust him is hard enough, Nolan's about to meet the most formidable opponent of his entire career – her ten year old son.
In my eyes, Kayley Loring can do no wrong. She's a brilliant and funny writer and legend of a human being who understands the importance of a good fart joke. As well as the novels she writes herself, she's started a collaboration with voice artist and new writer, Connor Crais. Their first book, Decker – Changing the Play was fabulous, and A Very Vegas St Patrick's Day continues to delight. It is impossible to tell who has written what. The writing is seamless, the characterisation spot on, and the story brings back some of my all time favourite characters from one of my all time favourite books – A Very Bossy Christmas.
Another skill Loring and Crais have is that they understand how to write kids, and some of the best humour in this book came from the unexpected moments where the children did the absolute opposite of what I expected. A Very Vegas St Patrick's Day is a fantastic romcom and the Oceans Eleven style finale was hilarious and masterful. If you like your comedy light, steamy, and with a dollop of Irish charm then you'll adore this fabulous book!
Official Book Blurb
You might think the problem would be waking up in Vegas, hungover,
next to a beautiful woman who's wearing your boxer briefs
and finding out ya married her in the middle of an epic drunken night of festivities.
But you'd be wrong.
I, Nolan Cassidy, international charmer and maker of mischief have fallen head over heels for Cora Delaney.
I want to be married to the lass.
So you might think the problem would be that she wants an annulment.
But again you'd be wrong—stop getting it so wrong.
I, Nolan Cassidy, with my devil tongue and Irish accent, will no doubt change her mind.
Does the problem lie in that she has a son who doesn't like me and is as clever and crafty as I?
Or that I've only got one month—until St. Patrick's Day—to prove to my one true love
that I can be a good husband and father?
C'mere and I'll tell ya…
None of that is the problem.
I'm a problem.
My boxing days may be behind me
but the fight never left me.
When I see something I want, I get it.
And nothing is going to stand in my way.
Not my new wife's hesitation nor her son's doubts.
So buckle up, strap in.
Because I'm no longer in the business of wanting.
I'm in the business of having.
Which is gonna make for one wild Paddy's Day.
*This is a 63,000 word standalone accidental marriage/single mom super-steamy romantic comedy with an Irish hero you won't be able to say no to!
Get your hands on a copy of A Very Vegas St Patrick's Day by clicking here!
And follow Kayley Loring's work through her website here and on social media
And follow Connor Crais's work through his website here and on social media
______________________________________
All Fired Up by Lili Valente
Naomi Whitehouse left the small town of Bliss River when she was eighteen to see the world, leaving her boyfriend, Jake, behind. Now, after a successful career as a TV chef, she's back. And Jake's not happy. He's the fire station's youngest chief and still dealing with personal tragedy. Now The One Who Got Away is back and he can't handle it. Naomi broke his heart when she left, then rubbed his nose in it with a string of high profile relationships. He can't even be civil to her so he's just going to act like she doesn't exist. However he's forgotten just how determined Naomi can be. When the fire crew are auctioned off for a month of dates to raise money for the station, she wins him. Now the sparks are really about to fly.
All Fired Up is a small town, second chance, hot contemporary romance and I loved it. It's got a great cast and setting and I love the fact that Naomi's the one that left to make her mark on the world, not Jake. Both their personal past tragedies are handled sensitively and Jake's emotional arc as he comes back to Naomi is just brilliant. I adored this book and can't wait to follow the other character's stories in the rest of the series!
Official Book Blurb
I'm the station's youngest fire chief, a grown man, and fully in my right mind—which means I'm not going to fall for the One Who Got Away.
That's not the kind of person I am.
Second chances are like skipping leg day—I don't do that. Ever.
But I wasn't counting on Naomi buying me at the firefighter charity auction. Now I'm forced into a month of dates with the one woman who cuts through my defenses like no one else, and I'm starting to think maybe she's right…maybe we are different people than the teenagers who failed at love.
Maybe this isn't a fire I have to put out.
Maybe for the first time in my life I can relax and just…let it burn.
Or maybe we're both about to learn that fire isn't something you should underestimate—especially the kind that burns between a man and a woman.
Get your hands on a copy of All Fired Up by clicking here!
And follow Lili's work through her website here and on social media
______________________________________
So, there you go! Whether you fancy a policeman, a firefighter, or a former prizefighter, I've got you covered. Please please please go check these stories out and take a chance on an author you might never have come across before. And, if you have read any of these books then let me know your thoughts! As ever, get in touch via email or social media!
Evie x