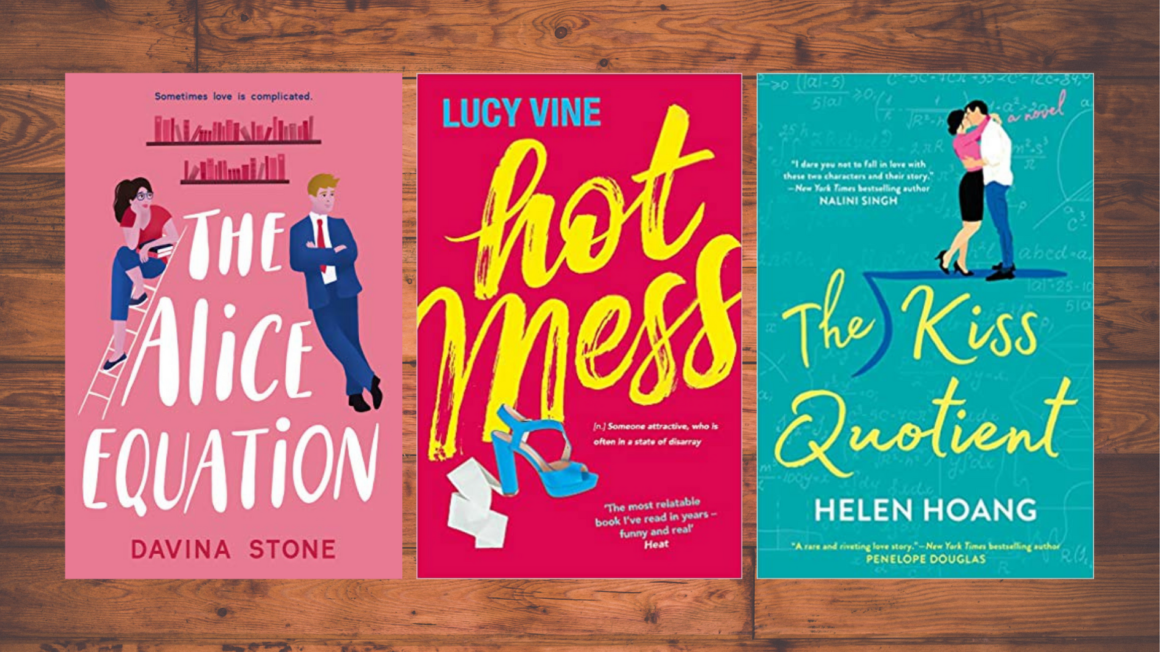 Stella thinks she has a problem, Ellie knows she has a problem, and Alice is helping with Aaron's problem. This month I've got a veritable smorgasbord of issues for you, with a side order of hilarity, and a delicious desert of hot sex. In The Kiss Quotient, Stella has Asperger's and believes she needs to learn how to be better at sex by hiring a male escort. In Hot Mess, Ellie's lurching through Tinder dates like a drunk Bambi in a pound shop, and in The Alice Equation, Alice is playing the part of her fake girlfriend to her secret crush, with absolute dedication. These books are very different, but oh so fabulous. I swooned, I laughed, I cringed, and I couldn't put them down. Have you read any of these yet?
The Alice Equation by Davina Stone
This is a fabulous 'friends to lovers', 'fake relationship' story that makes the tropes feel fresh. Alice has been in love with Aaron for five years, but to him, she's always been the dependable friend who sorts out his messes and plays monopoly with him. He's never got over the death of his mother in a car accident, a death he feels responsibility for. So, he keeps romantic liaisons brief and love out of the equation. When offered a new job, he's expected in no uncertain terms to have a conservative relationship, to be with a woman who will support him in his career. Without thinking, he tells the law firm partners that he has a girlfriend, and it's Alice.
What's beautiful about this story is the emotional journey Aaron goes on as the walls he has erected around his heart begin to crumble. It is genuinely terrifying for him, as it unleashes emotions he's buried about love and his mother since he was a child. Alice has her own journey to go on to, and the story gradually unpicks her own issues. The supporting cast of friends and family in this book are wonderful, and they are all fully fleshed out characters in their own right.
The Alice Equation is brilliantly written with depth, heart and emotion. It's also got some fabulous sex scenes which feel very real, even when they don't quite go according to plan. I thoroughly recommend this book and can't wait to read Davina's next book, The Polly Principle.
Official Book Blurb
Alice Montgomery's life is like Groundhog Day. Five years after graduating, she's still working in her mum's bookshop, hiding her stash of romance novels under the bed and pining for the gorgeous guy who helped her over a panic attack before her final uni exam.
Aaron Blake loves to party—hard. His idea of commitment to anything other than his legal career is strictly three months. Until landing a job with the most prestigious—but conservative—law firm in town means he has to convince the partners he's deeply committed to family values.
Aaron needs a fake date fast—and who could be safer than his bookish friend Alice?
Soon Alice finds herself dating her secret crush, sporting a daring new look of vintage frocks and itsy-bitsy lace lingerie.
Now the heat is notching up. Aaron's feelings for his fake date are proving anything but safe, and Alice is discovering her inner sex-goddess.
But when secrets are revealed and lies uncovered, both Alice and Aaron will have to work out the hardest equation of all… what this crazy thing called love is all about.
Want a sneak peek inside The Alice Equation by Davina Stone? Click on the image below!
And follow Davina's work through her website and social media channels
______________________________________
Hot Mess by Lucy Vine
Hot Mess is Bridget Jones's Diary meets Fleabag, and is absolutely bloody brilliant. We follow twenty-nine year old Ellie through Tinder dates from hell, navigating single life after the death of her mother, whilst living in a shit tip of a flat with a hot arsehole flatmate, and hating her job. If that wasn't enough, her sister lives in LA, and her dad not only wants a girlfriend but is writing a version of 'Fifty Shades of Grey' starring himself.
Ellie is stuck, afraid to move on and go for what she wants, and is surrounded by people who think there is something wrong with being single. Her life starts to unravel as she is forced to face up to hard truths, as well as stand up for herself and what's right for her.
I was recommended this book by a friend who said it was so funny, she actually wet herself whilst reading it, and then cried so hard at the end, she got a migraine. Hot Mess is a brilliantly written, hilarious book not for the faint hearted. If you are able to talk about bad sex and farting without having an embolism then this book is for you!
Official Book Blurb
Have you ever shown up to Sunday brunch still smelling of Saturday night?
Chosen bed, Netflix and pizza over human contact?
Stayed in your mould-ridden flat because it's cheap?
Meet your spirit animal, Ellie Knight.
Her life isn't turning out exactly as she planned.
She hates her job, her friends are coupling up and settling down, and her flatmates are just plain weird.
Some people might say she's a hot mess but who really has their sh*t together anyway? For fans of Fleabag and Girls, this is a fresh and funny coming-of-age story with a single-girl heroine that will speak to millennials everywhere.
Want a sneak peek inside Hot Mess by Lucy Vine? Click on the image below!
And follow Lucy's work through her website and social media channels
______________________________________
The Kiss Quotient by Helen Hoang
Dating's bad enough, but what if you don't want to in the first place? What do you do if you don't want a boyfriend, husband, kids, or even sex? Stella Lane is happy with her life, but her mother isn't. She wants grandchildren, so tells Stella she needs to get on with finding herself a husband.
Wanting to the right thing, but believing she has something 'wrong' with her, Stella sets out to fix herself by hiring a male escort to teach her how to be better at sex. She doesn't think that her enjoying the act needs to be part of the equation, she just wants to be able to please a man properly. So, thanks to the power of the romance novel, she hires an escort who's not only the hottest man on the planet, but emotionally intelligent, and able to show Stella just how explosive sex can be.
What I found so beautiful about this book is the way sex is described, along with Stella's awakening to pleasure at the hands of another. Stella has Aspergers, and wants to hide her condition, but Michael doesn't notice. All he sees is her, and the need to go slowly with her. The author, Helen Hoang, didn't know she had Aspergers until she was researching The Kiss Quotient, only receiving a diagnosis when she was thirty-four. I think this is what makes the book so powerful. Helen has said that it was the easiest book to write as everything Stella experiences, she has too. It was an incredible insight into the mind of someone on the autistic spectrum, and how they navigate through an often challenging world of overstimulation and confusing interpersonal relationships. The Kiss Quotient is a beautiful book on every level, and I thoroughly recommend it!
Official Book Blurb
It's high time for Stella Lane to settle down and find a husband – or so her mother tells her. This is no easy task for a wealthy, successful woman like Stella, who also happens to have Asperger's. Analyzing data is easy; handling the awkwardness of one-on-one dates is hard. To overcome her lack of dating experience, Stella decides to hire a male escort to teach her how to be a good girlfriend.
Faced with mounting bills, Michael decides to use his good looks and charm to make extra cash on the side. He has a very firm no repeat customer policy, but he's tempted to bend that rule when Stella approaches him with an unconventional proposal.
The more time they spend together, the harder Michael falls for this disarming woman with a beautiful mind, and Stella discovers that love defies logic.
Want a sneak peek inside The Kiss Quotient by Helen Hoang? Click on the image below!
And follow Helen's work through her website and social media channels
______________________________________
So there, we go, my lovely bookworms, three glorious books for you to get your teeth into. Let me know your thoughts! Have you read them, and if so, what did you think? And do you have any recommendations for what I should be reading next? Get in touch via social media to let me know!
Evie x