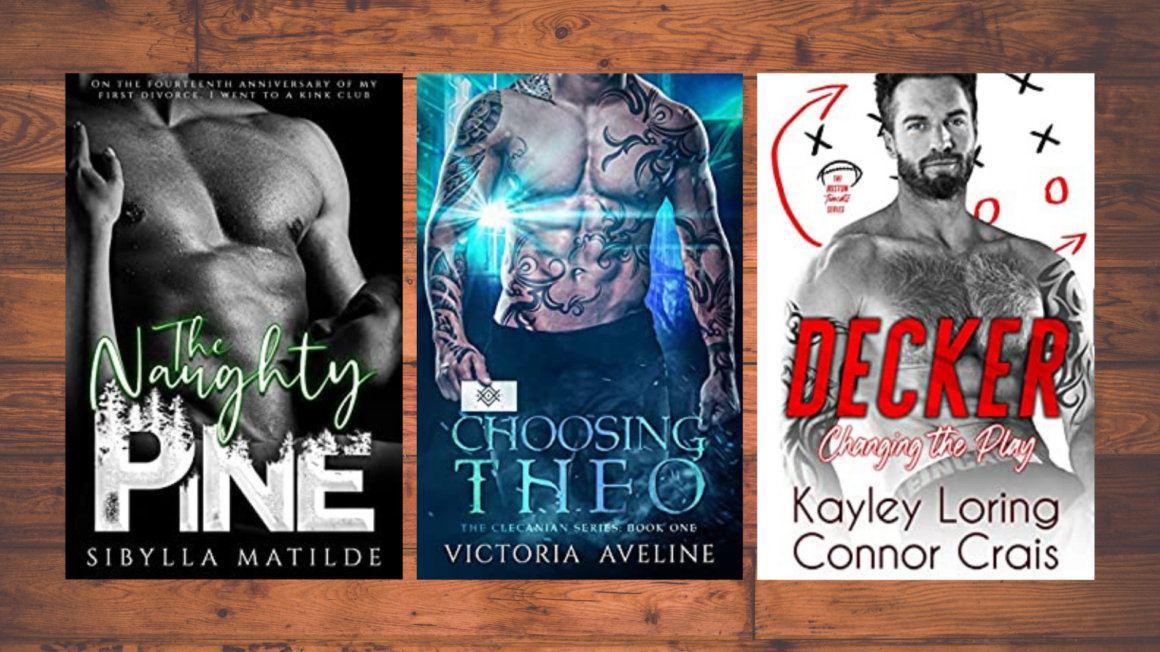 Are you sitting comfortably? Or would you rather be sitting uncomfortably? This month I've got spanking, sass, sauce and aliens for you…I've got a fabulous sports romance featuring 'Decker the panty wrecker', the best BDSM book I have EVER read, and a romance with an alien who is supposed to be the least attractive of his kind. These books were just epic and I'd love for you to give at least one of them a whirl around your library dancefloor. So, break out the funny shaped ball, the handcuffs, or the spaceship and check out my books of the month!
Evie x
______________________________________
DECKER: Changing the Play by Kayley Loring and Connor Crais
Kayley Loring is a one-click author for me. Her writing is snort-laugh hilarious, smart, sweet and steamy, and she's also a fabulously funny human being. But now she's writing with a hot male voice artist FOR REALZ who has never published anything before… Say whhhuuuuut??? Connor Crais has been narrating Kayley's books for a while, and when he mentioned he was writing a romance himself, she suggested they write together. DECKER: Changing the Play is their first collaboration and girl, oh girl, oh girl, they've kicked the winning field goal in the last second of the fourth quarter. I was sold from the first page and the only reason I didn't finish it in one sitting was that unavoidable bodily functions got in the way.
The story centres around Johnny Decker, the star quarterback for the Boston Tomcats who is at the end of his career and desperate for one more chance at a Super Bowl win. When the owner of his team unexpectedly dies, in walks his estranged daughter, Hannah Strong, to take over. Misunderstandings and sparks fly when they meet, and then the game begins… If you don't know the first thing about football (or American football for everyone outside North America), then you are in safe hands. By her own admission, Kayley knows less than you, and her character Hannah is in the same boat. Due to the fact that my (British) husband is a football nut, I know enough about the game to know that the sports stuff is not only extremely accurate, but also works brilliantly for the evolution of the story. In particular, the twist was absolutely perfect and gave the story and characters even more depth.
Loring and Crais's collaboration is incredible and there is no way to tell who has written what in this book. DECKER: Changing the Play is a seamlessly awesome romantic comedy and I absolutely loved it.
Official Book Blurb
#12 Johnny Decker. Star quarterback for the Boston Tomcats. Two-time Super Bowl MVP…a decade ago. Nickname: Decker the Panty Wrecker
I get tackled for a living by men who are built like rhinos. I could take the wings off a fly with a football from 30 yards away. (I wouldn't, but I could.) Being a veteran quarterback means I'm a mentally alert, fine-tuned athletic machine who can make split-second decisions.
It's my job to anticipate what's going to happen next and adapt. But I couldn't have anticipated the death of our beloved team owner.
His estranged daughter Hannah Strong is a finance nerd from New York. She knows less than nothing about football. Know what she didn't anticipate? Inheriting the Boston Tomcats.
She's stubborn, uptight, infuriating, and wrong about absolutely everything—from pizza to how to run my team. And I don't want to talk about how good she looks in a skirt. Or daydream about how good she'd look out of it.
Really, I don't. I'm not Decker the Panty Wrecker anymore—I've changed.
I can't stop arguing with her. Or thinking about her.
I thought I had a winning play. But Hannah Strong changed everything.
Get your hands on a copy of DECKER: Changing the Play by clicking here!
And follow Kayley's work through her website here and on social media
And follow Connor's work through his website here and on social media
______________________________________
The Naughty Pine by Sibylla Matilde
Därah is exhausted with existing. She's thirty-three and a single mother to a teenage daughter. Two failed marriages behind her, working too hard and with zero social life, she lets a work colleague take her to a kink club on the fourteenth anniversary of her first divorce. She's terrified by what she might discover inside The Naughty Pine, and also inside herself, but in all her wild imaginings, she never expected to see Jace, her first husband, the father of her child, and the love of her life.
I want to say this straight off. The Naughty Pine is one of the best second chance trope romance novels there is, and hands down the best book that features BDSM I have ever read. Personally, even though I've read a lot of BDSM books in my romance reading career, it's not really my thing. I'm straighter than a plumb line and more vanilla than ice cream. I've never understood how someone could derive pleasure from being hurt, or by 'submitting' to someone else's 'dominance'. However Sibylla Matilde has shown me exactly why so many people love it, and I finally think I understand the basis of the culture and the practice.
The Naughty Pine is a simply brilliant book in every way. Matilde's writing is measured, nuanced and mature. You know she is a master writer and story-teller and you are in safe hands. Her characters are brilliantly drawn, and Därah's insecurities were painfully like my own, so I understood her motivations and behaviour. And as for Jace… OMG OMG OMG! What a man!!! Holy guacamole I was sooooo in love with him. For someone who is the dominant in their kink play, Jace is the sweetest, most caring, most loving hero I think I've ever read. He is THE BEST! Swoon x a million…
If you love BDSM books then you'll love The Naughty Pine. If you don't love them, then give this one a go and see if it changes your mind. And if you love small town, second chance romance novels that are simply unputdownable then you need to make this the next book you read.
Official Book Blurb
On the fourteenth anniversary of my first divorce, I went to a kink club.
Thirty-three and no clue who I was. What I wanted out of life. I only knew it was passing me by and I was tired.
Tired of surviving the day-to-day.
Tired of trying to forgive myself for two failed marriages.
Tired of being a single mother with no semblance of a social life, of bending over backwards to be a fitting role model for my teenage daughter.
That was, until I stepped foot in The Naughty Pine.
I didn't plan to participate. I only went to appease the dark corners of my curiosity. To see something wild and taboo and full of life. Something sinful to shock the loneliness clean out of my system.
Don't know what I expected, but it sure wasn't him…
Get your hands on a copy of The Naughty Pine by clicking here!
And follow Sibylla's work through her website here and on social media
______________________________________
Choosing Theo by Victoria Aveline
I was recommended this book as an example of a hero who is judged by others to be unattractive. This is what so many people miss when they talk about romance novels. Just as in real life, the hero or heroine doesn't need to be universally attractive, they just need to be wanted and desired by another. In Choosing Theo, Jade has been kidnapped by an unknown alien race. Rescued by the Clecanians, she has to spend a year on their planet before having the chance to return home. A year adhering to their customs, one of which includes choosing a husband.
Shocking everyone, she chooses Theo, a warrior universally overlooked for being ugly. Jade is deeply attracted to him, but even Theo can't believe it, and is convinced she is a spy. I am a massive fan of alien romance novels and this is a fabulous story. I loved the way Theo and Jade's relationship developed. It was funny, sweet and hot AF. If you love a good alien romance then you'll love this book!
Official Book Blurb
Being kidnapped by aliens is only the start of Jade's problems. Thankfully, her rescuers, an alien race known as the Clecanians, are willing to protect her, but she has to stay on their planet for one year and respect the rules of their culture—including choosing a husband. Jade refuses at first but decides to play along until she can find a way back to Earth.
Theo, a scarred mercenary who prefers a life of solitude, is stunned when Jade selects him as her husband. After years of being passed over, he never imagined he would be chosen and neither did anyone else. Only one explanation makes sense…the curvy enticing female must be a spy, and Theo's determined to break her cover using any means necessary.
As Jade and Theo are forced to spend time together, their chemistry becomes undeniable. But neither can afford to bring love into the equation, especially since Jade seems determined to go home. After all, she can't possibly stay here, right?
Get your hands on a copy of Choosing Theo by clicking here!
And follow Victoria's work through her website here and on social media
______________________________________
So there you have it, my current top reading picks for you. Have I convinced you to give any of them a read? I'd love to know what you think. Get in touch via my social channels to let me know, as well as what's currently floating your boat in the book department!
Evie x