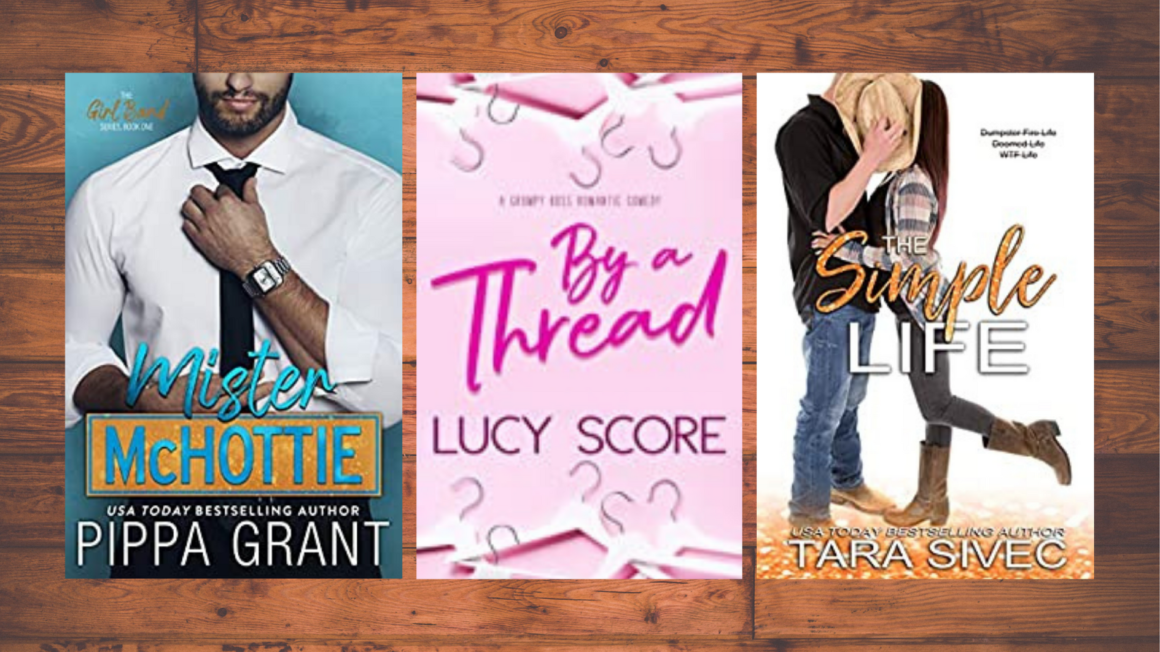 If you're in the mood for high octane, super-charged, filthy romantic comedy then the three books I have for you this month will knock your socks off, as well as the rest of your clothes. If you've ever wanted to know what happens when you make pizza toppings spell 'fuck you', what happens after you have several orgasms in a lift whilst cursing the person giving them to you, and what happens when an entire town bets on when you will have sex, then you need to read these books immediately. All three are by American authors, and each one is bold, brash, hot and hilarious. I absolutely loved them and hope you do too!
Evie x
______________________________________
By a Thread by Lucy Score
Ally is having a bad day. Actually, scratch that. She's having a bad life. But then bad goes to worse when she meets Dominic, and ten minutes later he gets her fired. Lucky for Ally, Dom's mother offers her a job, but when she turns up for work, it's the last straw for Dom. He's already on edge in a job he doesn't want, trying to save the family company from his father's predatory behaviour, and he can't function when Ally's around. She gives him grief, bad-mouths him in front of his staff, and seems to know which button of his to press. His attraction for her is starting to override his fury, but he can't be like his father. He'll never take advantage of his position, despite how much Ally drives him up the wall, around the bend, and into the private bathroom of his penthouse office in order to (ahem) take the edge off.
By a Thread is hilarious, angsty and super fucking hot. I never knew a scene could be so explosive when the characters don't even touch. You understand why both of them are holding back, and that makes it even more powerful when they finally come together (no pun intended, it's just what this book does to me)…
Official Book Blurb
Dominic was staring at me like he couldn't decide whether to chop me into pieces or pull my hair and French kiss me.
Dominic
I got her fired. Okay, so I'd had a bad day and took it out on a bystander in a pizza shop. But there's nothing innocent about Ally Morales. She proves that her first day of her new job… in my office… after being hired by my mother.
So maybe her colorful, annoying, inexplicably alluring personality brightens up the magazine's offices that have felt like a prison for the past year. Maybe I like that she argues with me in front of the editorial staff. And maybe my after-hours fantasies are haunted by those brown eyes and that sharp tongue.
But that doesn't mean that I'm going to be the next Russo man to take advantage of his position. I might be a second-generation asshole, but I am not my father.
She's working herself to death at half a dozen dead-end jobs for some secret reason she doesn't feel like sharing with me. And I'm going to fix it all. Don't accuse me of caring. She's nothing more than a puzzle to be solved. If I can get her to quit, I can finally peel away all those layers. Then I can go back to salvaging the family name and forget all about the dancing, beer-slinging brunette.
Ally
Ha. Hold my beer, Grumpy Grump Face.
Author's Note: A steamy, swoony workplace romantic comedy with a grumpy boss hero determined to save the day and a plucky heroine who is starting to wonder if there might actually be a beating heart just beneath her boss's sexy vests.
Want a sneak peek inside By a Thread by Lucy Score? Click on the image below!
And follow Mae's work through her website and social media channels
______________________________________
Mister McHottie by Pippa Grant
If you ever wanted to know how to have multiple orgasms in a lift, whilst simultaneously screaming your abject hatred for the man giving them to you, and providing cover for your friend who's planting a glitter bomb in his office, then you need Mr McHottie in your life. Ambrosia (Sia) has had a difficult upbringing. Tormented younger sister to two meathead brothers (Zeus and Ares), she had one chance to make something of her life. But then Chase Jett took her virginity and her future away in one crazy night. Now, he's back. Annoyingly attractive, just as smug, and a billionaire who's just bought the company she works for. There's no way he's going to ruin what happiness she's spent years fighting for. There's only room for one at this company, and it sure as hell isn't him.
Mister McHottie is a fast-paced, filthy, flirty, funny book that will have you screaming, swooning, and hiding behind your hands. It's inappropriate, NSFW (Not Safe For Work), and a page-turning riot. I just loved it. So dive in, and let Sia and Chase take you on a wild, bratwurst-fuelled ride that you'll never forget…
Official Book Blurb
The best enemies make the best lovers…
There are three things I hate:
Bratwurst in any form, my neighbors boinking like farm animals at 3 AM, and Chase Jett.
Mostly I hate Chase Jett. It's been ten years since he took my virginity—I'd make a bratwurst joke, but the unfortunate truth is that it would have to be a brat-best joke, and yes, it kills me to admit that—and now he's not only a billionaire, he's also my new boss.
Turns out our hate is mutual. And this kind of hate is horrifically twisted, filthy, and banging hot.
I just might have to hate him forever.
Mister McHottie is the hilariously sexy romantic comedy that your mother warned you about, complete with an organic happy-ever-after (or seven), a Bratwurst Wagon, ill-advised office pranks, and no cheating or cliffhangers.
Want a sneak peek inside Mister McHottie by Pippa Grant? Click on the image below!
And follow Pippa's work through her website and social media channels
______________________________________
The Simple Life by Tara Sivec
Brooklyn's life went from hero to zero with one slap. Her perfect boyfriend turned out to be someone else's not-so-perfect husband, and now she's lost her job, her reputation and most of her friends. She runs back to her tiny hometown and her recalcitrant father to lick her wounds and discovers the only job open to her is being the nanny to two motherless girls. The eldest hates her, and the youngest is a sugar addicted, adrenaline junkie lunatic. She's hopelessly unprepared for keeping either of them alive, and if that wasn't bad enough, their father has turned from a nerdy computer geek to the hottest cowboy on the planet.
The Simple Life is a fabulous read with hilarious humour and scorching steam. I immediately recommended it to my alpha reader, and was constantly asking 'have you got to the bit in the larder yet?' It's also a very moving read, and explores parental abandonment, and how difficult it can be for fathers to negotiate relationships with their daughters. Tara's books are always an absolute riot and I hope you love this one as much as I did!
Official Book Blurb
Brooklyn Manning thought her life was perfect in every way, until it crumbled down around her and turned into a dumpster fire. With her pride wounded and her tail tucked between her legs, she leaves New York and goes back to her tiny hometown of White Timber, Montana.
No more twenty-four-hour taco trucks, no more shopping at the best designer stores within walking distance, no more giving taxi drivers the finger when they angrily honk at her. She didn't think it could get any worse. But then Clint Hastings walked into the room and insulted her.
Her arch nemesis from high school is no longer a nerdy computer whiz, masturbating to pictures in PC World magazine in his free time (allegedly). He's grown up to be a hot-as-hell cowboy, and she has no other choice but to be a smart ass right back to him. After all, it's what they do. It's what they've always done, and twelve years apart hasn't changed anything.
Only this time, getting under each other's skin is a hell of a lot more fun than it used to be.
Want a sneak peek inside The Simple Life by Tara Sivec? Click on the image below!
And follow Tara's work through her website and social media channels
______________________________________
So, there you go. Three anarchic and foul-mouthed romantic comedies for you. They're the books your mother warned you about, and the ones that will make your heart race and your soul sing. Have you read any of them? If you have, get in touch via email or my social channels to let me know! And if you have any other recommendations for me to read, then I'd love to hear them! What books are currently making you smile?
Evie x