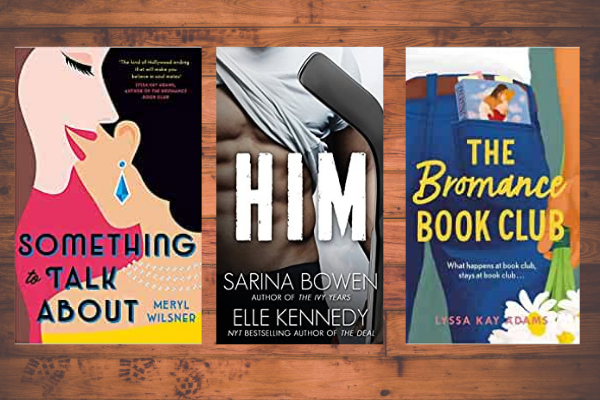 I've got some awesome reads for you in this blog and I can't wait to share them with you. I've got a romantic comedy with a man who joins a secret all male book group dedicated to reading women's romance novels, a steamy hot story of two ice hockey stars falling in love, and the slowest burn romance I've ever read between a Hollywood power player and her assistant.
There's a male/female, a male/male, and a female/female romance, each with heat, depth and heart. I'd love to know if you've read any of these and find out what you think!
Evie x
______________________________________
The Bromance Book Club by Lyssa Kay Adams
Oh. My. Good. God. I LOVED this book. Clever, funny, emotional and hot. It's a romance for readers and writers and I couldn't put it down.
Gavin Scott and his wife Thea are splitting up. They fell pregnant with twin girls a few short months into their relationship, and their marriage has been under strain ever since, not helped by the fact that he's a baseball star and always on the road. Things come to a head when Gavin discovers Thea has been faking her orgasms throughout their marriage. He freaks out and leaves, then she asks for a divorce.
Desperate to win her back, his alpha male friends stage an intervention. They initiate him into a secret reading group for men, where they read romance novels to help them understand their women and become better partners and lovers. They give Gavin a copy of 'Courting the Countess', a regency bodice ripper, and he attempts to use it as a manual for saving his marriage.
What he and Thea discover is that they have to open their hearts and souls in order to come back together. Both of them have demons they don't want to face, but if they don't, then there's no way back. This is one of the many strengths of the book, the depth to which their emotional scars are explored and they find healing.
The book also contains chapters from the fictional book 'Courting the Countess' and this was a stroke of genius. The writing style and tone changes, and you really believe you're reading a book within a book. This was such a wonderful conceit and fabulous to read. The two plots mirrored each other in subtle ways and showed just how much fiction can help us make sense of our lives and problems.
The Bromance Book Club is slick, the humour laugh out loud, the emotions raw and honest and the sex hot. I just loved every page and really hope you do too.
Official Book Blurb
The first rule of book club:
You don't talk about book club.
Gavin Scott's marriage is trouble. The Nashville Legends baseball star has recently discovered a humiliating secret: his wife Thea has always faked the Big O. His reaction to the revelation is the final straw for their already strained relationship. Thea asks for a divorce, and Gavin realizes he's let his pride and fear get the better of him.
Welcome to the Bromance Book Club.
Distraught and desperate, Gavin finds help from an unlikely source: a secret romance book club made up of Nashville's top alpha men. With the help of their current read, a steamy Regency called Courting the Countess, the guys coach Gavin on saving his marriage. But it'll take a lot more than flowery words and grand gestures for this hapless Romeo to find his inner hero and win back the trust of his beloved wife.
Want a sneak peek inside The Bromance Book Club by Lyssa Kay Adams? Click on the image below!
And follow Lyssa's work through her website
______________________________________
Him by Sarina Bowen and Elle Kennedy
An author friend recommended I read Him and she warned me in advance that it was 'smoking hot'. There are so many books out there about male gay sex and relationships written by women, and this is one of the best I've read.
Jamie and Ryan have been friends since they were kids, growing up playing ice hockey, until a drunken bet at hockey camp caused Ryan to cut off all ties with Jamie just as they were about to go to college. Four years on and there's one summer to go before Ryan starts with a NHL team and Jamie moves into coaching, and they're once more sharing a room at hockey camp. Ryan's always known he was gay, but felt that night four years ago he'd pushed his straight friend into doing something he shouldn't, and so cut off all ties. Jamie's hurt and wants to know why one drunken night could have ruined their entire friendship.
Him follows their story as Jamie begins to realise he might not be as straight as he thought he was, and Ryan realises just how in love with his best friend he is. It's so well written, exploring their emerging relationship and all the uncertainties and complexities that go along with it. It's full of heart and warmth and the sex scenes, of which there are many, are scorching. There is a lot of hockey in the book too, which did nothing for me as I have never watched it and don't know much about it, but it didn't detract too much from the story of their relationship.
If you've never read a MM romance book then this is a fantastic place to start. Just know that you'll be getting graphic descriptions of male gay sex and long sections of ice hockey, but trust me, don't let the ice hockey put you off…
Official Book Blurb
They don't play for the same team. Or do they?
Jamie Canning has never been able to figure out how he lost his closest friend. Four years ago, his tattooed, wise-cracking, rule-breaking roommate cut him off without an explanation. So what if things got a little weird on the last night of hockey camp the summer they were eighteen? It was just a little drunken foolishness. Nobody died.
Ryan Wesley's biggest regret is coaxing his very straight friend into a bet that pushed the boundaries of their relationship. Now, with their college teams set to face off at the national championship, he'll finally get a chance to apologize. But all it takes is one look at his longtime crush, and the ache is stronger than ever.
Jamie has waited a long time for answers, but walks away with only more questions—
can one night of sex ruin a friendship? If not, how about six more weeks of it? When Wesley turns up to coach alongside Jamie for one more hot summer at camp, Jamie has a few things to discover about his old friend…and a big one to learn about himself.
Want a sneak peek inside Him by Sarina Bowen and Elle Kennedy? Click on the image below!
Follow Sarina's work through her website
Follow Elle's work through her website
______________________________________
Something to Talk About by Meryl Wilsner
This book is a fabulous debut with real and engaging characters that covers a lot of issues sensitively. Jo Jones is a Chinese American ex-child movie star turned award-winning writer and producer. She's gay but never commented on her sexuality and has never had a public relationship. She's in the running to write a script for a traditional male character (think Bond/Bourne), but facing thinly veiled racist and sexist criticisms and has had enough of the press.
Not wanting to go to yet another awards ceremony on her own and face people asking her about the project before she's signed on, she invites her assistant, Emma along to act as a buffer. But when they are photographed sharing a joke on the red carpet, the press claim they are in love. Jo issues a 'no comment' statement, as she's always done, but the rumours won't go away.
There's nothing going on between Jo and Emma, but as their working relationship develops, so too do other feelings. Jo starts to get to know Emma's family, as her nephew plays in the same little league as Emma's nephews, and both sets of friends and family try to get our heroines to see what is obvious to everyone but themselves.
Something to Talk About is a very well written book with a huge heart. It deals with misogyny, Hollywood, sexual harassment, family dynamics and falling in love in a sensitive and believable way. My only reservations are about how long it takes our two gorgeous ladies to get together. As I read it, I kept looking at the percentage bar on my kindle as it crept up and up. On Meryl's website she writes:
'Meryl writes love stories about women who take so long to kiss you want to fling yourself into the sun.'
So true! I was yelling 'JUST KISS ALREADY' and they finally got it on in the final pages of the book. I felt this was a real shame as bringing their sexual relationship in earlier would have brought so much more to the story as we would see how it changed and deepened their relationship. This may have been a confidence issue with the author but it needn't have been as she's a great writer.
If you're happy with a slow burn and love character development then you'll love this book. I really enjoyed it and look forward to reading what Meryl writes next – MORE SEX NEXT TIME PLEASE MERYL!
Official Book Blurb
A showrunner and her assistant give the world something to talk about when they accidentally fuel a ridiculous rumour.
Hollywood powerhouse Jo is photographed making her assistant Emma laugh on the red carpet, and just like that, the tabloids declare them a couple. The so-called scandal couldn't come at a worse time – threatening Emma's promotion and Jo's new movie.
As the gossip spreads, it starts to affect all areas of their lives. Paparazzi are following them outside the office, coworkers are treating them differently, and a 'source' is feeding information to the media. But their only comment is 'no comment'.
With the launch of Jo's film project fast approaching, the two women begin to spend even more time together, getting along famously. Emma seems to have a sixth sense for knowing what Jo needs. And Jo, known for being aloof and outwardly cold, opens up to Emma in a way neither of them expects. They begin to realise the rumour might not be so off base after all . . . but is acting on the spark between them worth fanning the gossip flames?
Want a sneak peek inside Something to Talk About by Meryl Wilsner? Click on the image below!
And follow Meryl's work through her website
______________________________________
So there you go, the best books I've read recently. If you've read any of them then please get in touch via social media and let me know. Have you ever read any male/male or female/female romance? If not, have I persuaded you to give it a go? As ever, keep in touch on social media to let me know what you're reading and what books are in front of my eyes right now.
Evie x