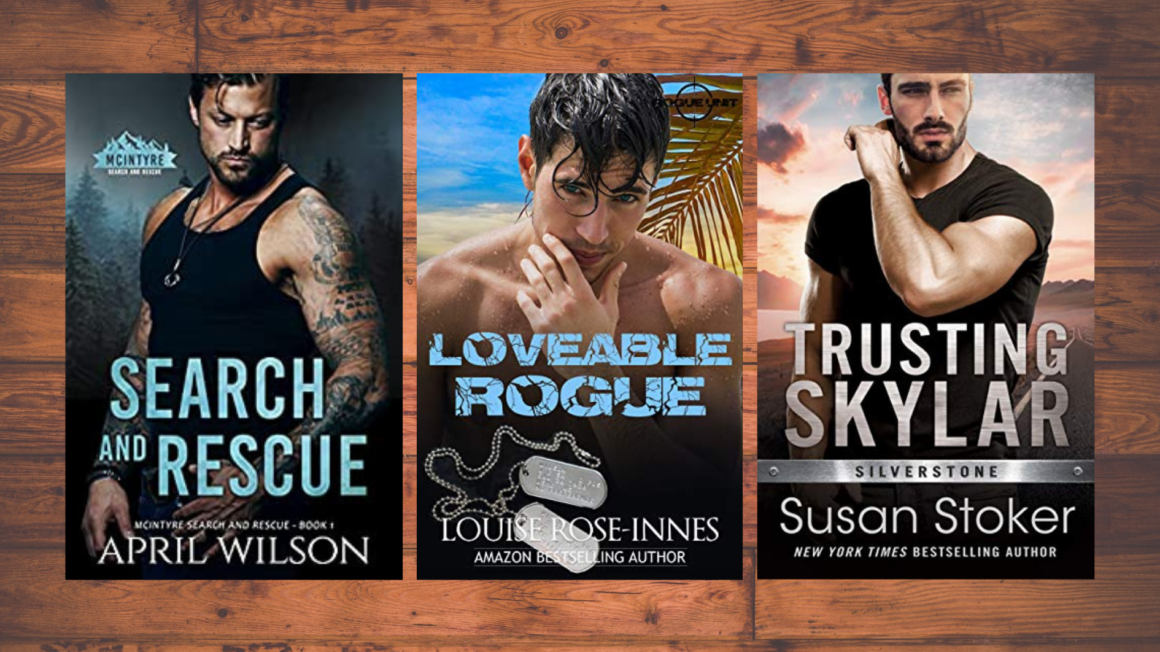 This month, hold onto your hats and drop your underwear, as it's time for some steamy romantic suspense. This genre involves jeopardy as well as romance and can often be thought of as a romantic thriller. Often these books involve the trope 'too dumb to live' – where the herione puts herself into harms way and the hero then rescues her.
Repeatedly… Romantic suspense novels can also be very dark, involving coercion, mafia tropes, BDSM and more. I've read a ton of romantic suspense novels and prefer the lighter side of the genre.
Three of my favourite authors have books in this month's blog, and all the heroes featured are former special forces badasses with hearts of gold. They put the romance into romantic suspense, treat our heroines with ultimate respect, and are the type of guy you want by your side whether as a lover, a friend, or a family member.
The heroines in these books also aren't silly saps. We've got a chemical engineer, a teacher, and a mountain ranger, all of whom bring more to the party than a pretty face that needs rescuing. So buckle up, grab the popcorn and prepare to get your heart racing for more reasons than just the steam…
Evie x
______________________________________
Trusting Skylar by Susan Stoker
Caron 'Bull' Rhodes is a member of an elite Delta Force team, tasked with finding and taking out the most evil terrorists on the planet. When a mission doesn't go according to plan, they take the fall and the unit is disbanded. But the night before they go their separate ways, they're given an opportunity to stay together in a new way. Now they run a successful towing truck company, but out of the back room they continue their special ops work in secret.
'Bull', 'Smoke', 'Eagle' and 'Gramps', are family to one another, but there has never been any room for love. 'Bull', named for his ability to hit any shot in the bullseye is feeling particularly restless. He loves his work, but he he wants love and a family. Coming off another successful mission, he heads out to tow a stranded driver, and finds Skylar; a sweet and innocent kindergarten teacher. He's drawn to her immediately, and summons up the courage to ask her out.
Their romance begins tentatively. Skylar can't believe this strong, handsome man is interested in her, and is wary that he's too good to be true. As their relationship deepens, Bull knows he has to tell her about his other job, but will he lose this trusting woman when she discovers he's a killer? And who is lurking in the bushes around the school watching Skylar at work?
Susan Stoker is a master of romantic suspense, with over eighty books to her name. Trusting Skylar is the first book in her Silverstone Series and I loved it. Bull is kind, gentle, caring, and completely badass, and Skylar is sweet without being a sappy walkover. What I particularly loved about this book was how their relationship developed. Bull was restrained and respectful towards Skylar, holding himself back, and never putting her under any pressure for sex, or to be anyone other than herself. He reminded me of the character Tom Hardy plays in 'This Means War' – someone kind and considerate, whilst also being hot AF. And when the steam does come, so does Skylar. Many, many times…
If you're after a romantic suspense story with a hero who isn't a dick, and who would charm your family and friends before taking you home to show you heaven, you need Trusting Skylar in your life!
Official Book Blurb
Former military operative Carson "Bull" Rhodes hasn't dated seriously since he and his teammates left the army. Since then he's opened Silverstone Towing—which is a front for his other job: hired killer. When kindergarten teacher Skylar Reid calls for help while stranded on the side of the interstate, the attraction is instant. The problem is Bull's career has jaded him. Skylar's innocent, and he wants to keep her that way.
Cautious by nature, Skylar never expected to fall in love with her tow truck driver. Even so, once Bull reveals what he really does for a living, she's not sure she can handle it. When Skylar faces threats that have nothing to do with Bull's job but are just as deadly, the stakes are higher than ever.
With the help of the Silverstone team, Bull will use everything he's learned over the years to bring the woman he loves home—because the alternative is unthinkable.
Get your hands on a copy of Trusting Skylar by clicking here!
And follow Susan's work through her website here and on social media
______________________________________
Loveable Rogue by Louise Rose-Innes
Penny's a chemical engineer who's landed her dream job on an oil rig in the Seychelles. But at five am on the morning of her first full day, when she goes out on deck to practice yoga, something hot, hard and heavy lands on her.
Jamie's a security guard for the oil company, working the night shift. Whoever is sneaking about in the dark like a ninja assassin shouldn't be there. But when he realises the predator is a pretty new hire called Penny, surprise turns to desire. He's a one woman a night kind of guy, but Penny stirs in his heart feelings he's never had before and he asks her out. Dating on an oil rig isn't private or romantic, but as they slowly start to get to know each other, maybe their relationship could have a future.
However, something's not right. Penny may be new to the job and inexperienced, but when the test drilling sites start to turn up water, not oil, she starts to investigate. Just as she's getting answers, the unthinkable happens. Now Penny and Jamie are running for their lives, and stuck on an uninhabited desert island with the enemy closing in, and no way out and. Can Penny trust her life as well as her heart with Jamie, or is everything about to end just as it was starting?
Loveable Rogue is a page-turning romp of a read, with a hot hero who'll stop at nothing to keep the woman he's falling in love with safe. Louise Rose-Innes has written a fabulous book with wonderful characters, and a story that keeps you on the edge of your seat all the way to the end. I absolutely loved this book and if you're new to romantic suspense then it's the perfect place to start!
Official Book Blurb
When Jamie is sent to protect an oil rig in the Seychelles from a possible pirate threat, the last thing he expects to find is love. Penelope is a chemical engineer and one of the brightest, sexiest women he's ever met. Despite his best attempts to befriend her, she's determined not to let him get close, but then the oil rig is attacked and they're thrust together under the worst possible circumstances.
When Penny agrees to a job on an exploratory oil rig in the middle of the Indian Ocean, she doesn't expect to meet a smoking hot ex-military private security contractor who's dimpled smile makes her weak at the knees. But she's known men like Jamie before – cocky, confident and only after a good time. No way is she falling for him. But when disaster strikes and they get stranded on a deserted island, Penny sees a different side to the loveable rogue – a side she could easily fall in love with.
Get your hands on a copy of Loveable Rogue by clicking here!
And follow Louise's work through her website here and on social media
______________________________________
Search and Rescue by April Wilson
Hannah's a mountain girl, living in a small cabin in Colorado with her dog, Scout, and working as a wildlife ranger. But when she goes to investigate illegal poachers, her life suddenly becomes far more dangerous than the odd encounter with a mountain lion or bear. She's now caught down a ravine with a broken ankle after running for her life through a snowstorm. Luckily her brother runs a private security firm, and when her friends report her missing, he sends in the cavalry.
Killian's the man who finds her. He's loved her since they met, more than a year ago, but she's always rebuffed him. Hannah believes he would never want to exchange city life in Chicago for life in the wilderness with her. But now, with the poachers still after her, a broken ankle, and her refusal to leave town, Killian's given a new assignment – protecting his boss's baby sister.
Now Hannah and Killian are forced together for weeks in a cabin with only one bed. Can Killian resist temptation and keep her safe, or will Hannah finally give in to the passion she's been hiding for so long?
Search & Rescue is a fantastic escapist read with a smouldering Cajun hero and a strong heroine. Hannah's more than capable of looking after herself, even if she's frustrated by a pair of crutches. She's also ready to fight for her man just as much as he fights for her. Killian is every woman's dream. He's patient yet decisive, and willing to sacrifice everything for Hannah. I read this book in one sitting as it was such a page turner. I hope you love it too!
Official Book Blurb
When nature warrior Hannah McIntyre goes missing in the Rocky Mountains, her brother organizes a search and rescue team. Killian Devereaux, a former military special-ops soldier who now works for a private security company, leads the mission. Killian grew up in the Louisiana bayou hunting gators with his Cajun grandpapa. Searching the wilderness for a missing woman is right up his alley. He's determined to find her because one thing is certain – Hannah haunts his dreams, and he's not about to give up on her.
Get your hands on a copy of Search and Rescue by clicking here!
And follow April's work through her website here and on social media:
______________________________________
So there you go! Three rocking romantic suspense books for you to get your teeth into. Have you read much in this genre? Can you recommend any authors and books for me? I'd love to know your thoughts. You can get in touch with me via email or social media!
Big hugs,
Evie x