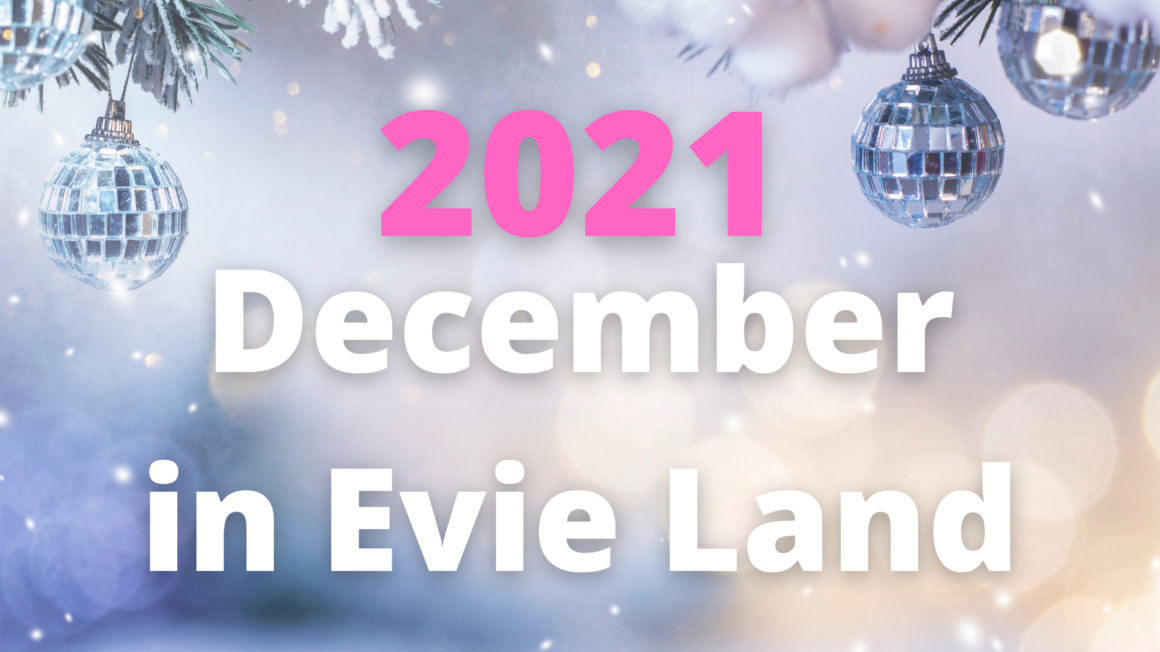 Behind the Scenes in Evie Land – December 2021
It's December! We made it! I'm wrapping up 2021 with a review of twelve insane months in Evie land. I've had the release of Highland Games, the birth of The Smut Hut, the arrival of puppies, and a near death/divorce experience involving a field of cows. So sit down with a mince pie and a glass of sherry, and experience the rollercoaster of my life without any of the danger, angst or aggro…
At the start of the year I finished Kissing Games, the third book in the Kinloch series. This story was intended to be a novella to be given to my newsletter subscribers, however it ended up being a full length novel that blew me away. Compared to Highland and Hollywood Games, it was a breeze to write, and when my editor told me it was 'brilliant', the excitement was so overwhelming I left the house at six in the morning when it was minus four degrees outside, and drove to a local river. In the darkness, I took off all my clothes, got in naked, and 'sang' with joy.
This must have been proof that I had totally lost the plot, because the following month I agreed to do something I swore would happen 'over my dead body' – we got puppies. We were only meant to get one, but when we arrived to pick Chester up, I burst into tears. The lady who was selling them then told me Joy didn't have a home to go to, and I cried some more. So now we have two puppies, and their unexpected arrival caused our daughter to also lose her shit.
Chester and Joy have been with us ten months now and are just as annoying as I predicted they would be. They are unbelievably stupid but also very cute (especially when asleep), and have provided lots of comedy value in the household, especially when humping my husband.
From May to July, I spent eight manic weeks writing Musical Games, the fourth book in the Kinloch series. After the unreal experience writing Kissing Games, I was worried that I wouldn't be able to replicate the magic. Thankfully it was just as much of a joy, especially writing scenes that I had planned in my mind over two years ago.
As soon as Musical Games was written, we started clearing the garden for the arrival of a home office for me. Our house is fairly small and we have attempted to move multiple times over the last few years, always stopped at the last hurdle by money. We received planning permission to build a writing shed in the garden, but after our builder upped the price from 20k to 84k, we politely declined to go any further, and assumed I was going to be stuck in the house for the foreseeable. However, I had spotted what looked like part of a Hobbit house under a tarp in a farmer's field, and after knocking on the farmhouse door and making enquiries, I bought it off him. I'm now the proud owner of a second hand glamping pod from Lithuania, which I have christened 'The Smut Hut' and I couldn't be happier in it.
The Smut Hut took three months to complete, and during this time my husband bought a broken mobility scooter, and took us on a family walk that ended knee deep in shit, and nearly in death. For a full description of both horrors, I would encourage you to read my July blog as having to rehash either events brings me out in hives.
The highlight of the year was October, when Highland Games was released. This book has been five years in gestation, and it was so amazing to see it finally come to life. The release was an incredible experience, with a cake, flowers, Prosecco, amazing reviews, two bestseller badges from Amazon, and being long-listed for a romance award.
Once a book is out in the world, the work does not stop. As well as continual promotion, including interviews and being on a fabulous podcast, I started back on the final edits of Hollywood Games, and began writing a secret novella project with Kelly Kay. It was a huge challenge for both of us to write 'short' but it was so much fun to be back writing, and I can't wait for this collaboration to be out for Valentine's day. As I write this, we're still battling to get everything ready and I've developed eczema for the first time in my life. It's on my hands so making writing and general life extremely challenging…
Thinking about this blog, it would have been very easy to write about the anxiety and stress I have suffered over the last twelve months. I don't know of anyone who has been untouched by global events this year. So much is beyond our control and I have felt frustrated, angry and upset almost every day in 2021. However the thing I want to focus on in concluding the wrap up of this year is the incredible online community that has kept me going through dark times. When our movement and face-to-face social interaction is limited and controlled, these 'virtual' relationships have been vital for me. I speak to people I have yet to meet in real life, either via the phone, or video chat almost every day. We laugh, we give and receive advice, we support each other no matter if the subject is blurb writing or eczema treatment.
This year has been stressful, but also life-changing in a wonderful way, and I'm so grateful for you all for keeping me company. Roll on 2022!
Evie xxx
Ps – As well as multiple book reviews, my blog highlights this year have been the ones about romance tropes, how to write a sex scene, top 10 hot Scots, what is a sex index, and the cover design process for Highland Games. Go check them out!
Pps – Don't forget to keep in touch via social media. I always love hearing from you!