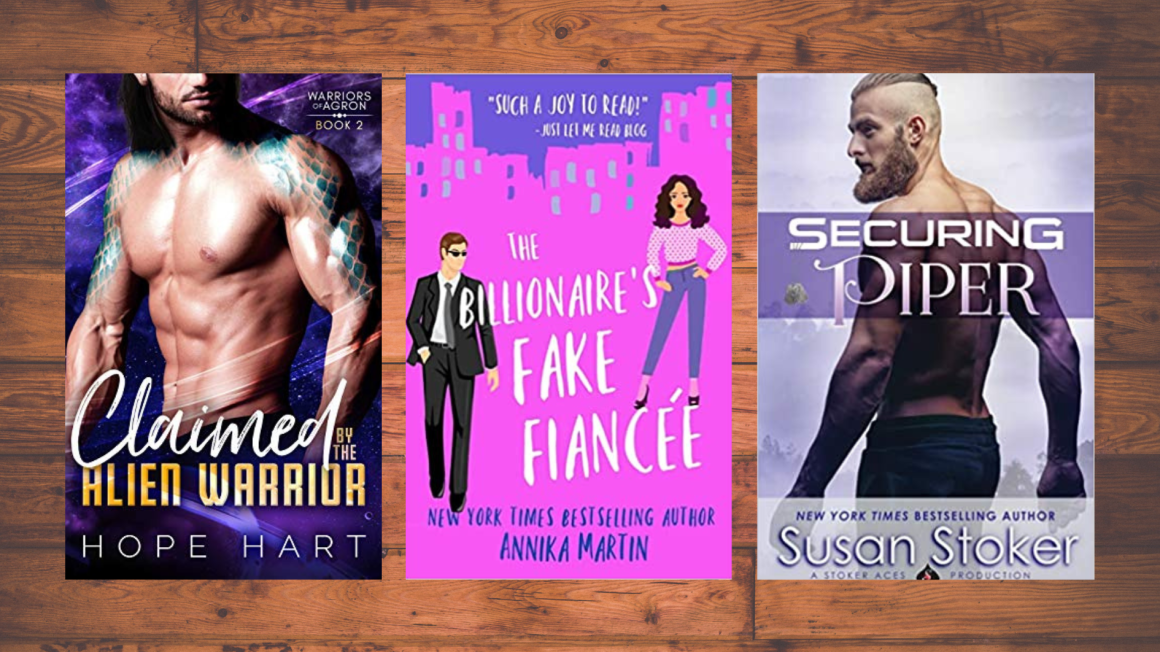 This month I've got a Navy SEAL team rescuing a woman and three orphaned girls from a war torn country, a kick-ass marine who's been kidnapped and dumped on an alien planet, and a Hello Kitty loving hairdresser who finds herself the fake fiancée of her Billionaire boss, 'Captain Sternpants'… These books are heart-racing, funny-bone tickling, panty-melting delights and I adored them. Read on for all the details!
Evie x
______________________________________
Securing Piper by Susan Stoker
Piper Johnson is in deep doo-do. She came to the island of Timor-Leste to spend time with her best friend, Kalee, who was working for the Peace Corps. But now rebels have attacked the mountain orphanage, Kalee has been shot dead and Piper is hiding under the floor of a kitchen with three terrified little girls. She doesn't know if it's safe to leave, and hasn't got a clue how they can escape and find help in their remote location. But then she hears American voices and discovers a SEAL team looking for Kalee. The team are battle-hardened best friends and won't leave Piper or the girls behind. Running for their lives, Piper resolves that she will never abandon the girls. At 32, she may be single and childless, but her mothering instincts have kicked in and she can't leave Rani, Sinta and Kemala to an uncertain fate.
Beckett 'Ace' Morgan is one of the SEAL team and is drawn to the stoic Piper and the three girls. A couple of months ago he faced certain death in a cellar in the middle east. At the time he voiced his deepest regret – that he never got to be a dad. Now, he's feeling a deep sense of love and protectiveness for Piper, Rani, Sinta and Kemala and knows he will do everything in his power to make their lives better. But when they arrive in the capital, the state orphanage is full, and the private one is a poorly disguised front for selling girls to the highest bidder.
Piper is desperate to adopt the girls and take them home with her, but the US embassy staff make it clear that would never happen unless she was married. Without a second thought, Ace proposes marriage and Piper accepts. But this is only the start of their adventures, as waiting for them in the States is a threat neither of them saw coming…
Susan Stoker is the queen of romantic suspense. Her stories are utterly addictive and the heroes she writes are the kind of men you drool over. They're sweet, kind, thoughtful and respectful whilst also being hard and hot AF… When Ace proposes marriage and opens his heart, house and life to Piper and the three girls I didn't know whether to squeal or swoon. So I did both. Their situation is fantasy catnip to me and I loved every minute. If you're new to romantic suspense, bear in mind that there are some very hard hitting scenes in the book which can make for uncomfortable reading. Also, if you're after a lot of spice there is only really one steamy scene but it is definitely worth it. I adored this book, and the ending made me absolutely desperate to read the rest of the series!
Official Book Blurb
What started as an adventure, soon became hell. Piper Johnson's thrilled to spend time in Timor-Leste with her best friend, a Peace Corps volunteer…until civil unrest erupts throughout the countryside, including an attack at the orphanage the women were visiting. With the aid of a SEAL team sent to extract the government employee, Piper flees with the only other known survivors—three young orphan girls. Piper wasn't able to save her friend, but she'll be damned if she leaves the girls to the mercy of child traffickers in the country's impoverished capital. However, taking them with her to the States requires something drastic, something crazy…something she can't do alone.
What started as a mission, soon becomes fate. Since nearly dying on a previous op, Beckett "Ace" Morgan has no time for regrets. Life is far too short. So when he learns the brave, beautiful, selfless woman he's rescued has a better chance of getting three orphans out of the country if she's married, he doesn't hesitate. Ace marries her then and there, instantly gaining the family he's always wanted. With time, he knows his respect for Piper can grow into love, and meanwhile, he's saved both her and their new daughters from a fast-spreading rebel incursion.
Protecting his girls on foreign soil turns out to be the easy part of the team's mission. Protecting them from a threat waiting at home may be the biggest fight of Ace's life.
Get your hands on a copy of Securing Piper by clicking here!
And follow Susan Stoker's work through her website here.
And on social media
______________________________________
The Billionaire's Fake Fiancée by Annika Martin
This is book four in the Billionaires of Manhattan series and omg it's brilliant. I'm a HUGE fan of Annika Martin and this story was scrumptious and spicy and all kinds of fabulous. Rex is a brooding billionaire with a dark past. He believes romantic entanglements lead to heartache for both parties so never spends a night with the same woman twice. The closest relationship in his life is with his hairdresser, Tabitha, and it's a relationship made up of his monosyllabic grunts and criticism of her love for soap operas and Hello Kitty. But when his supposed playboy ways jeopardise the chance to make the business deal of his life, his business partner and best friend, Clark, goes behind his back to invent a secret fiancée for him. One he now is obliged to spend two weeks on a yacht with, impressing his potential new clients. Rex is furious and tells Clark he needs to find someone he finds so repellent there would be no chance of romance confusing things. However when Rex provides him with a detailed list of everything he 'hates' in a woman, Clark spots that it is a detailed description of Tabitha… For Tabitha, the job Clark offers her may be weird AF but it's a dream come true. She can't work due to an injury and is about to lose her home because she can't pay the rent. She's always had the biggest crush on 'Captain Sternpants' and is honoured that he's chosen her to be his fake fiancée. However, when they get onboard, the close proximity to Tabitha's sunny personality starts to make Rex unravel…
The Billionaire's Fake Fiancée has intrigue, comedy, drama, and scenes so hot you'll read them over and over again. Rex and Tabitha are such vibrant and alive characters and I adored how their relationship developed. Annika is the most incredible writer of grumpy, growly men and Rex is one of the grumpiest and growliest of them all. Tabitha is the ray of sunshine, trying to block out the rain inside her and together they are a perfect storm of lightning and rainbows. If you like brooding alphas with a hidden heart of gold, and page-turning stories that draw you in until the last page, then you'll love this book!
Official Book Blurb
I'm no Prince Charming, and the last thing I want is a Cinderella.
My instructions were simple: scour the city for a fake fiancée who's not my type at all. Have her on my jet Monday morning, dressed for a yacht vacation.
I need a woman believable enough to convince a certain client that I've changed my playboy ways…yet too annoying to tempt me—no emotional entanglements, thank you very much. This is business only.
If she's unfazed by my looks and wealth, all the better. Should be easy. Right?
Apparently not, because my people go and hire Tabitha. My hairdresser.
What were they thinking? Yes, I said annoying, but I didn't mean her, the most aggravating woman in the world.
Tabitha is sunshiny. She has a pet hamster. She loves Hello Kitty, and she gets under my skin like nobody else.
As if that's not bad enough, the minute we step on deck, she thinks that certain people on the yacht are up to something shady—based completely on her soap opera knowledge. She won't listen when I tell her she's being ridiculous.
But as the days go by, I find that we're actually having fun. And our fake kisses are heating up. And suddenly her wild theories aren't sounding so strange after all…
Get your hands on a copy of The Billionaire's Fake Fiance by clicking here!
And follow Annika Martin's work through her website here.
And on social media
______________________________________
Claimed by the Alien Warrior by Hope Hart
This book is the second in the Warriors of Agron series and was set up so brilliantly in the first that I couldn't stop myself diving right in. Nevada is a badass, kickass, US marine. She's seen combat and been captured and imprisoned in Iraq. After being kidnapped from earth by aliens and then crash-landing on a planet with no technology, she's finally safe with a tribe of Braxians who aren't trying to kill or eat her. The only issue is that during her rescue, three of the women from earth were taken by the Voildi. Which is a very bad thing. Nevada's not going to leave them behind and it isn't fazed by the enormity of the task before her. However, the chief, Rakiz, will never let her go. Females are extremely precious and in short supply. He knows that Nevada knows nothing of the planet, if she left it would be suicide. But unlucky for him, the woman who makes his blood boil (in all sorts of ways) doesn't like being told what to do…
This book is just fabulous and has similar vibes to Alien Enemy by Ursa Dax. I ADORED Nevada. She's smart, fierce and courageous. At every turn she made me smile, especially at the end when she was showing the warriors of Rakiz's tribe just how shoddy their security was. Rakiz was also brilliantly drawn. He's grumpy and complex and made better by Nevada's challenges. If you like strong heroines and powerful men who worship their women then you have to read this book
Official Book Blurb
What's worse than being stuck on an alien planet?
Being stuck on an alien planet when you've made an enemy of the local tribe King.
Okay, so I may have stolen his favorite mishua and snuck away to find my friends. But he should've known better than to forbid me to go. I'm a marine, and we leave no man– or woman, behind.
Besides- putting distance between us is a good thing, especially since I'm sure he's coming after me. We're like fire and gasoline, and spending time near him is like lighting a match and waiting for the explosion.
So what if his dark eyes promise more pleasure than I've ever experienced? I'm finding my friends and getting off this planet.
Even if this alien king seems to think he owns me.
Even if a tiny part of me might like the idea of being owned… by him.
Claimed by the Alien Warrior is book two of the Warriors of Agron series, and it's a full-length romance with no cliffhanger and a guaranteed HEA. While this is a standalone, you'll enjoy it much more if you read Taken by the Alien Warrior first.
If you like hot, dominant aliens, kick-ass heroines, and steamy romance, you'll love Warriors of Agron- Hope Hart's new sci-fi romance series.
Get your hands on a copy of Claimed by the Alien Warrior by clicking here!
And follow Hope Hart's work through her website here.
And on social media
______________________________________
So there you have it! Whether you want to escape with a Navy SEAL, a grumpy Billionaire, or a warrior alien, these books have you covered. Have you read any of these yet? Let me know! And, as ever, if you have any reading recommendations for me then get in touch via email or my social channels.
Happy reading!
Evie xxx