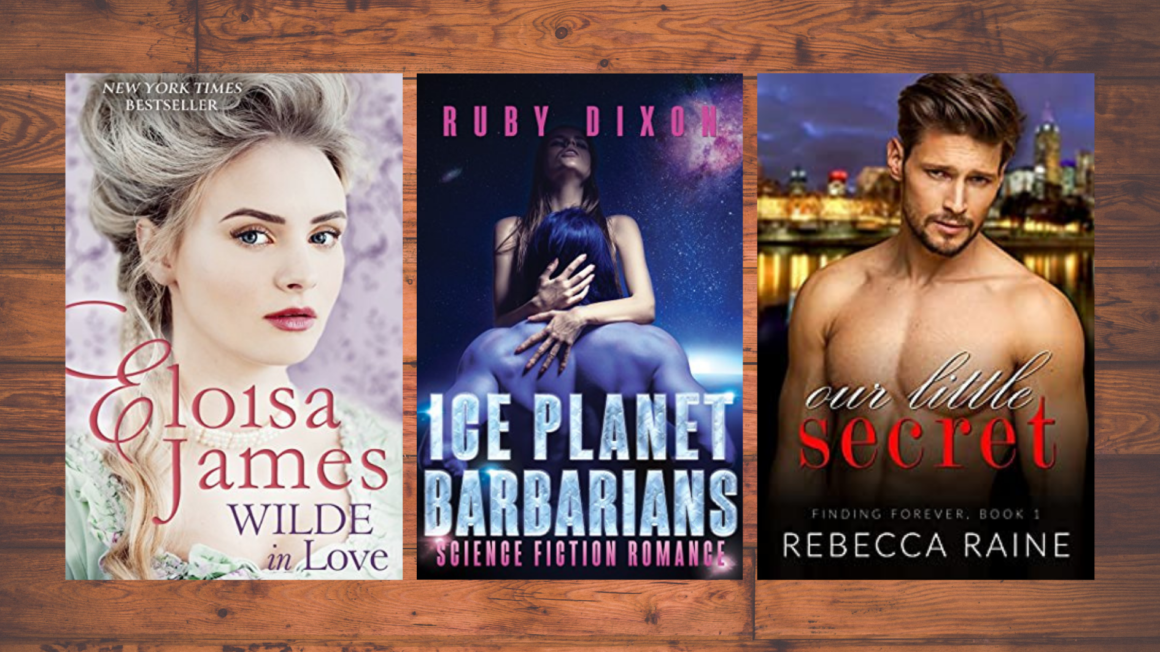 If anyone were to think that all romance books are the same, then please point them towards this month's blog. I've got seven foot blue aliens, a woman in a relationship with two bisexual men, and a Regency romance complete with a Missionary's daughter, a dangerous bog and a testy peacock. All these books are fabulously written and utterly unputdownable. It doesn't matter where in time or space the romance occurs, or who is involved. Love is love, and brilliant characters, story and writing will always win my heart.
Evie x
______________________________________
Ice Planet Barbarians by Ruby Dixon
I've seen people online being hooked by this series, and as it was on Kindle Unlimited I thought I'd give it a go.
OMFG. It is literally literary crack cocaine. I could not put it down. The story starts with Georgie waking up on a spaceship having been abducted by very unfriendly aliens. She and other young women are being transported like cattle to an unknown destination, but they sure as hell know it's not going to be fun. Georgie tries to plan a breakout, but before they can overpower the guards, their pod is jettisoned and crashes into an ice planet. Georgie tries to find help, and meets a seven foot tall blue-skinned alien named Vektal, who seems to find her intensely alluring. What Georgie doesn't know is that Vektal has 'resonated' with her, and his 'khui', a form of parasite that keeps him alive on the frozen planet, has chosen Georgie to be his mate.
Ruby Dixon is the secret pen name of a New York Times and USA Today Bestselling Author and the quality shows. Ice Planet Barbarians is brilliantly written, utterly engaging, and (despite the snowy location) extremely hot. After finally finishing this book at one in the morning, I woke up (disappointed that my husband had not overnight turned into a seven foot tall blue alien with horns, a tail, and a (ahem) ridged penis) and promptly downloaded book two in the series – Barbarian Alien – which is even better than Ice Planet Barbarians. I am now attempting to ration myself on this series or I will not get anything else done in my life – you know, like eating, sleeping, or being a mum.
So, be warned. Once you start reading this series, you might not ever be able to stop…
Official Book Blurb
You'd think being abducted by aliens would be the worst thing that could happen to me. And you'd be wrong. Because now, the aliens are having ship trouble, and they've left their cargo of human women – including me – on an ice planet.
And the only native inhabitant I've met? He's big, horned, blue, and really, really has a thing for me…
Want a sneak peek inside Ice Planet Barbarians by Ruby Dixon? Click on the image below!
And follow Ruby's work through her website and social media channels
______________________________________
Wilde in Love by Eloisa James
I'm a huge fan of Lisa Kleypas's romances and when I saw an advert for Wilde in Love, I thought I'd broaden my Regency horizons. Eloisa James is a Shakespeare professor, and her knowledge of the period is absolutely spot on. Wilde in Love was a fabulous read which I adored. Willa is a wonderful character, and Alaric is suitably grumpy and dangerous to make him an ideal leading man. The side characters are just as engaging, and when a surprise fake relationship trope was thrown in for good measure, I was in heaven.
I thoroughly recommend this book. It's got humour, colour, steam, and plenty of teases for the rest of the series.
Official Book Blurb
Lord Alaric Wilde, son of the Duke of Lindow, is the most celebrated man in England, revered for his dangerous adventures and rakish good looks.
Arriving home from years abroad, he has no idea of his own celebrity until his boat is met by mobs of screaming ladies. Alaric escapes to his father's castle, but just as he grasps that he's not only famous but notorious, he encounters the very private, very witty, Willa Ffynche.
Willa presents the façade of a serene young lady to the world. Her love of books and bawdy jokes is purely for the delight of her intimate friends. She wants nothing to do with a man whose private life is splashed over every newspaper.
Alaric has never met a woman he wanted for his own . . . until he meets Willa. He's never lost a battle. But a spirited woman like Willa isn't going to make it easy . . .
Want a sneak peek inside Wild in Love by Eloisa James? Click on the image below!
And follow Eloisa's work through her website and social media channels
______________________________________
Our Little Secret by Rebecca Raine
The eagle-eyed amongst you will notice that I reviewed another book with this title recently. My alpha reader went to buy it and discovered this book by Rebecca Raine. She said it was amazing, so I promptly downloaded it to see for myself. Our Little Secret is the story of Julia, who never puts a foot wrong in life, until she's tempted by her former bosses to enter a relationship with them.
This book is brilliantly written. It's fantastically structured, and each chapter ends with you desperate to read the next. Issues are handled sensitively, and the characters are well-rounded and believable. The language is clever and the dynamics between the three leads are even. I couldn't put this book down and loved every moment. If you're looking for a new take on MMF (male male female), without the pseudo sub-dom language and behaviour that can plague some MMF romances then you've got to read this one!
______________________________________
Official Book Blurb
How does a sensible, modern woman indulge in a three-way relationship without getting all tangled up?
Julia Hearst is a practical, responsible accountant with no tolerance for salacious thoughts in the workplace. Even if those thoughts, inspired by her two incredibly hot gay employers, are running rampant through her own head. Julia is ready to embark on a new job and leave all these lusty feelings behind.
Long-time lovers, Derek Carrigan and Scott Mason, have always known they were meant to share their lives with a woman. As far as they're concerned, they found her the day Julia walked in looking for a job. Now she's leaving, and will no longer be under their employ, it's time to make their move.
Although shocked by their advances, Julia is seduced by the idea of indulging in a few weeks of sensual adventure before she starts her new job. Then, with the restless side of her satisfied, she has every intention of returning to her safe, predictable life with no one the wiser. It will be their little secret.
Derek and Scott, on the other hand, have their own agenda. Now they have Julia exactly where they want her, they're not about to let her go.
Want a sneak peek inside Our Little Secret by Rebecca Raine? Click on the image below!
And follow Rebecca's work through her website and social media channels
______________________________________
Have you read any of these books? If so, what did you think? Get in touch via my social channels to let me know. If you haven't yet read Ice Planet Barbarian, Our Little Secret, or Wilde in Love then I urge you to give them a go! I'd also love to know what books are keeping you up at night and making your toes curl (in a good way)…
Evie x