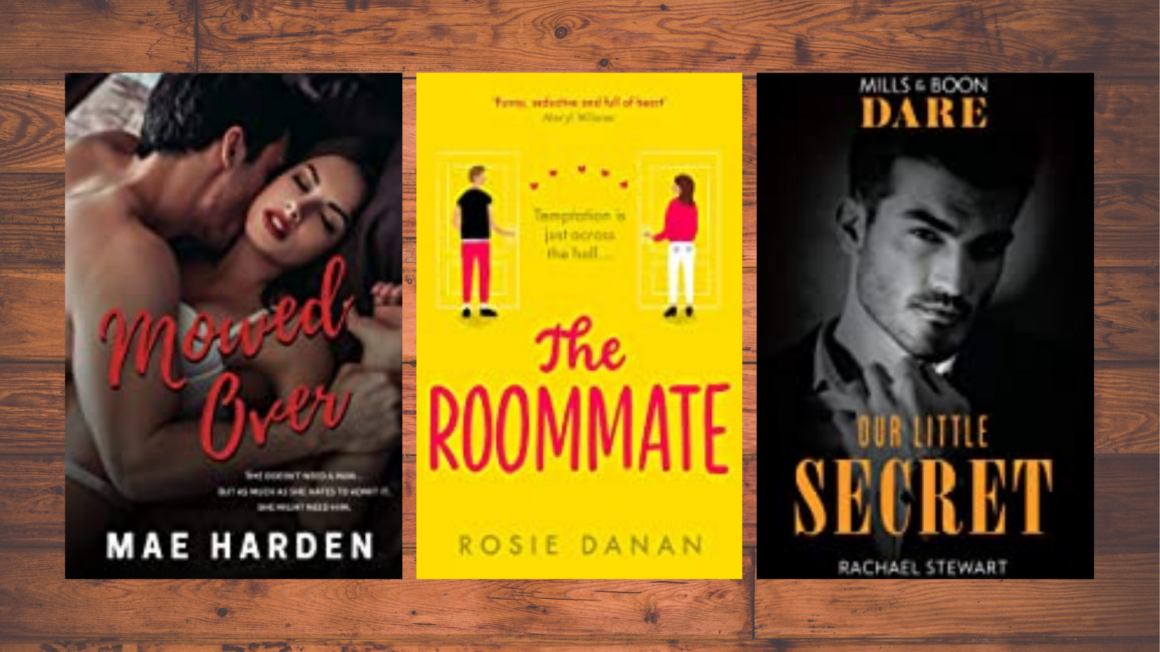 Ladies and gents, be prepared. Your underwear is about to go up in flames.
This month I'm turning up the heat with three scorching stories that will have you reaching for the ice pack, or whatever else you need to cool you down… We've got an Italian stallion in a Tuscan castle, a porn star in LA, and a hot computer geek in Sonoma, with more muscles than Henry Cavill on steroids.
No matter what's going on in your life, you need to stop right now and get reading. And if your life is particularly challenging at the moment, then these books are the perfect escape.
Evie x
______________________________________
Our Little Secret by Rachael Stewart
I grew up reading Mills and Boon books – hidden inside clear plastic folders at school. I was such a quick reader, I could almost read a whole story within a double IT lesson. When I was older I tried to write them. 'How hard could it be?' The answer is – very fucking hard. Mills and Boon books have had a bad rap over the years and the women who write them do not get the respect they deserve. Writing a very specific romance novel to a very specific brief is insanely difficult. I know because I tried for many years, and failed each and every time.
That's why, when I read Our Little Secret, I was not only captivated by the story, I was blown away by the skill of the writing. Rachael Stewart has created a world that is so immersive it transported me away from a very difficult time in my life, to an Italian paradise with a smoldering hero. We follow Faye at her best friend's wedding, meeting her bestie's elusive older brother whilst midnight skinny dipping. Rafael doesn't believe that love can last, and besides, his only mission is to protect his sister from their overbearing mother. Faye has heard only the worst about Rafael, and so whatever happens between them must remain a secret.
Our Little Secret has wonderfully unexpected humour, richly drawn characters, emotive subplots and scorching hot sex. Every page was a delight and I cried as Rafael began to repair his relationship with his family. Whether you're on a beach, or as I was, sitting in a car park in Bristol, Our Little Secret is the perfect story for any occasion, and a wonderful book in every way.
Official Book Blurb
A little secret sexy fun
Under the Tuscan sun!
It's her best mate's wedding week – and Faye Davenport is celebrating with a skinny dip under the Tuscan moon. Except she's not alone. The sexy Italian dish is Rafael Perez – her mate's off-limits older brother. But now it's too late. This illicit, irresistible fire is already out of control…
Want a sneak peek inside Our little Secret by Rachael Stewart? Click on the image below!
And follow Rachael's work through her website and social media channels
______________________________________
The Roommate by Rosie Danan
'The faded wallpaper exuded kitschy charm, fighting for her affection, but she couldn't shake the crushing weight of her disappointment. Clara wiped off the seat of the sofa before sitting down.
"So this is how it feels to be well and truly fucked."
"I get that a lot," said a low voice behind her.'
Clara is the perfect preppy girl who's moved across the country to share a house and a summer with Everett, the guy she's been in unrequited love with forever. But when he leaves town the moment she arrives, she's too embarrassed to head home on the next flight. Not only has she been ditched, but Everett's rented his room to Josh, a total stranger with a very unusual job.
The Roommate is one of the hottest books I've ever read, with a porn star male lead who is not at all what you'd expect. It's funny, sinfully hot, and also tackles female pleasure and the porn industry in a refreshing and direct way. I absolutely loved this book. The heat is off the scale and I was rooting for Clara and Josh to make their relationship work, despite all their differences. It's just a fabulous book.
Official Book Blurb
Clara Wheaton is the consummate good girl: over-achieving, well-mannered, utterly predictable. When her childhood crush invites her to move across the country, the offer is too good to resist. Unfortunately, it's also too good to be true.
Suddenly, Clara finds herself sharing a house with a charming stranger. Josh might be a bit too perceptive – not to mention handsome – for comfort, but there's a good chance he and Clara could have survived sharing a summer sublet if she hadn't looked him up on the internet . . .
Once she learns how Josh has made a name for himself, Clara realises living with him might destroy the reputation she's spent years building. But while they may not agree on much, both Josh and Clara believe women deserve better sex. What they decide to do about it will change both of their lives, and if they're lucky, they'll help everyone else get lucky too.
Want a sneak peek inside The Roommate by Rosie Danan? Click on the image below!
And follow Rosie's work through her website and social media channels
______________________________________
Mowed Over by Mae Harden
Mowed Over is the second in the Sonoma series by Mae Harden and is my favourite. I was introduced to Mae by author Julia Jarrett who said 'she writes HOT' so of course I had to have a read… Lilah has a heart of gold that's protected better than Fort Knox. She loves her family but hates her neighbour. He insists on mowing his lawn on the one morning she gets to sleep in. This wouldn't be so bad, but he's also insanely hot, and seems to like it when she stomps out of her house to yell at him dressed only in her pajamas. Ben, of course, is trying to do anything to attract Lilah's attention. There's nothing better than being bawled out by the most beautiful woman he's ever met. Luckily her family seem to be on his side, and a little bit of matchmaking gives him the chance to show her who he really is.
Mae writes with humour, passion and a shit-ton of heat. I laughed at the phrase 'douche canoe', and swooned over Ben, the super stacked nerd with a sexy Southern drawl. If you want a fabulously easy read with great characters and more bang than the fourth of July, then look no further…
Official Book Blurb
Lilah
I don't ask for much. I'd like a job where my boss isn't a total douche bag. I'd like to sleep in past 8 am on my day off. Mostly, I would love my new next-door neighbor to keep his sexy dimples and cocky smiles to himself. He may look like pure southern temptation, but he seems determined to irritate me as often as possible.
Letting him in might feel like I'm carving out my heart and handing it to a stranger, but it's quickly becoming apparent that someone else is watching me and Ben may be the only person who can help me uncover the truth.
Ben
Lilah Donovan is pure walking sin. The more time I spend with her, the harder I fall. She's an adorable, feisty, half-pint of everything I never knew I wanted. She may have built the Great Wall of China around her heart, but I'm not averse to climbing if that's what it takes to find a way in.
Getting through to her is an exercise in patience, but it's not the only thing testing my abilities. Between the phone calls from unknown numbers, the car problems that are looking like sabotage, and the shadowy figure in her yard, it's obvious that someone is stalking my girl. But he's messing with the wrong person because I am uniquely qualified to end this, and there are no lengths I wouldn't go to when it comes to protecting Lilah.
Want a sneak peek inside Mowed Over by Mae Harden? Click on the image below!
And follow Mae's work through her website and social media channels
______________________________________
So, there we have it, three books so hot they could turn the sun up by fifty degrees. I would love to know if you've read any of them and what you think? And you could also send me your eternal gratitude for pointing these stories your way 😂 😂 😂. Get in touch via email or my social channels, and if you have any steamy recommendations of your own, then let me know!
Evie x