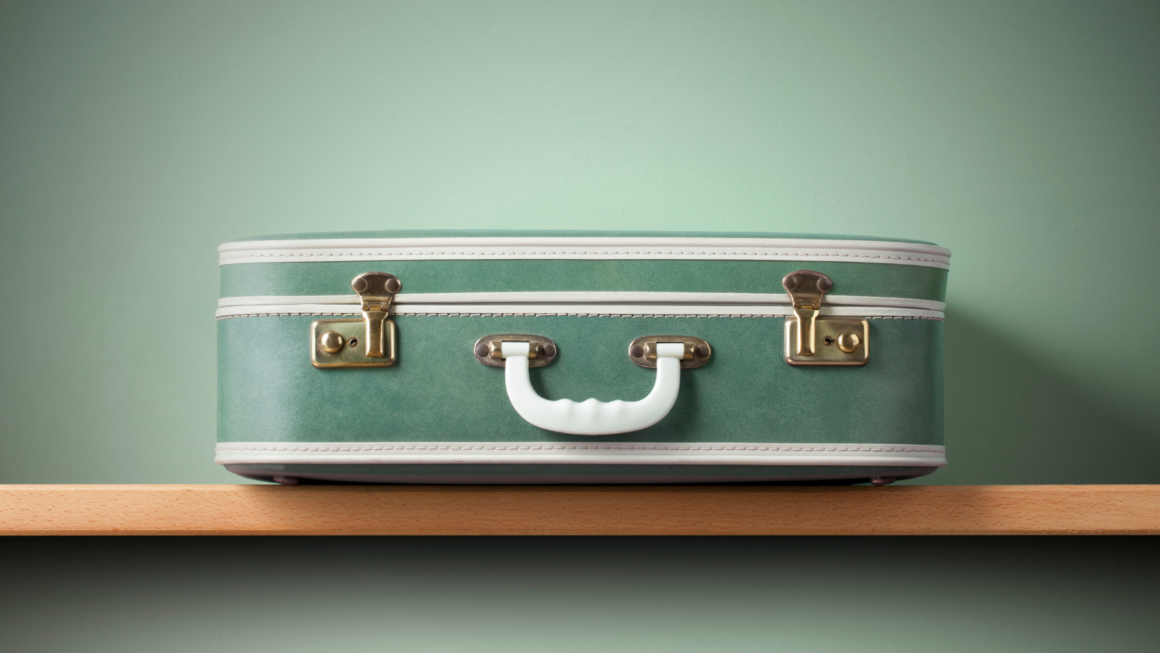 Zoe's Essentials for Highland Living
Hi everyone, I'm Zoe and I've decided to do a takeover blog, because, well, quite frankly, Highland Games is about ME and I feel I need to explain myself a bit.
I'm sure you have been wondering exactly how such a well together and organised person (moi), could have made such mistakes when moving up to Scotland. Well, that's what happens when you mix idyllic childhood memories with fantasy and Prosecco in a bubble bath. Once I found out that great uncle Willie had left me his cabin, the idea to move there took hold, and nothing was going to stop me.
To be honest, looking back, there must have been part of my brain that knew I was being crazy. That's why I didn't tell anyone, and I mean ANYONE, of my plans. I only told my parents when I was on my way. They were so worried, and my best friend Sam told me I was having a breakdown. I admit I made some mistakes, so I thought I'd share with you my plan and packing list, so you know what (not) to do if you ever decide to make a radical life change and move to the highlands of Scotland to live in a cabin you haven't seen for twenty years.
What I need to do before moving to Scotland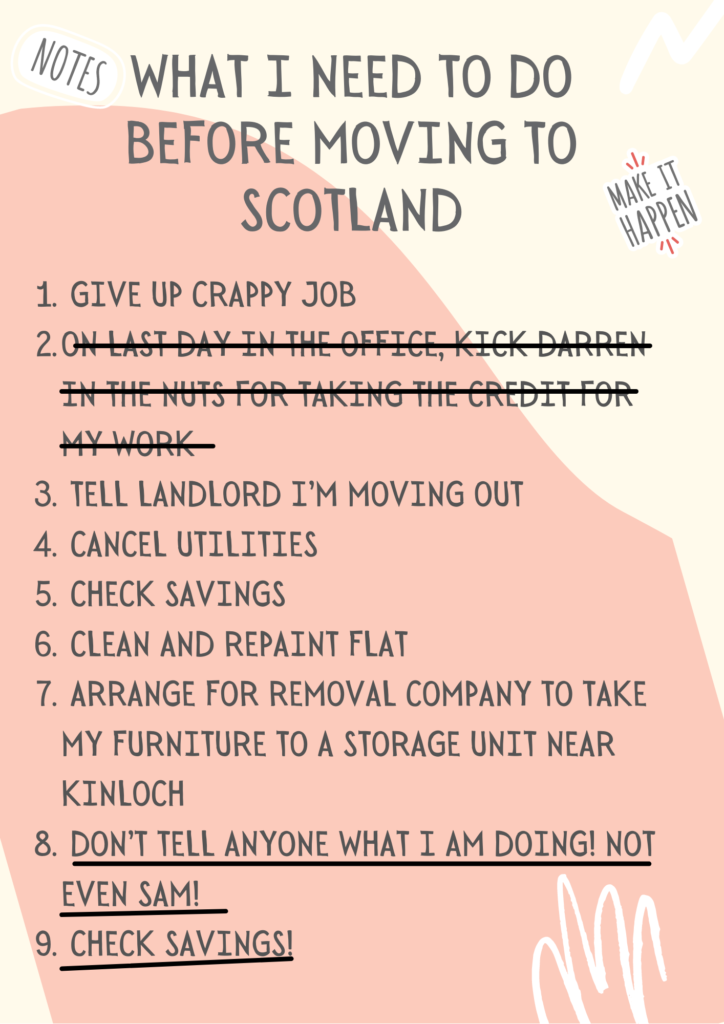 Give up crappy job
On last day in the office, kick Darren in the nuts for taking the credit for my work
Tell landlord I'm moving out
Cancel utilities
Check savings
Clean and repaint flat
Arrange for removal company to take my furniture to a storage unit near Kinloch
Don't tell anyone what I am doing! Not even Sam!
Check savings!
Packing list for new life in cabin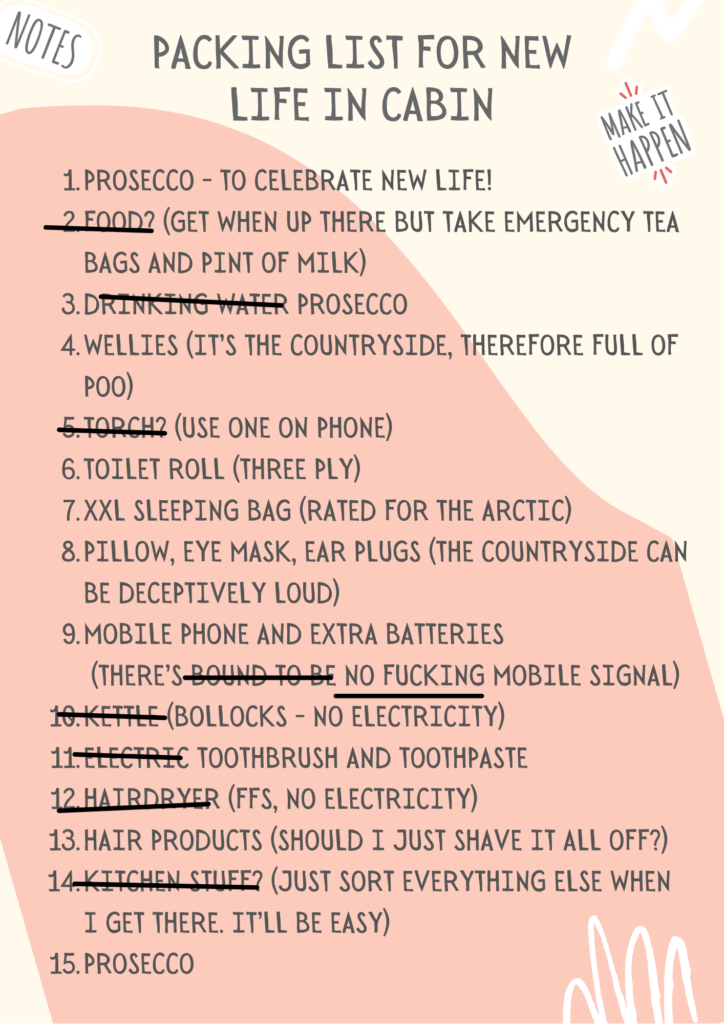 Prosecco – to celebrate new life!
Food? (Get when up there but take emergency tea bags and pint of milk)
Drinking water Prosecco
Wellies (it's the countryside, therefore full of poo)
Torch? (use one on phone)
Toilet roll (three ply)
XXL sleeping bag (rated for the Arctic)
Pillow
Eye mask
Ear plugs (the countryside can be deceptively loud)
Mobile phone and extra batteries (there's bound to be no fucking mobile signal)
Kettle (bollocks – no electricity)
Electric toothbrush and toothpaste
Hairdryer (FFS, no electricity)
Hair products (should I just shave it all off?)
Kitchen stuff? (just sort everything else when I get there. It'll be easy)
Prosecco
What should have been on my list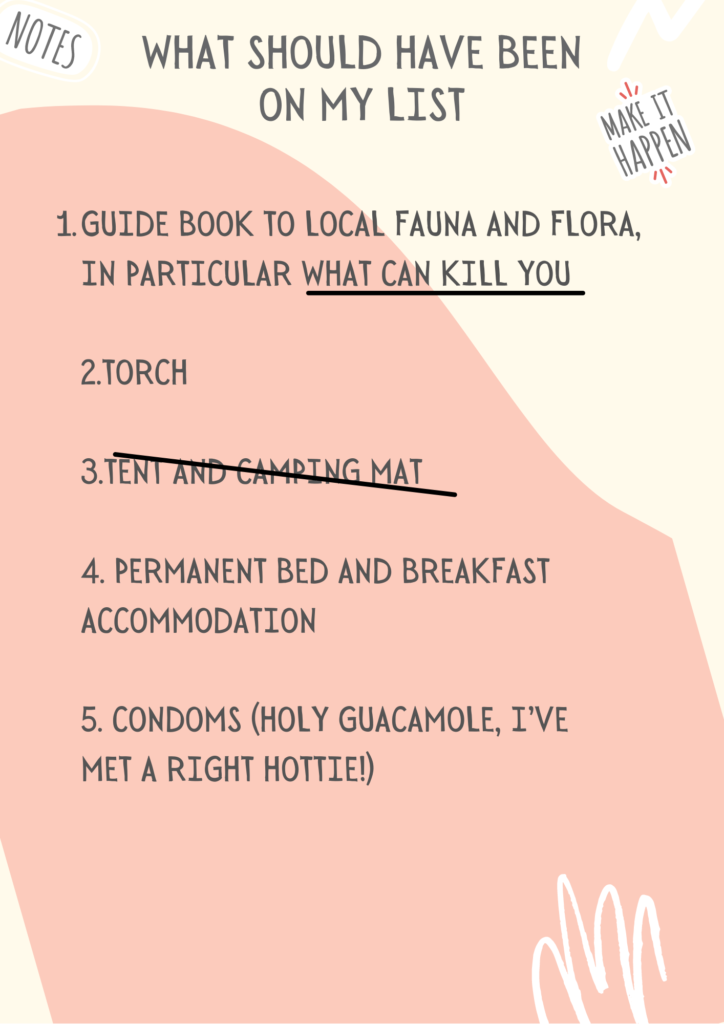 Guide book to local fauna and flora, in particular what can kill you
Torch
Tent and camping mat
Permanent Bed and Breakfast Accommodation
Condoms (holy guacamole, I've met a right hottie!)
I hope that helps? It didn't much help me, but it all seems to be working out now… If you want to read just how wrong my Scottish adventure went, then get yourself a copy of Highland Games, and read all about it. Click here to preorder now!
Zoe X