What happens when you put a wild American romcom writer together with a bonkers British one? You get Chaos, Calamity and Carnage in the form of six interconnected love stories spanning a year of holidays. I first came across Kelly Kay in May 2020 after I read the first three books in her winery series: Crushing, Rootstock and Uncorked. I couldn't put them down, and in true stalker fashion reached out to tell how much I loved them. Fast forward a couple of years and not only have I persuaded her to be my friend, but we're now writing together.
Kelly had the idea for our Holiday Disasters series during a wine-induced fever dream and I agreed to it in the midst of a chocolate-induced sugar high. She envisioned six strangers stranded together at an airport. They get drunk, share their life stories and stay in touch as four of them find love and two of them continue their love stories from previous books. We planned two stories for Valentine's day, two for the Fourth of July, and two for Christmas. This blog is focussing on Cookout Carnage, the novellas we wrote for a holiday I know pretty much nothing about…
Both the stories in Cookout Carnage take place a few miles apart in rural Kentucky, and feature a reluctant groom and a fish out of water Brit both trying to find love over the weekend of the Fourth of July. Here are the details:
Up in Smoke – by Kelly Kay
Cute farm boy Jonathan is about to get married to the wrong person. He's clinging to an ideal of love, but his bride-to-be seems more interested in his best man, and wants to eat his pet. Jonathan's heart has always belonged to his friend Juliet, but she left town years ago.
Now, the day before his nuptials, Juliet's back and Jonathan's had an epiphany. Can he get the right girl and find real happiness? Or is everything about to go up in smoke, including his pet pig?
Off with a Bang – by Evie Alexander
Posh Brit Tristan has fallen for his American work colleague over Zoom. When she invites him to spend the Fourth of July with her and her family, he leaps at the chance to meet face to face. Maybe they can be more than just friends?
Sherilyn is in big trouble. She's in love with someone she's never met, and he's just accepted an invitation she was sure he'd turn down. Tristan might think he's about to meet a cute girl and her cookie-cutter family, but she's Sherrie-Lynne, not Sherilyn. And when he discovers her family are lawless rednecks, he's going to run a country mile.
Now, Sherilyn has to produce a fake family and put on a show bigger than her small town's Fourth of July celebrations. Can she pull it off, or will she end up driving both Tristan and her family away forever?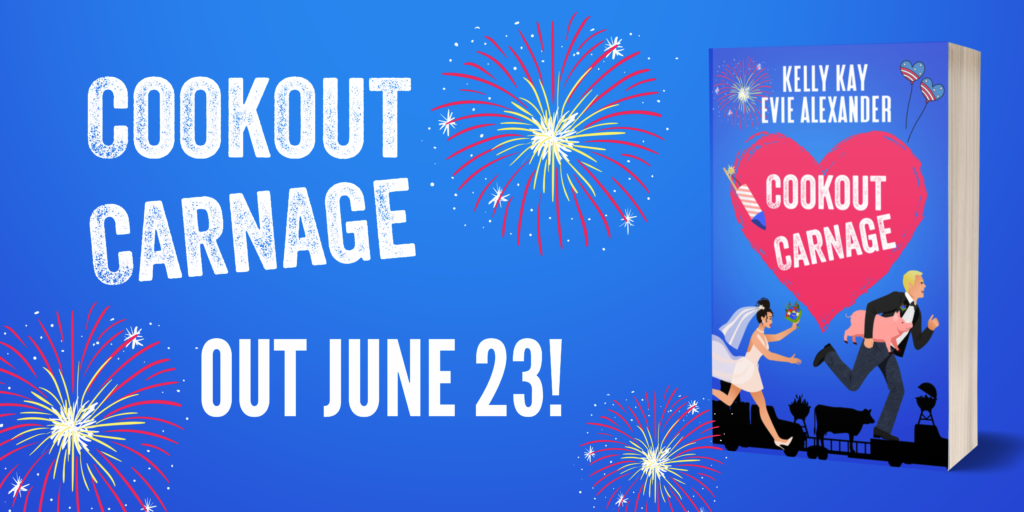 I had so much fun writing Off with a Bang! This was the sixth book I'd written (after the Kinloch series and the first instalment of Holiday Disasters), and it felt like everything just came together perfectly. The story combines my off-the-wall sense of humour with my love of complicated families, dad jokes, and badly behaved animals. Plus it has all the spice and heat of a Kentucky summer…
Here's what some early readers think:
"…Apparently I have not learned my lesson from the last one. Do not read a Kelly Kay/Evie Alexander collaboration in a waiting room, the school pickup line, or indeed anywhere in public. People really do look at you oddly when you start snort-laughing at your kindle…"

⭐⭐⭐⭐⭐ – Sarah
"…Omg! Both of these stories were over top great! I haven't laughed so hard in ages…

⭐⭐⭐⭐⭐ – Danelle
"…I've just finished @eviealexanderauthor's and @kelly_kay_books' second collab, and swear I'll be laughing for a week…It's pretty clear these two know what we want – and they're ready to bring it! Love, fireworks, laugher and fu- I mean, fun times a plenty 😂…"

⭐⭐⭐⭐⭐ – Sarah Lin Turner
These two little novellas are just how you need to spend an afternoon on a hot summer day! Do not miss a chance to spend time with these characters, they are a whole lot of fun!

⭐⭐⭐⭐⭐ – Sandie
Fancy reading Cookout Carnage? It's out on June 23rd and you can pre-order your copy here!
Cupid Calamity is already out and you can read it here.
And Christmas Chaos, featuring Rory and Zoe from my Kinloch series and Bax and Tabi from Kelly's winery series is out this November. Pre-order your copy here!
Have you read Cookout Carnage yet? What did you think? Let me know via email or social media!
Evie x