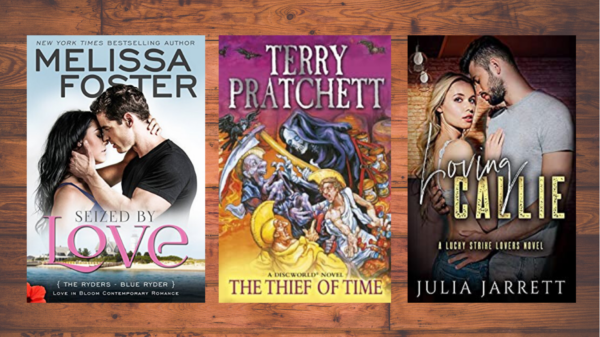 More Book Reviews from Evie!
For this blog, I'm sharing with you the first book by a Canadian author; one of a hundred books by an American author; and one of my favourite books of all time, by a British man with a beard. We've got love, humour, secrets, family drama and the end of the world. Whether your heroine's dad is a wannabe conservative Senator, or actually Death himself, these books have it covered. I loved them and hope you do too. As ever, let me know if there's a story you think needs to be in front of my eyes and let me know when you've read one of these!
Evie x
'Thief of Time' by Terry Pratchett
Terry Pratchett is one of my all-time favourite authors. Every Christmas, up until his tragic and untimely death, his latest hardback would be one of my Christmas presents. He was a true genius of an author. His writing is effortlessly and hysterically funny, and underpinned with an encyclopedic knowledge of history, science, art, and human nature. In my opinion he is one of the most underrated authors of all time, and the more I learn about the world, the more I bow down to his monumental talent and intellect.
His novels are impossible to put down, and I have read his books multiple times each. One of my all time favourites is Thief of Time. This ticks all my boxes. It has a monk, Lu Tze (an homage to Chinese philosopher Lao Tzu), a kick-ass heroine who is the daughter of Death as well as a primary school teacher, a love story, and chocolate.
18th century English poet and dramatist Edward Young came up with the quote 'Procrastination is the thief of time', and Pratchett takes this quote and runs with it. He invents the history monks, who live up in the mountains, storing and releasing time using giant spindles called procrastinators to keep the world in balance. When a figure with no shadow commissions a clockmaker with uncanny abilities to construct the ultimate timepiece, the race is on to stop him before he stops all time itself.
Thief of Time is one of the most beautifully written, subtle, clever, funny and heartwarming books I have ever read. I am supremely biased because I have read so many of Pratchett's books and am so attuned to his humour and writing style. However, even just thinking of this book now makes me incredibly emotional and once I've posted this blog I'm going to start reading it again.
'Some humans would do anything to see if it was possible to do it. If you put a large switch in some cave somewhere, with a sign on it saying 'End-of-the-World Switch. PLEASE DO NOT TOUCH', the paint wouldn't even have time to dry.'
Official Book Blurb
The Discworld is very much like our own – if our own were to consist of a flat planet balanced on the back of four elephants which stand on the back of a giant turtle, that is . . .
Time is a resource. Everyone knows it has to be managed. You mess with it at your peril. You can let it move fast or slowly but what you mustn't do is allow it to stop.
The Monks of History have the glamorous job of time management in the Discworld. They store it and pump it from the places where it's wasted (like the underwater – how much time does a codfish need?) to places like cities, where there's never enough time.
But with the construction of the world's first truly accurate clock starts a race against, well, time begins for History monk for Lu Tze and his suspiciously talented apprentice Lobsang Ludd.
Because a truly accurate clock will stop time.
And when time stands still, everything in human existence stops with it. Then, there really is no future.
Want a sneak peek inside The Thief Of Time by Terry Pratchett? Click on the image below!
Follow Terry's work through his website and social channels –
____________________________________
'Loving Callie' by Julia Jarrett
I loved this book for so many reasons. First up, the subverting of traditional gender norms. Usually the doctor is a man and the person serving drinks is a woman, but in Loving Callie, our heroine is the doctor and our hero runs a bar. Our couple first meet when Jake has cut himself preparing for the opening of his pub 'The Lucky Strike', named in honour of his grandfather who left him the money to start it. Jake gets stitched up by Callie but despite the obvious attraction between them, a hospital is no place for hookups.
Luckily Callie's got a blind date at Jake's bar, and when it goes wrong, Jake steps in. The second thing I adore about this story is our hero. Jake's not a mean, bad, brooding man who can't commit. He's a hot hunk who's heart is pure and beats only for Callie. He comes from a loving home and wants a family of his own in the future. Callie is everything he's ever wanted or dreamed of, but she's the one with cold feet.
Callie doesn't doubt her feelings for Jake, but can she overcome her desperate need to please her parents and be who they want her to be? She's an only child, and a pawn in the political maneuverings of her father and trophy wife mother. They want her to quit her job as a doctor in a busy hospital and settle down with a husband of their choosing; someone from the right family and the right side of the political fence. Her job is at her future husband's side, not forging her own path in life alongside a guy who owns a bar.
Loving Callie is a contemporary romance and so you may be thinking this is an issue from a bygone era. However, this aspect of the story is the third thing I absolutely love about it. The relationship between Callie and her parents, her unhappiness and desire to please them rang so true. It's so hard to walk away from the most important and formative relationships in your life, and this struggle is at the heart of Loving Callie.
Luckily, being a romance, all's well that ends well, albeit not without some unexpected and heart-stopping drama. If you want a heart-warming romance with hot leads, hot sex and craft beer, then look no further than Loving Callie.
Official Book Blurb
On tap at the Lucky Strike Pub… One gorgeous doctor, and one hot bartender. Can they ignite a passion that will last?
First love is forever love for Doctor Callie Scott and pub owner Jake Evans. When fate gives them a second chance to get to know each other, the sparks fly, but Callie finds it hard to trust their chemistry. Jake won't let her get away again, so when she comes into his bar again, he knows it's meant to be. He just has to prove that to her.
But Callie's parents have different plans for her life, plans that suit their ambition and not her happiness. Jake will have to work hard to get her to see that he can be the family she has always longed for. Breaking free from family expectations will not be easy for Callie, and it will take a terrifying crisis to show her that the one thing more important than her parents approval, is the steadfast truth of Jake's love.
Want a sneak peek inside Loving Callie by Julia Jarrett? Click on the image below!
Follow Julia's work through her website and social channels –
____________________________________
'Seized by Love' by Melissa Foster
Melissa Foster is a writing machine, with (to date) over 100 books published. Yes, you read that right, 100… I was recommended Melissa's writing by an author friend, and started with 'Call her Mine', a friends-to-lovers romance that starts with a baby arriving on the doorstep of our hero. I'm featuring the second of Melissa's books that I read here, 'Seized by Love', as not only is it a fantastic read, but from an author's perspective, it subverts some of the usual 'rules' that are meant to govern storytelling, in particular romance novel structure.
The story is set in Cape Cod, where Lizzie is a florist. She owns her own successful business and loves her job. However she has a secret. She paid her way through college, bought her business, and is now putting her younger sister through college by hosting 'The Naked Baker' webcast from her basement. Growing up, her father suffered with ill health, and so in order to get an education she was looking at racking up thousands of dollars of debt and spending her life paying it back, with no hope of ever owning her own business. Her naked baking show has enabled her to have her dreams and support her sister, but it is a secret known only to her.
Blue Ryder is the big hearted hunk who has been pursuing her for a year. He's one of the hottest and kindest men she's ever met, but she holds him at bay, knowing that if she allows him in, she'll fall hard, and then everything will end when she finds out her secret.
The book opens with her finally giving in to her feelings for him, and things go from zero to a thousand degrees very quickly. In a traditional romance story structure, the secret would be revealed and the lovers (temporarily) part about 75% of the way through the book. However here, the reveal happens halfway through. The second half of the book is about how Blue processes this news and what happens when Lizzie tells her super-conservative parents.
'Seized by Love' is a fantastic read that doesn't shy away from exploring the patriarchy, and what options are open for women from poor backgrounds to get ahead in the world. It also deftly deals with hypocrisy and the emotional journey that both Blue and Lizzie travel. Oh, and it's hot as hell! Blue is my kind of hero – a man who is upfront, honest, loyal, kind, and yet still all man. I loved this book and am looking forward to binge-reading more of Melissa's work.
Official Book Blurb
Lizzie Barber runs a successful flower shop by day and secretly hosts the Naked Baker webcast at night to help pay for her younger sister's education. To keep friends and family from finding out about her sexy secret, she's put her social life on hold until her sister's education is paid off and she can stop filming the webcast.
Blue Ryder fell hard for Lizzie Barber when he met her a year ago, and he hasn't been able to get her off his mind since. Everything about the feisty little brunette, from her tight bod to her seductive smile, cuts straight to his heart. Though Lizzie has turned down every invitation he's extended–Blue is not about to give up trying.
Renovating Lizzie's kitchen brings Blue further into Lizzie's life, and the oven is not the only thing heating up. One night and one powerful kiss changes everything. But when Lizzie's secret is revealed and the safe bubble she's hidden in shatters, true love may not be enough to put the pieces back together.
Want a sneak peek inside Seized by Love by Melissa Foster? Click on the image below!
Follow Julia's work through her website and social channels –
____________________________________
So these are the best books I've been reading recently. Have you read any of them before and if so, what do you think? I'd love to hear from you on social media and find out what's tickling your story tastebuds right now. Get in touch and happy reading!
Evie x