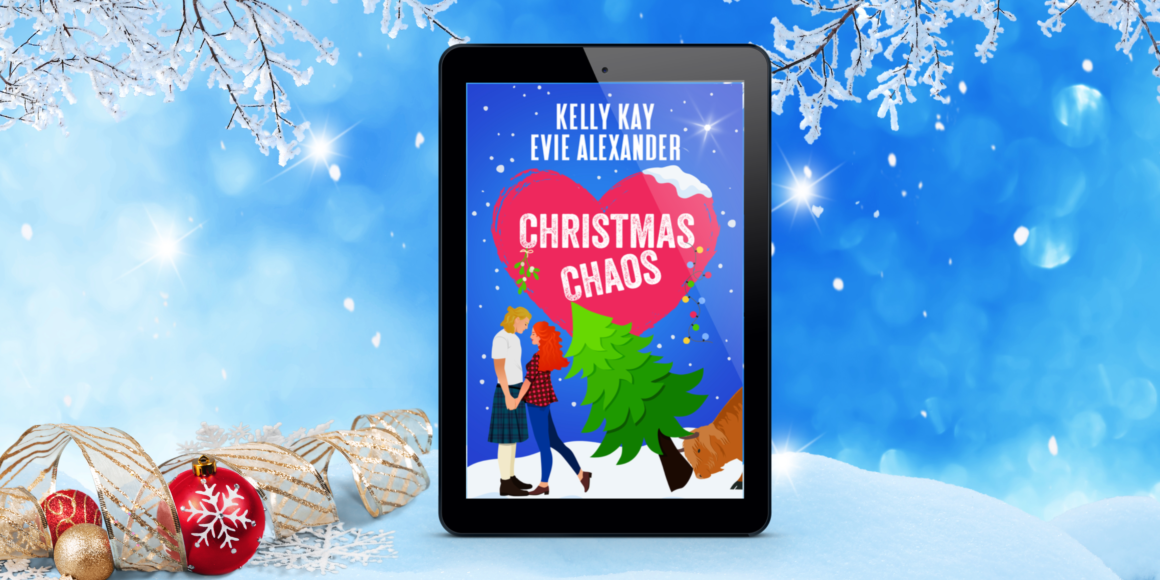 Christmas Chaos in the third and final novel in volume one of Evie and Kelly's Holiday Disasters series. It contains two novellas, set at Christmas time, one following Rory and Zoe from Evie's Kinloch series, and the other following Tabi and Bax from Kelly's LaChappelle/Whittier Winery Series.
For both of us, it was a wonderful opportunity to revisit some of our favourite characters, introduce them to a new audience, and give their fans a peek into their happy ever after.
Christmas Chaos reviews
It's been so fantastic reading the responses to our Holiday Disasters series and the people who love reading more about Rory and Zoe, and Tabi and Bax. Here are some of our favourite early reviews:
Christmas Chaos is THE very best kind of mayhem. Evie Alexander and Kelly Kay once more provide laughter, tears, and genuine heartfelt moments as the Airport Lounge six keep in touch with one another as two of the group enjoy the most special of Christmases… No doubt another winner for Alexander and Kay, I happily give this book a huge 5 stars! – MJLovestoRead
This author duo is perfection! I this this is my favorite of all the Evie and Kelly's Holiday Disasters series so far. I hope there is more to come because I am addicted to these reads!…Love these authors, love this series, love these characters – please, please, please give me more!!! – J
5 festive, funny, fabulous stars!!!! If you are looking for a book filled with spice, heart and festive fun this book is for you! – Teresa
Evie Alexander and Kelly Kay struck gold again!…I loved this book! – Laura Jutras
Like always, Evie and Kelly leave you laughing and wanting more. A true sign of stories well told. Be sure to check out the other stories in this series, if you haven't already, as well as all of their other wonderful books. You won't be disappointed. – Cathy – ThirstyReadingQueen
Reviews make SUCH a difference, don't have to be long, and we appreciate each and every one of them!
You can review Christmas Chaos on Amazon, Goodreads, Bookbub and wherever else you like!
Christmas Chaos edits
Once again, the Bookstagram community have shown their love for our Holiday Disasters series with some absolutely stunning edits.
If you'd like to create one, or post about Christmas Chaos on your socials, then you must check out our special page here which contains graphics and elements you can use for free!
Christmas Chaos blurb
One Christmas, two couples, utter chaos. These laugh-out-loud novellas are hotter than chestnuts roasting on an open fire!

No Way in a Manger – by Evie Alexander
Rory's seen battle, conquered the wiles of the Scottish Highlands, and won Zoe's heart. But now he faces his biggest challenge of all, Christmas at the castle and a heavily pregnant wife who wants everything to be perfect. The holidays should be relaxing, and having a baby's easy, right? But with wayward in-laws, an out-of-control cow and mad Santa getting in the way, nothing is going to plan…
No Crib and No Bed – by Kelly Kay
Tabi Aganos has put her belief in miracles behind her and redirected her life to focus on her husband, Bax, the winery they've built, and fixing up her beloved old farmhouse. They have everything in place for the perfect Holiday, until one hot night sends their plans crashing through the floor. But when family and friends pitch in to help, and Santa brings some unexpectedly magical gifts, their Christmas turns from chaos into joy.
Read Christmas Chaos today
Christmas Chaos is available in print, eBook and via Kindle Unlimited. Click here to get your copy now and fall in love all over again with Rory and Zoe, and Tabin and Bax!
Evie and Kelly xx
Ps – Don't forget to catch up with the first two books in the series, Cupid Calamity and Cookout Carnage. You don't have to have read them first to enjoy Christmas Chaos but you'll have more background on the other characters if you do!