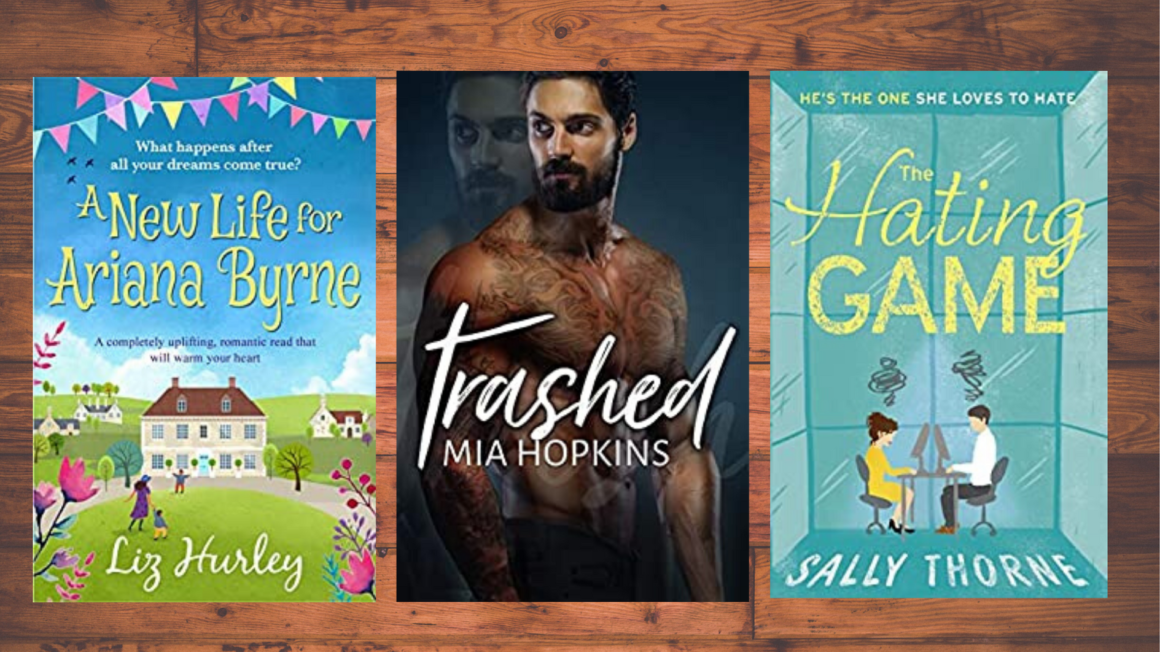 Here are the current top picks from my Kindle library: a gentle British romance set amongst the upper classes; a steamy gangster love story set in East LA; and an 'enemies to lovers' novel set in a publishing company in Australia. All three books were fabulous reads, and all were recommended to me by my editor or other authors. I absolutely loved them and hope you do too. If you can think of a book I should be reading then please let me know via email or social media.
Evie x
'Trashed' by Mia Hopkins
This book was recommended to me by the sublime author Talia Hibbert – and what a read it was. Mia Hopkins has written a tour de force which is utterly compelling and sizzlingly hot. Being a very British girl living in the arse-end of the countryside, gangsta life in LA is about as far removed from my sphere of experience as is the moon. I know more about cucumber sandwiches and croquet than I do about being 'green lit', but Trashed was so beautifully written that I believed in everything about the world.
Mia has worked with ex-gangsters, and her knowledge really shows. I'm also a total foodie, so all the descriptions of the meals spoke to my stomach. I absolutely loved this book, and if you like a great story, fabulous characters, and uber hot sexy sex then it's for you too.
Official Book Blurb
He burns for her. Lucky for him, she likes to play with fire. . .
My name is Eddie Rosas, but everyone calls me Trouble. Since I got out of prison six months ago, I've had one goal: find my father, whatever the cost. My older brother says I need to move on. He also wants me to leave our gang, East Side Hollenbeck, and go straight, but I can't–not until I uncover the truth about our family and its missing piece.
One problem? I'm distracted. My distraction's name is Carmen Centeno. Smart, passionate, and tough as hell, Carmen is a woman from the neighborhood who's built her career as one of the city's top chefs. She's a master of creating pleasure both in and out of bed. But when our connection deepens, how can I show her I'm not the trash everyone says I am?
The pressure's rising. Carmen deserves a man she can depend on. And when the ghosts of my past rise up, I'll have to outsmart them–or lose my shot at a future with the only woman who believes in me.
Want a sneak peek inside Trashed by Mia Hopkins? Click on the image below!
Follow Mia's work through her website and social channels –
__________________
'A New Life for Ariana Byrne' by Liz Hurley
What I wouldn't do to wake up one morning and find out I'm the Right Honourable Lady de Foix, Countess of Hiverton, and owner of a sprawling estate in Norfolk. Well this hasn't yet happened to me, but it's what Ariana Byrne wakes up to one morning and it couldn't have come at a better time. She's got more on her plate than most young women, including being the guardian to her four younger sisters and mum to twin boys.
A New Life for Ariana Byrne is the first novel following this family and is the perfect book to while away a lazy day. Liz Hurley (the writer Liz, not the actress/model/designer Liz) has written a warm and engaging story with a huge heart. I bought it on release day and am eagerly awaiting the next installment which is due out July 2020.
Official Book Blurb
What happens after all your dreams come true?
Ariana Byrne knows how to survive. After becoming guardian to her four little sisters after their parents died when she was only eighteen, she had to grow up quickly. Now she's in her twenties, stuck in a loveless marriage to Greg, trying to make ends meet for her young twins, William and Leo.
So when Ari is told that she's actually the Right Honourable Lady de Foix, Countess of Hiverton, owner of a sprawling estate in the village of Saxburgh in Norfolk, her first instinct is laughter. Surely the girl who has to choose between food and keeping the lights on isn't really rich beyond her wildest dreams?
She knows how to take care of her sisters and her children, but how on earth can Ari take care of an entire village? Can she fight off the circling land developers from Saxburgh, and stop her in-laws from grabbing all the money for themselves?
And while she's struggling to settle in and settle down, she's making new friends and new mistakes. Trusting her gorgeous neighbour, Sebastian Flint-Hyssop, may be the biggest one of all…
She's swapped sink estate for country estate…but can a girl from inner city London learn how to become a Lady?
Want a sneak peek inside A New Life for Ariana Byrne by Liz Hurley? Click on the image below!
Follow Liz's work through her website and social channels –
__________________
'The Hating Game' by Sally Thorne
This book was recommended to me by my editor as a really well-written love story with a lot of comedic elements. In terms of steam it's a slow burner, pushing the enemies-to-lovers trope to the max. There are extremely hot moments but you have to wait for them. The story follows Lucy and Josh, who are forced to work together when the two companies they work for merge. On the surface they couldn't be more different, but as they compete for the same promotion Lucy realises that there is more to Josh than meets the eye.
What Sally Thorne is brilliant at is the detailing of emotions and the naturalistic way her love story unfolds. So much of the book's drama comes from very little happening, for example the way main characters sit in their respective office cubicles and engage in staring competitions. It's so well written that I still find my mind returning to and relishing specific moments and I know it's a book I'm going to read again.
Official Book Blurb
Lucy Hutton and Joshua Templeman sit across from each other every day . . . and they hate each other.
Not dislike. Not begrudgingly tolerate. HATE. Lucy can't understand Joshua's joyless, uptight approach to his job and refusal to smile. Joshua is clearly baffled by Lucy's overly bright clothes, quirkiness, and desire to be liked.
Now they're up for the same promotion and Lucy, usually a determined people-pleaser, has had enough: it's time to take him down. But as the tension between Lucy and Joshua reaches its boiling point, it's clear that the real battle has only just begun . . .
Want a sneak peek inside The Hating Game by Sally Thorne? Click on the image below!
Follow Sally's work through her website and social channels –
__________________
So those are my latest top reading picks. For an up to date sneaky peak into my library, check out my social media and see what books are tickling my fancy. And don't forget to tell me what you're reading at the moment.