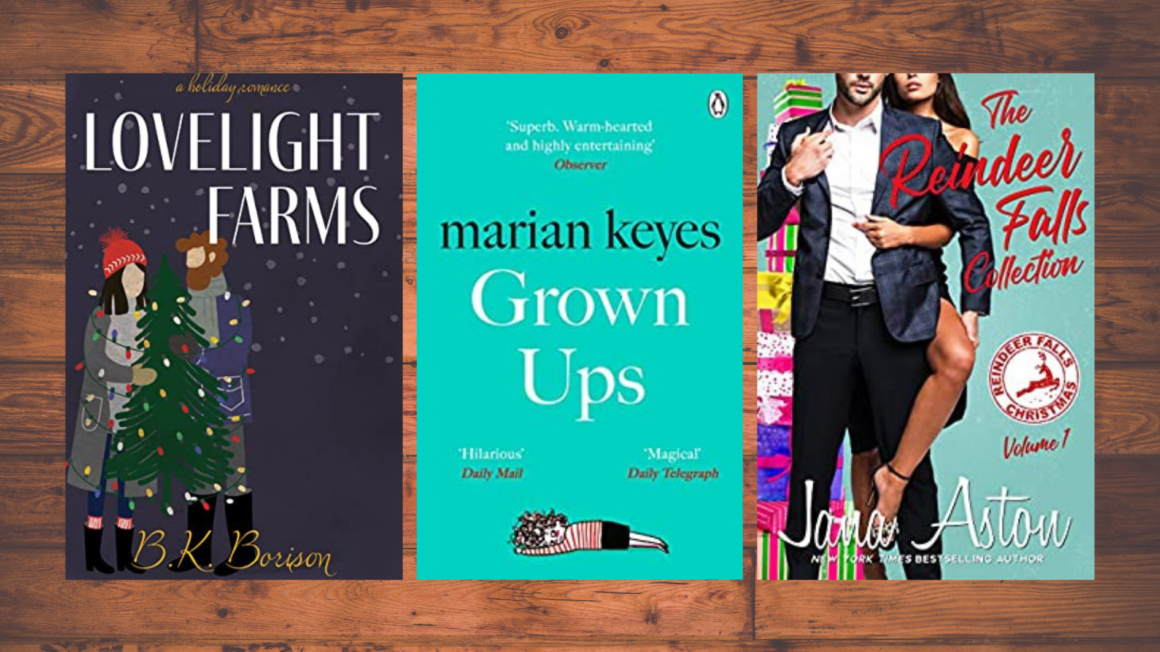 Do you wish it could be Christmas every day? Well, in the world of romance novels you could read a hundred Christmas books every day for a year and still not get through them all. It may not currently be the season to be jolly, but I'm still sharing these awesome books I read last yuletide. I've got one of the best 'friends-to-lovers' books I've ever read, three snort-laugh-tastic steamy novellas, and a huge family saga of a book from a literary giant. All of these did me proud last Christmas and I'm thrilled to share them with you here!
Evie x
______________________________________
Lovelight Farms by B K Borison
I was recommended Lovelight Farms by a bookstagrammer and am so glad I gave it a whirl. It is one of the best 'friends to lovers' trope romance books that I have ever read, and coupled with slow-burn steam and Christmas loveliness, it's an absolutely fabulous read. Friends to Lovers is a tricky trope to pull off. It's very easy to get frustrated with the characters when it's clear they have a connection and no reason for not being together. But Stella's reasons for not wanting or believing anything can happen between her and Luka are realistic and that's one of the many reasons I was drawn into this story.
Stella is the proud owner of a Christmas tree farm which is experiencing some 'difficulties'. She doesn't believe foul play is involved, but if she doesn't get it sorted, she's going out of business. Enter an Instagram influencer and the chance to win $100,000. Only she lied on the application to say she runs it with her picture perfect boyfriend… Luckily her best friend steps in, and starts playing the boyfriend role with easy perfection. Luka and Stella are a gorgeous couple, and their love story is set against a Christmas backdrop with all the trimmings you'd expect, as well as a lot of things you won't. If you're after a Christmas slow burn with plenty of steam, then this book belongs in your stocking at any time of the year!
Official Book Blurb
Where the lovelight gleams …
A pasture of dead trees. A hostile takeover of the Santa barn by a family of raccoons. And shipments that have mysteriously gone missing. Lovelight Farms is not the magical winter wonderland of Stella Bloom's dreams.
In an effort to save the Christmas tree farm she's loved since she was a kid, she enters a contest with instafamous influencer Evelyn St. James. With the added publicity and the $100,000 cash prize, she might just be able to save the farm from its financial woes. There's just one problem. To make the farm seem like a romantic destination for the holidays, she lied on the application and said she owns Lovelight Farms with her boyfriend. Only … there is no boyfriend.
Enter best friend Luka Peters. He just came home for some hot chocolate, and somehow got a farm and a serious girlfriend in the process.
Lovelight Farms is a romantic comedy featuring a handsome, freckled data analyst, a messy, optimistic Christmas tree farm owner, and a small town with the best hazelnut lattes on the east coast. This sweet and steamy romance is a holiday happily ever after.
Get your hands on a copy of Lovelight Farms by clicking here!
And follow BK's work through her social media here
______________________________________
The Reindeer Falls Collection: Volume One by Jana Aston
I know just how tricky novellas can be to pull off. You need to have enough story to feel like you've got to know the characters and been on a journey with them, but you can't have too much or you end up with a full length novel. The Reindeer Falls Collection: Volume One, contains three novellas by Jana Aston: The Boss Who Stole Christmas, If You Give a Jerk a Gingerbread, and The One Night Stand Before Christmas. They follow three sisters, Holly, Ginger and Noel Winters over one Christmas as they fall in love and find their happy ever afters.
In The Boss Who Stole Christmas, Holly has the boss who's hotter than hell. Unfortunately she's convinced he's The Grinch, and when he insists she accompany her on a business trip abroad to a Christmas market, she thinks she's going to have the worst time ever. But what she can't see is just how perfect he is, and how much he's trying to show her he could be the man of her dreams, not her nightmares. In If You Give a Jerk a Gingerbread, Ginger Winters has entered a TV cooking competition -The Great Gingerbread Bake Off, but unfortunately so has a celebrity chef she's had a crush on forever. She needs to win because the money will help realise her dream of opening her own bakery. But Keller James is turning her chances, and her heart, upside down. And in The One Night Stand Before Christmas, Noel ends up in Santa's pants, only Santa is NOT who she thinks he is…
These novellas are all an absolute delight. They're smart, sexy, steamy, and laugh-out-loud funny and I absolutely adored them. If you're looking for a hot toddy of Christmas pick-me-up, or just something to bring the sparkle back into your heart at any time of the year, then you've got to read these stories!
Official Book Blurb
It's beginning to look a lot like Christmas!
Welcome to Reindeer Falls.
Grab a mug of hot cocoa and a comfortable chair and enjoy all three novellas in the Reindeer Falls Collection in one volume. This bundled version also includes nine holiday recipes inspired from the series!
The Boss Who Stole Christmas, Book 1
Dear Santa,
Please bring me a new boss for Christmas. Mine is the worst. The worst, hidden in a six foot tall package of male perfection. It'd be easier if he looked like an old Scrooge, wouldn't it? Nick Saint-Croix doesn't look like an old scrooge. He's hot as-Um, never mind. Just bring me a new boss. Please.
Sincerely, Holly Winter
If You Give a Jerk a Gingerbread, Book 2
Dear Santa,
I do not want Keller James for Christmas. I will not fall for him, no matter how charming or irresistible or famous he is. I will not be swayed by his skills in the kitchen or by his British accent. I'm going to win the Great Gingerbread Bake Off and no one is going to stand in my way. Not even Keller. All kisses are off. I mean all bets. All bets are off. And all his clothes. Grr, never mind. I'll figure this out myself.
XOXO, Ginger Winter
The One Night Stand Before Christmas, Book 3
Dear Santa,
Please stop by my house and pick up your suit. If you thought I was going to run it to the dry cleaners for you after you left it on my bedroom floor, you've got another thought coming.
Best, Noel Winter
Get your hands on a copy of The Reindeer Falls Collection: Volume One by clicking here!
And follow Jana's work through her website here and on social media
______________________________________
Grown Ups by Marian Keyes
This book is a glorious beast which will suck you in and hold you captive forever. I binge read it over Christmas but now, several months on, I am still dreaming about it… Marian Keyes is a legend of a writer and her latest book is fabulous. Following the three Casey brothers, their wives and kids, the story covers their changing relationships over time and never-ending family get-togethers. It's funny. mature, achingly painful in places, and spoke to me on so many levels. It takes a while to get to know all the character names but there is a very useful family tree at the start of the book, and once you're in, you're in. There are some dark places to go to, but it's a book of profound depth as well as light relief and the ending is wonderfully satisfying. I loved it
Official Book Blurb
They're a glamorous family, the Caseys.
Johnny Casey, his two brothers Ed and Liam, their beautiful, talented wives and all their kids spend a lot of time together – birthday parties, anniversary celebrations, weekends away. And they're a happy family. Johnny's wife, Jessie – who has the most money – insists on it.
Under the surface, though, conditions are murkier. While some people clash, other people like each other far too much . . .
Everything stays under control until Ed's wife Cara gets concussion and can't keep her thoughts to herself. One careless remark at Johnny's birthday party, with the entire family present, starts Cara spilling out all their secrets.
In the subsequent unravelling, every one of the adults finds themselves wondering if it's time – finally – to grow up?
Get your hands on a copy of Grown Ups by clicking here!
And follow Marian's work through her website here and on social media
______________________________________
So, there we go ho ho! One Christmas book, three Christmas novellas, and the book I binge read last Boxing Day. Have you read any of these yet? Are you going to give them a go now, or wait until December? I'd love to know your thoughts! Also, let me know which are YOUR favourite Christmas romance novels? I can't wait to read more this year!
Evie x