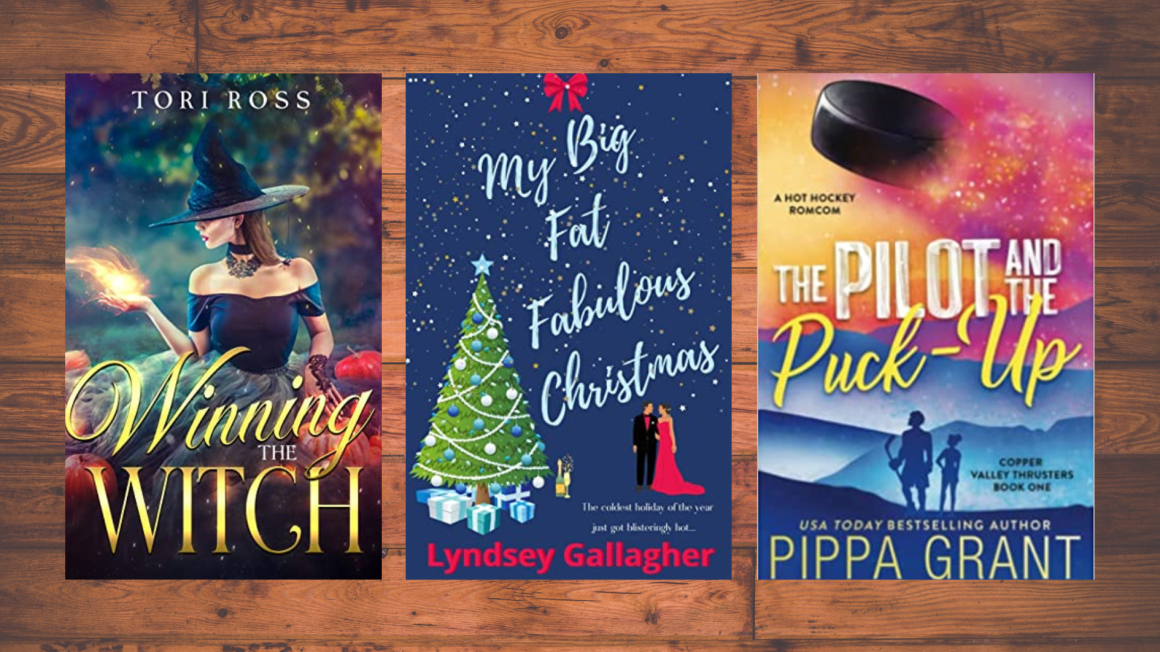 Are you sitting comfortably? Tray tables stowed and seat belts fastened? Because I'm about to take you on a wild ride courtesy of three high-flying books. We've got a rock star second-chance Christmas romance, a winning witchy story for spooky season, and a romcom with zero G's but plenty of O's. Whether you want to hang out in an Irish castle, make magic on Halloween, or become weightless with a six foot nine hockey star, I've got you covered.
Enjoy!
Evie xxx
______________________________________
My Big Fat Fabulous Christmas by Lyndsey Gallagher
Holy moly guacamole, make sure you've had a good night's sleep and eaten before you start this book, because chances are you won't be able to put it down. Ryan Cooper and Sasha Sexton were childhood sweethearts, until one night when both their lives changed for the worst. Fast forward ten years and Ryan's the world's hottest rock star and Sasha is managing her late parents' hotel (also a castle) and parenting her youngest sister. The hotel is on the brink of going under and she's facing the reality of losing her only home and the business her parents worked so hard to create.
On the other side of the Atlantic ocean, Ryan has writer's block. If he can't produce two more albums then he's in deep trouble. The last time he could write was back in Ireland with Sasha, so he books a flight to stay in the hotel over Christmas and try and rekindle his creativity. He has no idea that Sasha is still there, or what happened to her family the night he fled Ireland with his father and brother.
Lyndsey Gallagher is a master storyteller who draws you into her character's lives so beautifully that you want each and every one of them to get their happy ending. Ryan in particular ticked all my boxes, because not only was he a drop dead gorgeous rock star, he was also besotted with Sasha and not afraid to tell her and the world about his feelings for her. I was utterly swept away in Ryan and Sasha's world. My Big Fat Fabulous Christmas is a fabulous love story with angst, heart, humour and every festive feel you could ever imagine. Go read it now!
Official Book Blurb
Ten years ago, I, Sasha Sexton, inherited our family castle and sole care of my youngest sister. More Cinderella, than Sleeping Beauty, at the mere age of twenty-eight I have a teenager to raise and a hotel to run. If the hotel is to survive past Christmas, I need a lottery win, a miracle, or Prince Charming himself to sweep in with a humongous… wad of cash.
When my super successful middle sister announces she's coming home for the holiday season, I'm determined to put my problems aside and make this the most fabulous Christmas ever. Especially as it might just be the last one in our family home.
I didn't factor in the return of my first love, Ryan Cooper. Back then he was the boy next door. Now, he's a world famous singer/song writer. We were supposed to go the States together. He left without me. Now he's back. Rumour is he has writers block. Apparently this is a last-ditch attempt to find inspiration before his record label pulls the plug permanently.
And guess where he wants to stay? You have it in one- the most inspiring castle hotel in Dublin's fair city.
Every woman in the city wants to pull this Hollywood Christmas cracker. Except me.I'm going to avoid him at all costs.
Easier said than done when he's parading around under my roof, with enough heat exuding from his molten eyes to melt every square inch of snow from the peaks of the Dublin mountains..
Get your hands on a copy of My Big Fat Fabulous Christmas by clicking here!
And follow Lyndsey Gallagher's work through her website here.
And on social media
______________________________________
Winning the Witch by Tori Ross
Eliza Owl is a witch with a problem. Her mother may have been able to use her powers at the drop of a pointy hat, but when Eliza tries to, things go a little, er, wrong… She wants to help the folk in her small town, but so far only her candles seem to work, and she's also worried half the locals want her atop a Salem-style pyre. And now it's Halloween, the one night of the year when her powers run at full throttle. The safest thing to do is hide out and wait for morning. But tonight is going to be different. Eliza's best friend, Lily Jane has dragged her out to a charity Halloween gala, and there's going to be a date raffle. Who knows who fate will match her up with?
Jake Salt is in love. Unfortunately the woman of his dreams doesn't have him on her radar. In fact, she's never even noticed him before. But when Eliza's number for the raffle ends up in his hand, he knows he has to make this date count if he's to get another. The attraction between Eliza and Jake is instant, but Jake's ex, Millie has arrived and determined to cause trouble. However Millie's picked the wrong night and the wrong witch. Suddenly Eliza's powers kick off and all hell breaks loose. Can Eliza save the night and make magic with Jake, or is everything going to go up in smoke, including her?
Winning the Witch is another slam dunk from author Tori Ross. It's a steamy and spooktacular novella with brilliant writing and whip-cracking wit that is guaranteed to put a spell on you. Winning the Witch is the perfect short romance read for any time of year, not just Halloween. Go read it now!
Official Book Blurb
Eliza Owl is all about helping her community. When her friend, Lily Jane, talks her into being a prize in the annual children's hospital date raffle, she worries something will happen at the event that she can't control. It's not that she doesn't like helping her community or children. The raffle is on Halloween, the one day of the year when her witch power is full and things just…happen.
Jake Salt thinks Christmas has come early on Halloween when he finds out he's holding Eliza's ticket. He immediately sets out to make their date a perfect night. But dating a witch on Halloween has its downfalls.
Get your hands on a copy of Winning the Witch by clicking here!
And follow Tori on her social media
______________________________________
The Pilot and the Puck-Up by Pippa Grant
Joey Fireball is a badass. She's a hard-as-nails zero G pilot, who has put work and her kid sister so far and above her love life, she has yet to experience an O from an actual human.
Luckily for her, she's about to run into someone who's more like a god. Zeus Berger is larger than everything. He's so big, life has to take a back seat when he's around. However, despite being able to dead lift a cow, when he's playing professional ice hockey, he's faster and lighter than a ballerina, and inside the tough guy, there's a teddy bear.
Underneath the pranks and the loud-mouth, Zeus knows women don't want the real him. But when he meets Joey at a charity event whilst dressed as a hooker troll, nothing, not even a pair of coconuts will stop him trying to get to know her.
Pippa Grant is the queen of fast, flirty and funny romcoms and The Pilot and the Puck Up is a perfect example of her wit and ability to get into the dirtiest corners of a man's mind. The internal workings of Zeus's brain are hilarious, and when he breaks the fourth wall to talk to us, the readers, I was absolutely sold. The Pilot and the Puck Up is laugh-out-loud funny, panty-meltingly hot, and heart-tuggingly sweet when you least expect it. I loved Zeus and his twin brother Ares from Mister McHottie and this book has made me fall in love with the two of them all over again. If you like in-your-face romantic comedy with zero G but plenty of O's then you need this book in your life!
Official Book Blurb
He's the biggest, baddest, most spider-fearing motherpucker on the ice…
Zeus Berger is an over-muscled, egotistical, sportsing goofball with a bigger mouth than shoe size—which is saying something—and I cannot get him out of my head.
He should be easy to forget. He's all talk and no follow-through. But after an incredibly awkward one-night-stand gone wrong, I can't shake him, and I don't know if I want to.
I need to get my brain back on business, and fast. It's hard enough being one of the toughest pilots in the flight adventure industry without the distraction of his body, his humor, and the teddy bear heart I'm starting to suspect he hides under all that bluster.
But when I realize he's besties with the billionaire I'm trying to woo into investing in my business, I realize it can't hurt to play nice.
Can it?
Get your hands on a copy of The Pilot and the Puck-up by clicking here!
And follow Pippa Grant's work through her website here.
And on social media
______________________________________
So there we go, my lovely romance-loving friends! Three fast and fabulous books to make you laugh, cry, and get a little hot under the collar. Have you read any of these books yet? Get in touch via my social channels or email and let me know what you made of them. And if you haven't tried any of these fab authors before then what are you waiting for? Go check them out!
Until next time,
Evie xxx