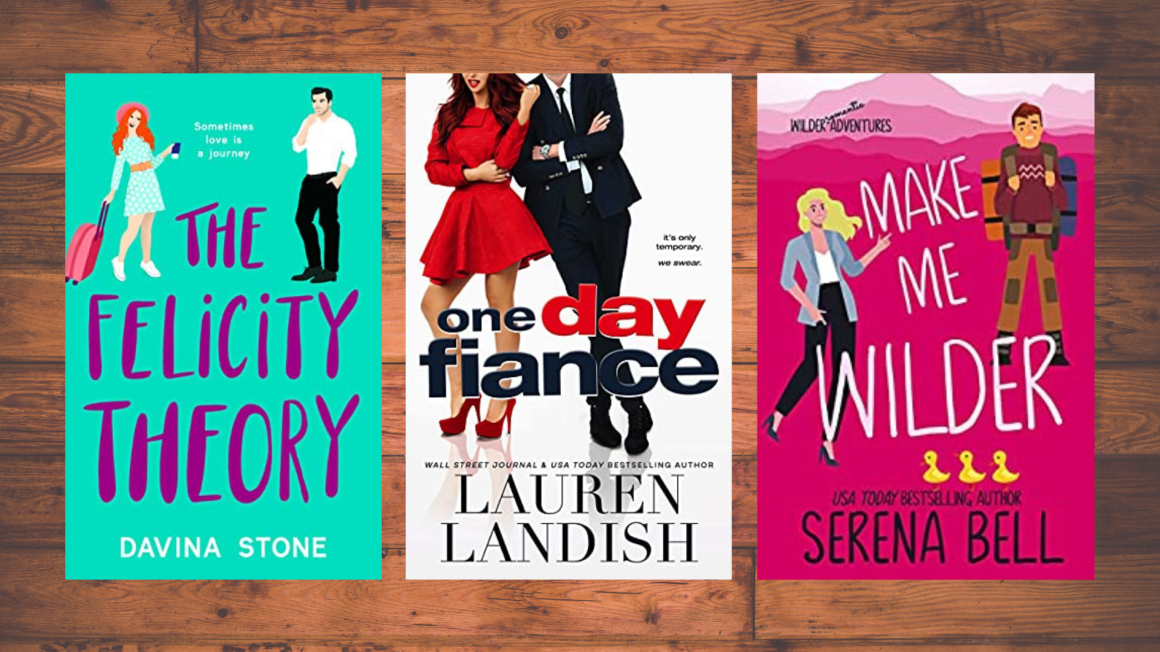 In this book review blog I've got two new authors for you and one of my all time favourites. We're heading into the world of high end art theft, camping in the wilds of Oregon, and taking a road trip across Australia in 'The Shaggin Wagon'. These three books are absolutely fabulous romance reads and I hope you love them as much as I do. So, keep your valuables within sight at all times, slap on the sunscreen, and get ready for some glorious grumpy/sunshine!
Evie x
______________________________________
One day Fiance by Lauren Landish
Poppy thought she had just one problem. But then another crashed into her and made her first one a million times worse…
Meet Poppy Woodstock. She's a romance author with a severe case of writer's block. Her first book, Love in Great Falls, was a huge success. Now she's accepted an advance for book number two and having a severe case of second album syndrome. Not even her two fluffy Pomeranians, Nut and Juice, or her group of writer friends can help. But when her agent rings to say she's got Poppy a one-to-one with her favourite author, the guru of romance, J. A. Fox, Poppy seizes on this opportunity to meet her idol in the hope she can give Poppy the inspiration she so desperately needs.
However, at the meet and greet there's a black out, and when the lights come back on, not only is an extremely handsome security guard missing, but so is Poppy's laptop, containing the only copy of her latest manuscript. Unlucky for Connor, the fake security guard and professional thief, his latest hideout is… Next door to Poppy, and she's about to blow his cover spectacularly if he doesn't get her computer back.
One day Fiancée is an absolutely fabulous book that took me by surprise at every turn. It's the first Lauren Landish book I've read and it won't be the last. I loved the fact that I was reading a sweet and steamy romance where the hero was a professional criminal, and the way Poppy interacts with Connor's family as well as with him is hilarious and heart-warming. This book took the fake relationship trope in a whole new direction for me, and threw in twists that I didn't see coming. It's a page-turning romp of a romcom and I can't wait to read more of Lauren's books!
Official Book Blurb
I'm Poppy Woodstock.
Romance author and wholehearted believer in Happily Ever Afters.
A terminal case of writer's block should be my biggest worry.
Then I crash into him—literally—and fall into the most gorgeous pair of blue eyes I've ever seen.
Connor Bradley.
Thief, rebel… and my new neighbor.
One slip with the bad boy next door, and my life becomes stranger than any fiction I could ever write.
I impulsively tell his mother that I'm his fiancée, forcing him to help me.
And for some reason, he willingly takes my problems onto his broad shoulders, growling at anyone who stands in my way to meet my deadline.
He turns my world upside down, sparks my inspiration, and claims my body in ways I've never dreamed possible.
Through it all, I have to wonder…
Do Happily Ever After endings exist in real life?
Get your hands on a copy of One Day Fiance by clicking here!
And follow Lauren Landish's work through her website here.
And on social media
______________________________________
Make me Wilder by Serena Bell
Lucy is on the run. When the hot guy she had a one night stand with turns up at her workplace with flowers, she thinks they're for her. Unfortunately they're for her boss… So Lucy does the only thing she can think of. She takes a leave of absence and runs for the hills. Literally. She heads for small town Rush Creek, Oregon, where her mother is living with her new boyfriend, and where Lucy has the opportunity to use her marketing skills to help an outdoor adventure company that's fallen on hard times.
But when she arrives, sparks start flying when a local helps her rescue a mama duck and her ducklings caught in a drain. It's insta-love between Lucy and growly Gabe, but their kiss turns cold the moment Gabe finds out why she's here. Since a hot spring was found in Rush Creek, the town has changed and his family's company isn't doing well. Gabe has refused to change their business strategy, saying that he won't succeed by making everything smell of lavender, so his mum's gone behind his back to call in Lucy. This sets the stage for a forced proximity, opposites attract, grumpy/sunshine, steamy small town romantic comedy that ticks all my boxes and then some.
If you love a growly mountain man and a sunny city slicker who's out of her depth, a hot of hot brothers all vying for their own happy-ever-after, and enough heat to spice up Oregon, then you need to read this book!
Official Book Blurb
She's high heels. I'm hiking boots. And she's about to turn my outdoor adventuring business into a recipe for romance.
I've spent my life doing two things: exploring these mountains and running the business that supports my big family. But now everything's changed, and if I want to save our livelihood, I have to man up. Even if it means taking advice from a city-girl consultant who thinks hiking gear means flats instead of heels—and who wants to turn Wilder Adventures into Wilder Romantic Adventures.
It's my job to introduce Lucy to our hunting, fishing, camping, and rafting trips. At first she's a total fish out of water, but before too long, we're laughing with, instead of at each other. And while Lucy may not appreciate the finer points of building a shelter from scratch or starting a fire with sticks, it turns out she knows a whole lot about getting dirty. She's also smart, capable, and unbelievably beautiful.
But Lucy's time in Rush Creek is running out, and my past has taught me that you can't take the city out of the girl or the girl out of the city. So why am I still trying to make her fall in love with small town life—and me?
Get your hands on a copy of Make Me Wilder by clicking here!
And follow Serena Bell's work through her website here.
And on social media
______________________________________
The Felicity Theory by Davina Stone
Oliver Blake's life is perfect. Until it very abruptly isn't. Dumped by his fiancée on their wedding day, his picture-perfect life falls apart, and now, six months later, he can't seem to piece any of it back together. Despite being a successful finance guru, he's frozen. He can't write a word of the book he's been contracted to produce, and he can't find a way to fit himself back into the world. But then Felicity Green crash-lands on planet Oliver. Felicity has had enough knocks for one life and now has a theory – life is what you make of it. Her relentless positivity is jarring to Oliver but he can't seem to keep her at arms length. Now he's agreed to travel across Australia with her in a camper van named 'The Shaggin' Wagon' and suddenly everything's upside down and inside out, including his heart.
Davina Stone is one of my all time favourite authors. Her books are steamy but also breath-takingly, heart-achingly sweet. Oliver and Felicity both have deep wounds, some you can see and some you can't. The way Davina describes both of them is brilliant. Oliver's OCD in particular is incredibly portrayed, and makes you understand and empathise with how he behaves. The Felicity Theory is just a fabulous book. It's intelligent, deft, funny and altogether amazing. If you love a grumpy/sunshine road trip of a romcom then you need this book in your life!
Official Book Blurb
He's grumpy… she's sunshine… and they're about to take a road trip across Australia.
Successful, handsome, and a little bit OCD, finance guru Oliver Blake has the perfect life. Until his fiancée leaves him on their wedding day, and his carefully constructed world crumbles around him.
Still trying to piece his life together six months later, the last thing Oliver needs at his brother's wedding is a bubbly British bridesmaid plunging his life into more chaos.
Felicity Green doesn't believe in perfect. She's had enough disappointments to prove dreams don't come true. She has a theory— life is what you make it, and she's determined to make her trip to Australia one big adventure.
Somehow, Oliver and Felicity find themselves in a brightly painted kombi van traveling across Australia. As they share confined sleeping arrangements and nights under the stars, it's not long before the chemistry between them is sizzling off the charts.
En route to Sydney, it appears Oliver and Felicity may have stumbled on something almost perfect after all. Until they meet a hurdle that just might be too big for either of them to overcome.
Will they find a way through this, or has their love met the end of a long dusty road?
Get your hands on a copy of The Felicity Theory by clicking here!
And follow Davina Stone's work through her website here.
And on social media
______________________________________
So, there we go! Three books to get on your kindle forthwith! I'd love to know if you've read any of these yet, and if you have, what you think. Get in touch via my social channels and give me your thoughts! And, don't forget, if you have any reading recommendations for me then please get in touch!
Evie x