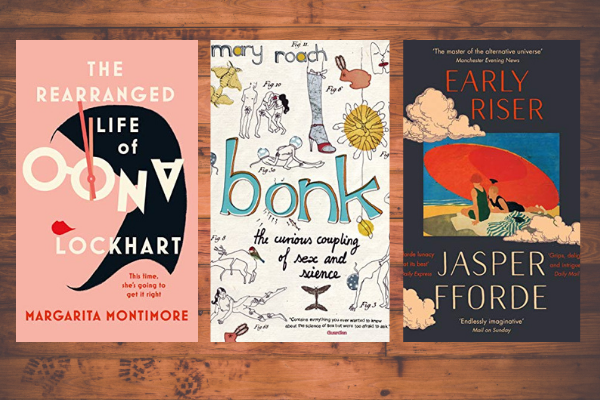 This time I'm going leftfield, with three books that are gloriously bonkers in very particular ways. 'Early Riser' takes place in an alternate reality, where each perilous winter most of the earth's population hibernates; 'The Rearranged Life of Oona Lockhart' shows us what happens when, every New Year's Eve, Oona is transported to a different year of her life, moving backwards and forwards through time; and in 'Bonk', we learn about the real and surreal world of sex and science. These are books to make you think, question your own life and reality, and wonder what would happen if every time you brushed your teeth, you orgasmed. I'd love to know what you think of my reading choices, so get in touch via email or social media and let me know!
Evie x
______________________________________
Early Riser by Jasper Fforde
I've been reading Jasper Fforde's books for over a decade. He's a British writer who deserves a genre all of his own. He writes surreal stories set in worlds that are very like ours but oh so different. Stories where books are so real and dangerous that they need 'literary detectives' to go inside them and protect the plots. Stories with evil and pervasive corporations who are frighteningly similar to ones around us today, and worlds where rabbits are as big as humans and can talk. He is an incredible writer, and reading one of his books is like taking a magical mystery tour.
'Early Riser' follows the story of Charlie Worthing, who has just won a job as a Winter Consul, someone who stays awake during winter, as the rest of the world hibernates, to make sure all is well. It's a tough job, made even more dangerous by the weather, and the fact that people's dreams seem to be killing them. It's a brilliant introduction to Jasper Fforde's writing, style and humour and I thought it was fabulous. I am aware that his books may be Marmite, but I bloody love them and I'd love you to give them a go too.
Official Book Blurb
Every Winter, the human population hibernates.
During those bitterly cold four months, the nation is a snow-draped landscape of desolate loneliness, and devoid of human activity.
Well, not quite.
Your name is Charlie Worthing and it's your first season with the Winter Consuls, the committed but mildly unhinged group of misfits who are responsible for ensuring the hibernatory safe passage of the sleeping masses.
You are investigating an outbreak of viral dreams which you dismiss as nonsense; nothing more than a quirky artefact borne of the sleeping mind.
When the dreams start to kill people, it's unsettling.
When you get the dreams too, it's weird.
When they start to come true, you begin to doubt your sanity.
But teasing truth from Winter is never easy: You have to avoid the Villains and their penchant for murder, kidnapping and stamp collecting, ensure you aren't eaten by Nightwalkers whose thirst for human flesh can only be satisfied by comfort food, and sidestep the increasingly less-than-mythical WinterVolk.
But so long as you remember to wrap up warmly, you'll be fine.
Want a sneak peek inside Early Riser by Jasper Fforde? Click on the image below!
And follow Jasper's work through his website and social channels:
______________________________________
Bonk: The Curious Coupling of Sex and Science by Mary Roach
Mary Roach specialises in popular science and humour. Her previous books include 'Stiff: The Curious Lives of Human Cadavers', 'Spook: Science Tackles the Afterlife', 'Packing for Mars: The Curious Science of Life in the Void', 'Gulp: Adventures on the Alimentary Canal', and 'Grunt: The Curious Science of Humans at War'.
My first introduction to her work was when my husband bought me a copy of 'Bonk' to read, thinking it would be up my proverbial alley. Oh my good God. It is jaw-dropping, eye-opening, weird and wonderful. Be prepared that this is not a book that is going to make you feel warm, fuzzy and ready for action. It's more likely to have you crossing your legs and wincing, as you read about the intricacies of a penile implant operation, and the woman who repositioned her clitoris in search of an orgasm through penetration.
Mary Roach travelled the globe on her quest to discover what science can tell us about sex, visiting Danish men who compete to inseminate the most pigs, and persuading her husband to have sex with her in an MRI machine. It's a brilliant book and one I will definitely dip into again once I've recovered from my first reading experience…
Official Book Blurb
Few things are as fundamental to human happiness as sex, and few writers are as entertaining about the subject as Mary Roach.
Can a woman think herself to orgasm?
Is your penis three inches longer than you think?
Why doesn't Viagra help women – or, for that matter, pandas?
Does orgasm boost fertility? Or cure hiccups?
The study of sexual physiology – what happens, and why, and how to make it happen better – has been taking place behind closed doors for hundreds of years. In this fascinating and funny book, Mary Roach steps inside laboratories, brothels, pig farms, sex-toy R&D labs – even Alfred Kinsey's attic – to tell us everything we wanted to know about sex, and more we'd never even thought to ask
Want a sneak peek inside Bonk by Mary Roach? Click on the image below!
And follow Mary's work through her website and social channels:
______________________________________
The Rearranged Life of Oona Lockhart by Margarita Montimore
This book was another gift from my husband, and isn't normally the kind of book I would choose to read. It took a while to get into, but as the story evolved I was hooked. The premise is that on Oona's nineteenth birthday, at the stroke of midnight, she wakes up in her fifty-year-old body and life. She discovers to her horror that she will spend the rest of her life living it out of order. Every twelve months, she wakes up and experiences a different, and random, year of her life.
It's a fabulous concept, and Oona struggles with it, attempting to negotiate family and relationships, without giving herself spoiler alerts for what is to come. As she moves through each year, she fights, rebels, and discovers maturity and a sense of acceptance along the way. For North American readers, the book has a different title and cover, known instead as 'Oona Out of Order,' but it's still the same book. If you've read this then I'd love to know your thoughts!
Official Book Blurb
WHAT IF YOU LIVED YOUR LIFE IN THE WRONG ORDER?
Brooklyn, 1982. Oona Lockhart is about to celebrate her 19th birthday and ring in the New Year. But at the stroke of midnight, she finds herself in her fifty-one-year-old body, thirty-two years into the future.
Oona learns that on every birthday she will leap into a different age at random. Still a young woman on the inside, but ever changing on the outside, who will she be next year? Wealthy philanthropist? Nineties Club Kid? World traveller? Wife to a man she's never met?
As the years pass, Oona must learn to navigate a life that's out of order – but is it broken?
Surprising, magical and poignant, Margarita Montimore's debut is an uplifting joyride through an ever-changing world that shows us what it means to truly live for now.
Want a sneak peek inside The Rearranged Life of Oona Lockhart by Margarita Montimore? Click on the image below!
And follow Margarita's work through her website and social channels:
______________________________________
So, there you have it, my leftfield reading picks for you to try. I'd love to know if you've read any of these yet, and if you have, what you think. Get in touch via my social channels to let me know. Social media is also a great way to find up to the minute news on what books I'm currently taking to bed, and everything else that's strange and amazing in the world of me. As ever, if you've read anything fabulous recently, then get in touch and tell me all about it!
Evie x