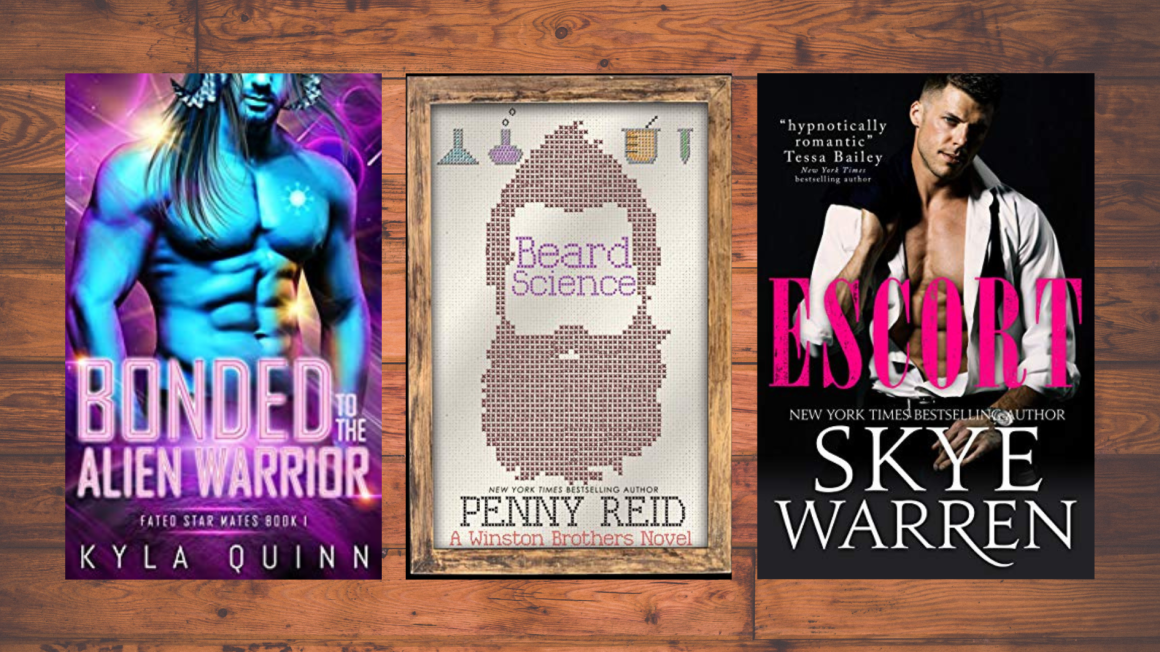 This week's blog pie is two thirds virgin, and one third seven foot blue alien, with three incredibly diverse and fabulous romance reads for you to get your teeth into. In Beard Science by Penny Reid, a shy and anxious virgin blackmails the baddest boy in town. In Escort, a reclusive virginal princess in a modern fairy-tale tower hires an escort to, er, well you can imagine. And in Bonded to the Alien Warrior, a woman discovers she shares a 'sol' bond with a battle-hardened soldier on an assaination mission. These books are funny, dreamy, and packed with enough action and romance to keep you satisfied for days. Read on to find out more!
Evie x
______________________________________
Beard Science by Penny Reid
Cletus Winston has a problem. It's not the biker gang that has blighted his family's life. It's not the small town sheriff that keeps pulling him over. It's not his five unruly brothers that can't seem to stay out of trouble. It's not his various nemeses discovering his nefarious revenge plans. No. Cletus Winston is being blackmailed by the most unlikely foe; the reigning Banana Cake Queen.
Jennifer Sylvester never puts a foot wrong. She wears what her mother wants, does what her father tells her, and works eighty hour weeks at the family bakery for a salary and benefits package of absolute zero. Despite speaking four languages and having a brain sharper than a tack, she's been moulded into a fifties Stepford wife and everyone treats her like a simpleton. With her freedom under lock and key and her confidence in the toilet, she's desperate to make a change. Accidentally filming Cletus Winston doing something extremely illegal, spurs her into action. She's been watching him for years and knows that if anyone can help her, it's the most devious of all the Winston brothers.
Oh my good lord this book is brilliant. Penny Reid is a master storyteller and Cletus and Jennifer the most incredible characters. Being inside Cletus's mind and thought processes is hilarious on the one hand and heart-wrenching on the other. His realisation that he has understood Jennifer so utterly wrong is beautiful, and how he seeks to help her discover who she truly is took my breath away. One of the most amazing things about this story for me is that Cletus focuses on who Jenn is, rather than what she looks like. Her value is her personality, not the manufactured appearance forced on her by her parents for their own financial gain.
Penny Reid's books are not all sweetness and light. They deal with dark issues and people who behave abhorrently. The way Jenn is treated by her closest family was often extremely difficult to read and I was so relieved when I got my happy ending for all the relevant story strands. Beard Science is a glorious book. It's bold, beautiful and utterly captivating. Go read it now!
Official Book Blurb
Jennifer Sylvester wants one thing, and that one thing is NOT to be Tennessee's reigning Banana Cake Queen. Ever the perpetual good girl and obedient daughter, Jennifer is buckling under the weight of her social media celebrity, her mother's ambitions, and her father's puritanical mandates. Jennifer is officially desperate.
And desperate times call for Cletus Winston.
Cletus Winston is a puzzle wrapped in a mystery covered in conundrum sauce, and now he's in a pickle. Despite being convinced of his own omniscience, extortion by the exalted Banana Cake Queen of Green Valley has taken him completely by surprise. So… what's a maniacal mastermind to do?
Likely, the last thing you expect.
Get your hands on a copy of Beard Science by clicking here!
And follow Penny Reid's work through her website here.
And on social media
______________________________________
Escort by Skye Warren
A princess imprisoned in a high tower and a damaged hero on a quest for revenge. Escort is a contemporary romance story with strong fairy-tale elements. Hugo is a fabulously successful escort. He has the looks, the charm, and the ability to understand what women want. But he's nurturing a dark past that began in Tangier and has led him L'Etoile – the high class hotel at the centre of Tanglewood, a fictitious American city. His new client lives in the penthouse suite, but Bea is nothing like he expects or imagines. She's a young recluse who won't leave the environs of the hotel and she has hired Hugo to take her virginity.
Escort is a beautifully written and nuanced modern fairy-tale that feels almost dreamlike at times. Hugo was a fabulous hero and how he drew Bea out of her shell was just lovely. Bea was also a multi-layered character who, despite crippling anxiety, is making steps to change her life and find purpose. So much of the book detailed the interactions between Hugo and Bea, and Warren handles the development of their relationship perfectly. Escort is a stunning and sensual story and I absolutely loved it.
Official Book Blurb
"Escort is stunningly sexy and staggeringly heartfelt-gorgeously written and saturated with pure, unadulterated desire. Five Mon Dieu stars!" – Sierra Simone, USA Today bestselling author
A male escort. His virgin client. What happens when one night isn't enough?
I'm an escort, which means this date is nothing more than a mutually enjoyable transaction. There shouldn't be any surprises, not for one as jaded as me, but when I walk into the penthouse suite of L'Etoile, everything changes.
1) For one thing, Bea is heartstoppingly gorgeous. Pale green eyes and endless freckles. Curves I want to spend all night exploring, as if her body was made for me.
2) Her innocence makes me want to use my entire inventory of bedroom tricks on her and then invent a few more.
3) Except that… she's a virgin.
I can initiate her into the world of desire without letting her get attached, can't I? A few hours of tutoring, and at the end of the night a small fortune will be deposited into my bank account.
But once I realize one night with her won't be enough, I'm the one who's screwed.
Get your hands on a copy of Escort by clicking here!
And follow Skye Warren's work through her website here.
And on social media
______________________________________
Bonded to the Alien Warrior by Kyla Quinn
"Every species the universe contains the stars that exploded and created our galaxies. Amongst that infinite number, pieces find their way back to each other. They want to reunite. To be one again." Jex's broad hands hold either side of my waist as he lifts me onto the surface beside the keypad as the monitors continue to hum behind my head. "We are from the same star. We are sol."
Lauren's in deep trouble. Abducted from earth, she's being held at a secret alien breeding facility my seven foot tall blue aliens with horns called the Vraxens. They aren't treating her or the other women well, and if they can't fulfil their function as hybrid alien baby makers, they'll be disposed of. Jex is a former soldier from the First Battalion. Genetically engineered as a killing machine. He's at the base to provide security but has a secret mission – to kill the chief scientist running the experimental breeding problem. Because the Vraxen also have a big problem. They've used tech to manipulate their citizens and their world and now very few females can carry 'tyks', and those that are born are always males. 'The Regime' – the controlling elite of Vraxen society have even enslaved their own female citizens to try and get them to breed. But when that failed, they looked to the stars for other species to experiment on.
When Jex meets Lauren, the 'sol' bond is awakened in both of them. Jex knows this means they are bonded for life, and that he will do everything to keep her safe. But what can he do in a heavily armoured facility when he's one alien amongst many, and Lauren is about to be shipped offsite?
This book is a wild ride. Be prepared for fights to the death, intrigue, adventure, and of course a healthy dose of alien loving. In an alien romance series like Ruby Dixon's Ice Planet Barbarian series, you've got one location and the physical environment is fairly fixed. In Bonded to the Alien Warrior you've got space-ships, scientific facilities, wastelands, cities, abandoned settlements and more. You've also got a cast of fabulous characters at odds with each other and trying to navigate life or death and romantic situations that are completely beyond their imagining. There is also the fabulous concept of 'sol' which is beautiful and a fabulous way of explaining why a human and an alien from opposites sides of the universe can be bonded together.
I absolutely loved Bonded to the Alien Warrior. Quinn has set up a fabulous world with seemingly unlimited possibilities for future stories. If you love fated mates, action and adventure, and seven foot blue aliens with extremely versatile tails then you'll adore this book.
Official Book Blurb
Exactly what he says? This should be interesting.
Bonded to the Alien Warrior is a full-length, standalone sci-fi alien romance featuring a brooding, seductive alien who'll do anything to protect his human mate.
If you love sexy aliens, strong heroines and fated mates romance, you'll love this new series from Kyla Quinn.
Get your hands on a copy of Bonded to the Alien Warrior by clicking here!
And follow Kyla Quinn's work through her website here.
And on social media
______________________________________
So there we go! Whatever floats your boat, I'm sure that one of these books has piqued your interest. Have you read any of them yet? Let me know as I'd love to know your thoughts! As ever, keep in touch via email and my social channels and please let me know if you've got any five star reading recommendations for me!
Evie x