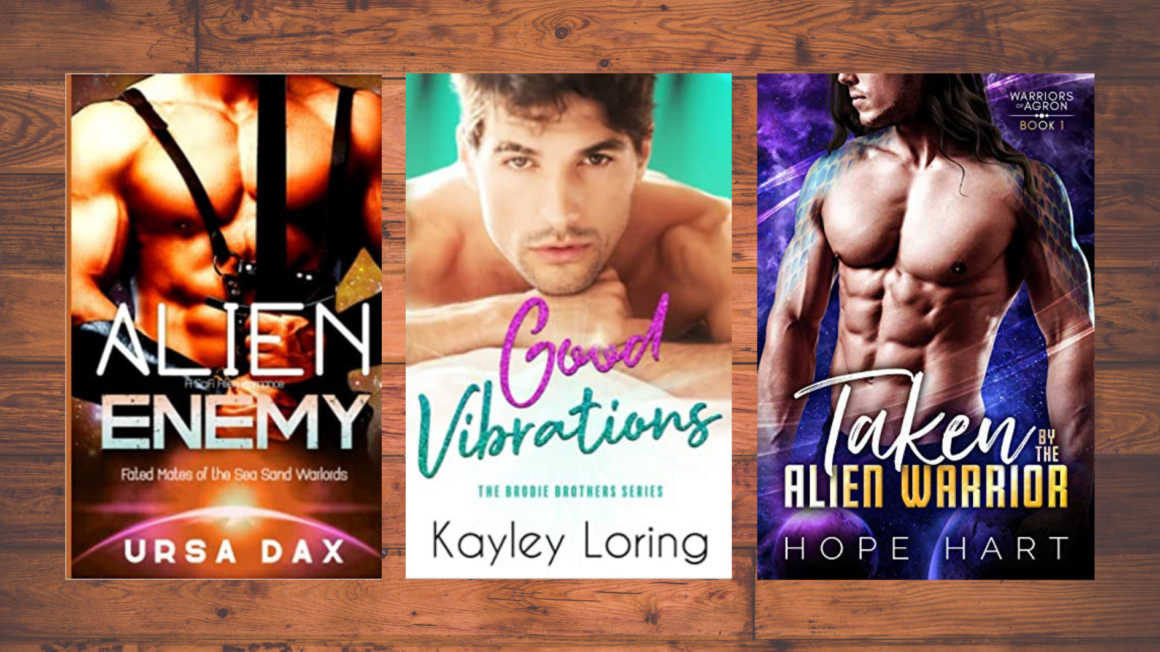 This month we're heading down the rabbit hole with Alice and off world with some new alien totty. I've been a huge fan of Kayley Loring for a while now, and her latest book – Good Vibrations – takes the title and runs with it. It's got singing vibes, surfing vibes, beach vibes, and a scene with a vibe that will make you extremely hot under the collar, all set against the backdrop of Alice in Wonderland (the musical). And from this delightful frothy fun, we go dark and brooding with a mad alien warlord and another badass alien descended from a dragon. Whether you love laugh-out-loud romantic comedy, or heroes that put the alien into alpha, I've got you covered!
Evie x
______________________________________
Alien Enemy by Ursa Dax
This is the second book in the Fated Mates of the Sea Sand Warlords series and is one of the best enemies-to-lovers trope books I have ever read. You can't get a stronger set up than a bloodthirsty mad alien warlord who killed his own dad to seize the throne and a badass soldier who's constantly trying to kill him.
Tori Chapman never knew that enlisting in the army would involve seizing women from earth and taking them to an alien planet to suss it out. The women are viewed as cannon fodder, however the moment the ship lands, all hell breaks loose. Giant killer scorpion-crabs destroy the ship and those flying it, leaving Chapman to lead the women out the back door to freedom. But only moments later they're picked off by alien warriors and taken back to camp.
The women look to Chapman to lead them and she naturally falls into the role. But she's got a fight on her hands in the shape of Fallo. He's the 'Gahn' of the tribe – something akin to a King, and the maddest and baddest warlord on this forbidding planet. Fallo's taken a shine to Chapman even though she drives him insane and keeps stealing his knives with the intention of doing him harm.
This book is just brilliant. It's an epic enemies-to-lovers story, compounded by the misunderstandings involved when the characters literally can't understand each other. Chapman and Fallo don't speak the same language, don't share a culture, and have to find their way to an understanding in the middle of ongoing wars and disputes with other tribes.
Dax is a phenomenal writer with deep understanding of character and a beautiful and poetic voice when she describes the environment Chapman finds herself in. I adored this book and can't wait to read the rest of the series!
Official Book Blurb
"They Call me the Mad Gahn. But I never felt truly mad until I saw her face…"
CHAPMAN
So, our mission on an alien planet fell apart before it even got started. Great. Now I'm the only surviving military crew member, leading a gaggle of civilian women in unfamiliar terrain. But it turns out one soldier isn't enough to protect them from the monsters of this planet. Soon enough we're all scooped up by a bunch of alien barbarian warriors with tails. When I meet their huge, red-eyed leader, he wraps his claws around my throat and looks like he wants to crush me. I can only think of one name for him: The Enemy.
He's crazy, moody, and his ego is bigger than his whole planet. Everything about him rubs me the wrong way. My defiance is just as big a thorn in his side, if his glares and snarls are anything to go by.
We can't stand each other, but for some reason we keep falling towards each other, over and over again. If I hate him so much, why can't I seem to stay away?
And when he claims that I'm his mate, why don't I want to run?
FALLO
There are few women of the Sea Sands now, so the unfamiliar females who appear in the desert are a great boon to my tribe. But their leader, the one with the flame-coloured hair, challenges me at every step, her insolence a hot irritation. I do not understand her nonsense words, but I recognize the hateful defiance in her strange, lovely eyes.
It makes me want to punish her.
It makes me want to make her mine.
She is fire in my veins. A thirst I cannot quench. A beautiful torture. Madness.
She makes me feel like I am losing control.
She makes me question everything. Even my own sanity.
Will she finally submit, acknowledge me as her mate, and end my suffering? Or will she throw me headfirst into madness?
Get your hands on a copy of Alien Enemy by clicking here!
And follow Ursa Dax's work through her website here and on social media
______________________________________
Good Vibrations by Kayley Loring
I'm so in love with Kayley Loring and her writing that I'm seriously considering ditching my husband and marrying her and all the book boyfriends she has written for me. Yes, she created Miles Brodie and his brothers for ME and ME ALONE! I read Good Vibrations in two sittings, only stopping to fulfil basic life functions and leave mental voice messages for Kayley telling her how much I was loving the book and then reading bits of it out loud for her 'enjoyment'.
Miles Brodie is a former model, entertainment lawyer, divorced father to Macy and professional grumpy-pants. His little cherub has her heart set on a career in Musical Theatre, however never seems to land a part. Macy can't understand why she's always passed over and seems completely unaware that she has the singing ability of a raccoon with a throat infection.
In desperation to make his daughter happy, Miles attempts to bribe Aria Cross, the writer and director of a new musical based on Alice in Wonderland into giving the lead role to Macy. Aria and Miles have been attracted to each other for the past three years, but Miles represents Aria's ex so believes nothing can ever happen between them. Now Miles is helping bankroll Aria's production, Macy's learning to sing, and Aria has moved in next door.
Good Vibrations is just fabulous. It's got some of the hottest scenes I've ever read and snort laugh comedy that nearly made me pee. Loring's writing is everything I love in a good romantic comedy. It's smart, sexy, sweary, and has characters that leap from the page into your heart. Go read it now!
Official Book Blurb
A former model, a grumpy lawyer, and a single dad walk into an audition for a children's musical… They're all Miles Brodie. It's only cute if you aren't the director who's being bribed to cast his daughter.
DEAR MS. CROSS,
Re: Our discussion
1. True. Casting my daughter as the lead in your musical could be considered bribery if people find out I'm investing in it, but no one needs to know.
2. I only want to hire you as Macy's singing coach so her vocal skills will improve.
3. Maybe if you'd spent less time surfing and more on your singing career, you wouldn't be in this financial predicament.
4. Re. your living situation—my neighbor has a guest house. If you cast Macy as Alice, I will pay for your first three months' rent.
Do we have a deal?
Best regards,
Miles Brodie
DEAR MR. BRODIE,
1. It absolutely is bribery, but I absolutely need that money for my production. Thanks!
2. It is very cute that you will do anything to get Macy this part, but I would only coach that sweet child as a favor to all mammals with functional hearing.
3. If I spend less time surfing, will you spend less time jogging on my beach with your shirt off?
4. You want to pay me to live next door so you don't have to drive anywhere to frown at me?
5. I have another condition for casting Macy as Alice—you have to perform the part of the Cheshire Cat.
Purrrrrrr,
Aria
Get your hands on a copy of Good Vibration by clicking here!
And follow Kayley Loring's work through her website here and on social media
______________________________________
Taken by the Alien Warrior by Hope Hart
I love alien romance novels and this was my first introduction to the work of Hope Hart. Ellie has just been abducted from earth and goes from the frying pan into the fire when her new alien owners crash their hunk of junk spaceship into the planet of Agron and are killed by aliens called Voildi. Ellie and her fellow captives think the Voildi are here to rescue them, but have no idea they're being led away to become dinner.
Luckily they're rescued by Braxian warriors and find themselves taken to their camp. The Braxian's are a race descended from dragons who have a hotness rating of eleven out of ten and the chief's right hand alien, Terex, decides that Ellie is his mate. Ellie thinks he's hot AF but doubts why he would find her attractive. She has incredibly low self esteem and is constantly comparing herself to the other earth and Braxian women around her.
I just loved this book. Terex was such a fabulous hero. He was steadfast in his love for Ellie and was thoughtful and kind as well as being gorgeous and dreamy. I empathised with Ellie's insecurities and her struggle to believe both in Terex and herself. And I just adored the other characters, in particular Nevada who was about as badass as they come. Taken by the Alien Warrior was a brilliant read in and of itself but also an incredible set up for the series and I can't wait to read more!
Official Book Blurb
The Grivath have sold us on Gule- a planet where hope goes to die.
The women who are imprisoned with me are in high demand and they all look like models. Me? I'm 5'2 shy, curvy, and a kindergarten teacher. Maybe they really meant to take my pageant queen sister?
If that's not bad enough, our ship has crashed and half of the women are missing. Did I mention the locals want to eat us? Insert the tall, incredibly-built warrior aliens, who saved us. Things are looking up, except that one of them is eyeing me like a snack, and not in a cannibalistic way– if you catch my drift.
Terex is tough, fierce, and bossy, and doesn't seem to understand that I can't stay and be his snuggle bunny. I'm not quite sure why he isn't chasing after one of the other women when every man I've ever known has overlooked me.
But not Terex. When he looks at me, he doesn't seem to see chubby, awkward Ellie. And his gaze burns brighter instead of shifting away.
Now, I've just got to convince him to help me find the other women and get back to Earth.
Should be a piece of cake… Right?
Get your hands on a copy of Alien Warrior by clicking here!
And follow Hope Hart's work through her website here and on social media
______________________________________
So there you go! Three of my favourite books this month for you to consider. I'd love to know if you've read any of them and what you thought. Also, don't forget to send me your recommendations as I'm always looking to add more books and new authors to my monster of a TBR pile… Keep in touch via social media and happy reading!
Evie x