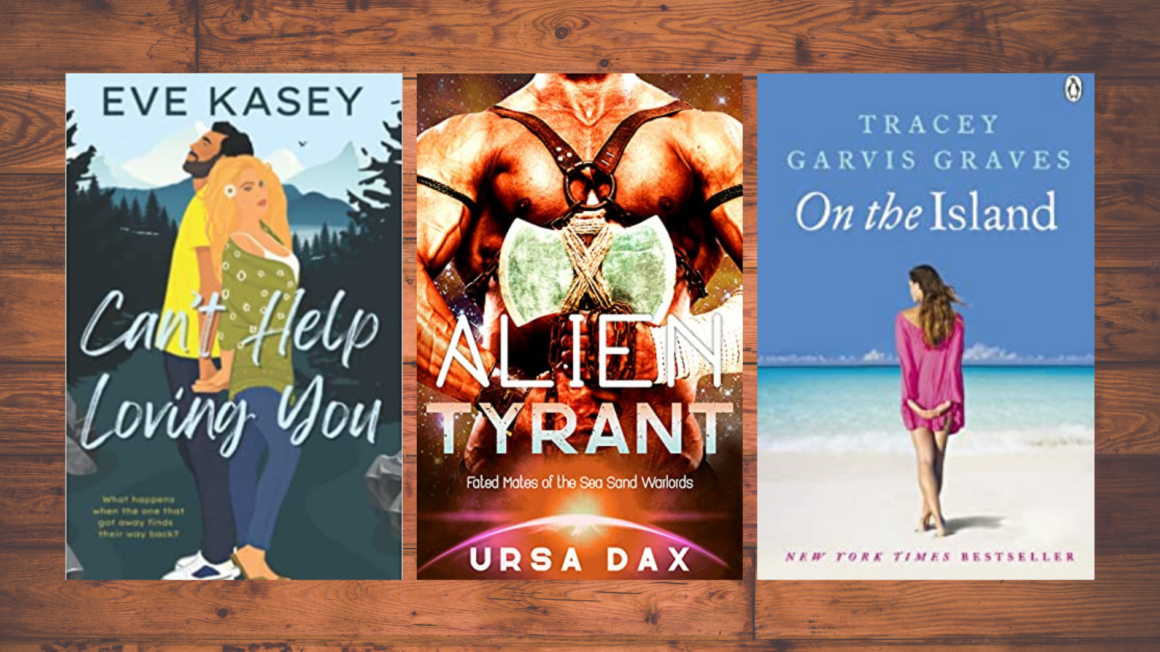 Oh. My. God. This month I had my heart, imagination, soul and libido handed to me on a plate courtesy of some absolutely epic reads. I love it when I start reading a book and right from the beginning I know I'm in safe hands but about to be taken on the ride of my life. I've got a second chance love triangle romance, a glorious alien romance, and a reverse age gap trope survivalist love story for you. Check out all the details below!
Evie x
______________________________________
Can't Help Loving You by Eve Kasey
The girl wore sunshine like a halo.
Maddox noticed her glow first and everything else second.
She squinted against the sunlight as she crested the steep hill, though the brightness was at her back. Then, as if remembering that she had sunglasses perched on the top of her wild blonde hair, she smiled.
From the opening lines, this book captured my heart. I read it as a reader and a writer, swept along in the story whilst simultaneously in awe at Kasey's turn of phrase. She is a writer who has woven words into a story that is beautiful and unputdownable, whilst also successfully writing a tale which navigates the most dangerous trope in the entire romance canon – that of cheating.
Before you all saddle-up and mount your ranty horses, I want to make it clear that there is no cheating in this book. None. Zero. Zilch. Okay? Put the pitchforks down. Breathe… Sometimes I do marvel at the ire directed at the mere whiff of cheating in a romance novel. A hero may pull the heroine's hair during sex, slap her till she bruises and call her daddy's little whore and no-one bats an eyelid. But if she kisses a new love without having unequivocally finished a previous relationship then the author is metaphorically hung, drawn and quartered.
At the start of Can't Help Loving You, Maddox and Ava meet and spend the perfect day together. The meeting changes both of their lives, and even though they part to go to college hundreds of miles from each other, the connection in their hearts never went away. Now, ten years on, they meet again, but through Leo, Ava's fiancee. None of the feelings they had ten years ago for each other have changed, but their circumstances have, and a relationship of any kind other than friendship is impossible.
This book is an exploration of masculinity, femininity, gender relations, friendship, love and self love, as well as a nuanced, raw and real depiction of PTSD as experienced by Leo. It's a slow-burn, soulful ride with characters that curl around your heart and won't let go. Can't Help Loving You is simply brilliant and I urge you to go and read it. NOW!
Official Book Blurb
"I'm yours. Even if you're not mine."
Ava
What happens when you meet the boy of your dreams in a bookstore?
You pretend you're not leaving for college in the morning, and instead spend the night falling hard for his blue eyes, dimples, and creative soul – even if Maddox is a poetry hater.
You pretend you don't get that tattoo in his honor.
You spend the next ten years telling yourself that a corner of your heart isn't taken by a boy from your past.
When you see those blue eyes again, you pretend you don't feel seen—awake—for the first time in a decade.
You remind yourself that you said yes to a man you didn't want to marry, and now you're stuck.
You tell yourself that this is the life you wanted.
But it isn't. Not anymore.
Maddox
What happens when you run into the woman you haven't stopped thinking about for a decade? The wild-haired, free-spirited sunshine girl from your past?
You pretend she's not at that brewery with her fiancé, your new friend. Leo. The man who can make or break your design career.
You pretend neither of you see that Leo is keeping secrets and close to breaking.
You pretend you don't know how miserable Ava is with her life, how she only lights up when you're around.
You tell yourself you don't ache for the one woman you can't have.
But you do. You want her as badly as she wants freedom, and the time has come to stop pretending.
Can't Help Loving You is a steamy second-chance romance intended for readers 18+. Content warning: PTSD, panic attack, language, sexual situations. Some readers may feel this book contains emotional infidelity. Rest assured this forbidden romance includes no blatant cheating and guarantees a happily ever after—for everyone.
Get your hands on a copy of Can't Help Loving You by clicking here!
And follow Eve Kasey's work through her website here and on social media
______________________________________
Alien Tyrant by Ursa Dax
Oh, I love a good alien romance. There's something about a brawny alien warrior who puts you and your pleasure at the centre of their world that makes my heart sing and my lady parts tingle. In Alien Tyrant, Brooding alien chief, Buroudei has been summoned to bathe in the milky blood of a spirit called a Lavrika so he can glimpse his fated mate. But the creature he sees is nothing like the females of his species.
Meanwhile, on the other side of the galaxy, Cece is abducted and thrown on a spaceship with other young women. Their destination is a small planet potentially inhabitable by humans. However the US army isn't sure how friendly the locals are, so they've conscripted people who are expendable and don't have enough friends or family to be missed. Touching down on the planet, things immediately go tits up. The ship is attacked by killer crabs, and the women flee for their lives, only to be picked off and stolen away by two warring tribes. Cece is taken by Buroudei, who has to somehow keep her alive, explain they are fated mates, and persuade her to get on board with the whole inter-species sex thing so they can have lots of lovely alien pups and re-populate the planet.
I adored this book! Buroudei is strong, respectful and hot AF if you're into men with tri-forked tongues, tails, and a gentleman's sausage with two extra prongs. It's a fabulous story, brilliantly written and I loved it. If you're a fan of Ice Planet Barbarians then you'll absolutely love Alien Tyrant and I can't wait to read more in this series!
Official Book Blurb
"If you should flee, no matter where you run, I will always follow."
CECE
I thought getting a linguistics degree would land me a decent job, not get me shipped off to an alien planet ruled by barbarian warlords with tails. But that's exactly what happens when my own government kidnaps me, along with a bunch of other women, and drops us on a brutal desert planet in the name of research. But the mission goes wrong. Because of course it does. Soon enough I'm separated from the other humans and stuck with a seven-foot-tall alien warlord who will not leave my side. He doesn't speak English, but his dark eyes and massive body speak volumes.
I need him to survive and find my friends. But am I willing to give him what he wants when what he wants… is me?
BUROUDEI
When I saw the face of my future fated mate in the sacred Lavrika pools, she was unlike anything I'd ever seen. I thought that fate was wrong, or that maybe I'd gone mad. But then when she falls from the sky, crashing into my desert, my fate becomes my reality. She is small, and pale, and fights me every chance she gets. But everything in me calls to everything in her, and she represents the salvation of my tribe.
She is mine. I will destroy anyone who tries to take her from me.
But what if the one who tries to take her from me… is her?
This is a full-length 65000 word scifi alien romance.
Get your hands on a copy of Alien Tyrant by clicking here!
And follow Ursa Dax's work through her website here and on social media
______________________________________
On the Island by Tracey Garvis Graves
I grew up reading Island of the Blue Dolphins about a woman stranded on an island by herself for twenty years, so was excited to read On the Island which tells of survival and love between an older woman and a younger man. At the start of the story, Anna is thirty and engaged for the summer as a private tutor to T.J. who is seventeen and in remission from cancer. They're meant to be on the family's idyllic island in the Maldives, but when their pilot suffers a fatal heart attack en route, Anna and T.J. wash up on a deserted island and don't get rescued.
The story follows their incredibly gruelling story of survival and what happens when Anna realises T.J. is no longer a child and they begin to fall in love. I adore books that take traditional tropes and turn them on their head. The first part of the story takes place on the island, and the second part concerns what happens when they get home, with all the inevitable bullshit from the media directed at Anna. Rest assured the story does have a happy ending and I loved it.
Official Book Blurb
It would always be summer on the island…
A love story with a twist, Tracey Garvis Graves' On The Island is a US word-of-mouth success story to rival Fifty Shades of Grey, with 1500 5* reader reviews online (and counting!) and sales taking it top 10 in the New York Times, Wall Street Journal and Amazon.com bestseller lists. Film rights have been optioned by MGM, with Temple Hill Productions (responsible for Twilight) slated to produce.
When thirty-year-old English teacher Anna Emerson is offered a summer job tutoring T.J. Callahan at his family's holiday home in the Maldives, she accepts without hesitation: a tropical island beats the library any day.
T.J. has no desire to leave town, not that anyone asked him. He's almost seventeen and if having had cancer wasn't bad enough, he now has to spend his first summer in remission with his family instead of his friends.
Anna and T.J. are en route to join T.J.'s family in the Maldives when the pilot of their seaplane suffers a fatal heart attack and crash-lands in the Indian Ocean. Marooned on an uninhabited island, Anna and T.J. work together to obtain water, food, fire and shelter but, as the days turn to weeks then months and finally years, Anna begins to wonder if the biggest challenge of all might be living with a boy who is gradually becoming a man…
Get your hands on a copy of On the Island by clicking here!
And follow Tracey Garvis Grave's work through her website here and on social media
______________________________________
So there we have it. Lose yourself on a desert island, a big city, or an alien planet. Wherever you choose to take your imagination, these books will show you the way. Have you read any of these yet, or anything else by one of these authors? Let me know! And don't forget, if you've read a book recently that you think will rock my world, get in touch and tell me all about it!
Evie x