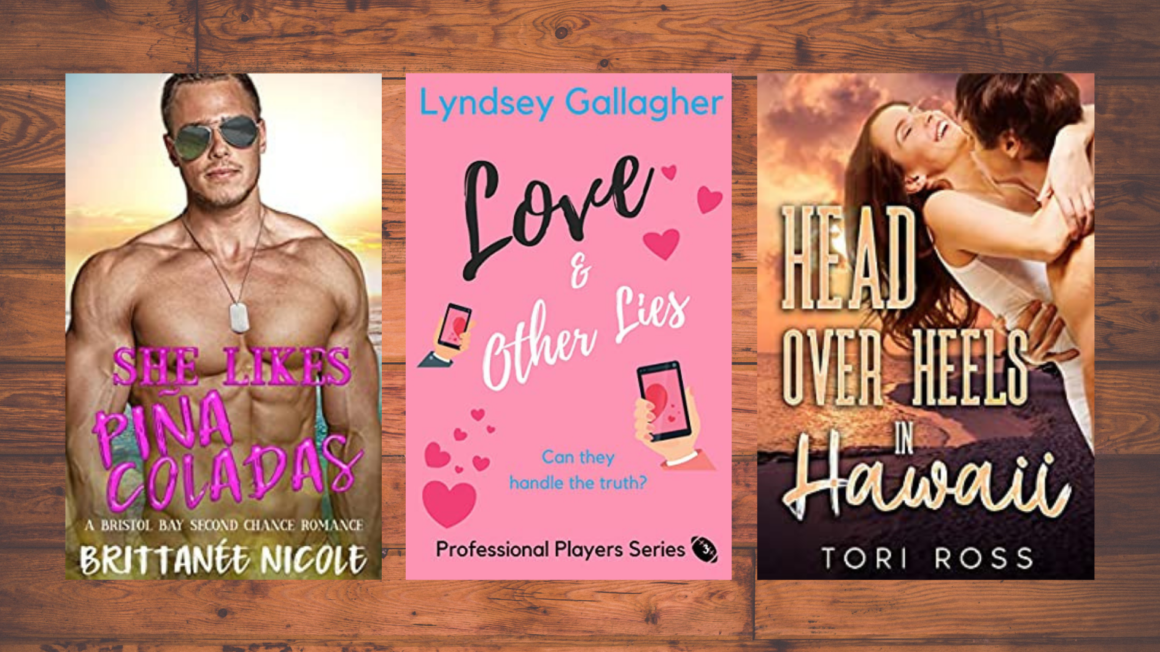 This month we're in Ireland, The Azores and Hawaii for a second chance romance, a singles holiday, and a steamy tale of a nanny and a rugby star. These stories have heart, heat, and enough laughs to make drinking and reading a hazardous occupation when combined… Enjoy my reviews, and don't forget to recommend my next read via email or social media!
Evie x
______________________________________
Love & Other Lies by Lyndsey Gallagher
Kerry's having the week from hell. She's lost her job at an au pair agency, and her landlord has given her a week to get out. On top of everything, her long term boyfriend has announced he's leaving the army and coming home for good. This should be good news, right? But Kerry's happy with their arrangement, and besides, she's been keeping a secret from him that would destroy everything.
Hot shot rugby star Nathan is also having a bad week. His ex has announced she's leaving for a few months to go on a cruise ship as a singer, leaving him with sole custody of their young daughter, Millie. Nathan needs a nanny now, but every agency he calls can't help. In desperation, he asks the woman who answers the phone at the last company he calls. She's not an au pair, but she's got a degree in childcare and makes him laugh so he offers her a three month live-in contract.
For Kerry, this seems too good to be true. But when she turns up to start work, she realises with horror that her new employer is the man she drunkenly snogged that summer when she and her boyfriend were on a break. Nathan can't believe his luck. He's never forgotten that night, and now the woman of his dreams is in his house, putting a smile on his face, and that of his beloved daughter. But how can their love even develop when Kerry's got a boyfriend, and every relationship in her life is tinged with secrets and lies?
I loved this book so much! Lyndsey Gallagher is a phenomenal writer. Her characters are utterly believable and jump off the page. They are flawed and nuanced and relatable, and I was willing them to take the risk to find their happy ever after. The story rattles along with energy and sparkle and keeps you turning page after page even when you should have already turned the lights out and gone to sleep. I thoroughly recommend this book. Her professional players series just keeps getting better and better!
Official Book Blurb
When Kerry Walsh's boyfriend announces he's leaving the military at the end of the summer, she puts the anxious gnawing in her stomach down to the fact that she's just been sacked and her leaving party resulted in her eviction. With all of her friends settling down and Craig's imminent return on the horizon, Kerry wonders if it's finally time to grow up- starting with finding a job and somewhere to live.
Nathan Kennedy is a successful, Irish rugby player at the pinnacle of his career. He's also a separated father to an energetic five-year-old girl, Millie. When Millie's mother announces she's taken a job on a cruise ship and is leaving Nathan with sole custody of their daughter, Nathan realises he's going to need a nanny, for the summer at least.
A chance phone call results in Nathan offering Kerry the position, with neither of them realising they're already acquainted. And Nathan just happens to be the only person in the world who knows Kerry's biggest secret.
As the temperature increases in the city, so does the sexual tension.
Will Kerry let her past ruin her future?
Or will Nathan convince Kerry he's playing for keeps?
Get your hands on a copy of Love & Other Lies by clicking here!
And follow Lyndsey's work through her website here and on social media
______________________________________
She Likes Pina Coladas by Britanee Nicole
Six years ago, Charlotte spent an evening with a stranger so perfect, she knew they were destined to be together. But the next morning he'd vanished, leaving no contact details and taking her dreams with him. Since that fateful night, everyone she's ever dated has been compared to the mystery man, and they've always fallen short. Now she's living in her best friend's apartment after her latest boyfriend stole hers, and she's desperate to get away from everything.
Seeing an ad for the Azores, she decides she's going to go there on holiday. All she needs is a companion who speaks Portuguese. But when she turns up at the airport, her travel buddy is none other than Mr one-who-got-away. Sparks fly again, but does he remember her? And why did he run away all those years ago?
She Likes Pina Coladas is a fabulously sweet and swoony summer read. I was caught up in Charlotte's character and story and taken on a wonderful journey, falling in love with the Azores as well as Jack, the hot AF fighter pilot. If you're after the perfect getaway, with heart, humour and heat then you're going to love this book!
Official Book Blurb
Wanted: Hot Stranger For Vacation
It started with a simple message from the man known as Pina Coladas: Message me and Escape. After dumping my apartment-stealing boyfriend and rooming with my best friend's dog, the promise of fruity drinks, dancing in the rain, and maybe even a midnight romp, leaves me singing a familiar tune, excited to travel to the Azores with the stranger who answered my wanted ad.
When Jack, aka Mr. Perfect, aka the one who got away, shows up at the airport, I'm left to wonder if this is just another one of life's dirty pranks.
Jack isn't only hot, he's a fighter pilot with a sense of humor and blue eyes that make my butterflies dance. He's saying all the right things and sending sparks in every direction he looks, asking me to take all sorts of risks—like swimming in hot springs, jumping in mysterious pools, and giving him a second chance. But he still hasn't told me why he disappeared in the first place.
After a sip, or twenty, of sangria, I'll happily explore the cafés and the beaches and possibly even Jack's calves, but what I absolutely, positively will not do is fall for Jack—again.
Get your hands on a copy of She Likes Pina Coladas by clicking here!
And follow Britannee's work through her website here and on social media
______________________________________
Head Over Heels in Hawaii by Tori Ross
Put on your pee-pee-proof panties, fasten your fun seatbelt, and secure your sunhat, because you're going on the holiday of a lifetime. Head Over Heels in Hawaii is a laugh-out-loud riot of a romantic comedy from start to finish and I absolutely LOVED it!
Cora hasn't been on holiday without her parents and umpteen siblings before. Cora has never flown before. Cora has never fallen into a display of 'Super Pecker' condoms in front of the perfect stranger before. But now she's in Hawaii and experiencing so many things for the first time.
She wants to avoid the grumpy stranger, but unfortunately not only is Eric joining the tour she's on, he's been put in her 'post-pandemic bubble'. Now there's no escape from his good looks and slow burn charm.
I read this book on a train. In public. I snorted so many times I'm sure my fellow passengers thought I was a pig. I'm not going to give away the funnies as I want you to experience them for yourself, however I guarantee you won't have ever read THAT scene before…
This is a quick and perfect read. It's charming, hysterically funny and has enough heat to keep you satisfied. 11/10 from me!
Official Book Blurb
Cora Calvert is frustrated with her life and still sleeping in her childhood bunk bed. As if living with your parents isn't bad enough, Cora's job consists of measuring old women for bras instead of using her college degree in fashion design. When an opportunity for a trip to Hawaii comes about, she's all over it and can't pack fast enough. Even better, the tour is only for people in their twenties.
Cora's excitement for the tour wanes when she learns the tour company assigns seats, and she's stuck next to an arrogant jerk named Eric. Cora makes other friends and tries to ignore Eric's green eyes and verbal diarrhea as she explores the islands. But Cora's about to learn that first impressions can be very wrong.
The Traveling Calvert Sisters series is a series of shorts with 25-35k words. They can be read in any order. HEA or HFN guaranteed!
Get your hands on a copy of Head Over Heels in Hawaii by clicking here!
And follow Tori's work through her website here and on social media
______________________________________
So, are you sold? Going to pick one of these beauties up and whisk yourself away to sunnier (or Irish lol) climes? I'd love to know what you think of them. Get in touch via my social channels to give me your thoughts, and don't forget to follow me for all the latest from my (semi) fabulous world!