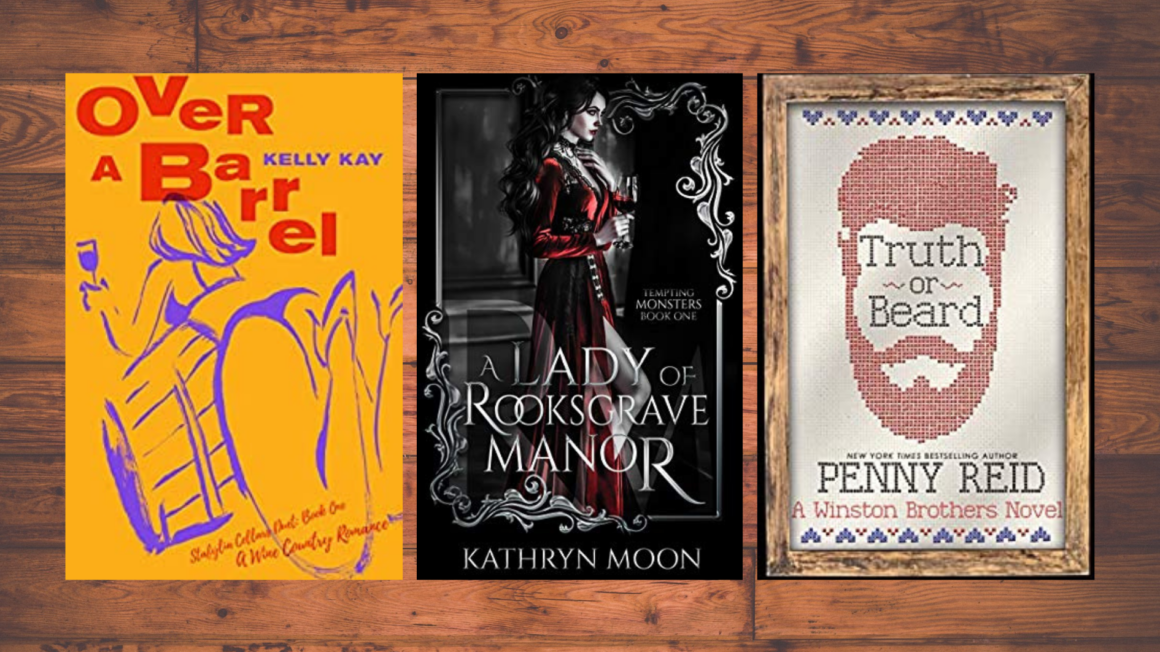 This month I'm mixing a cocktail so crazy, you might need to be drunk before you take a sip. I've got a duet of wine and political intrigue, a story with beer and beards, and a reverse harem tale with a shifter, a sphinx, a sexy sucking octopus, and so much more. So pull up (or take off) your big girl pants, and get ready to dive into some fearsome and fantastic reads!
Evie x
______________________________________
Over a Barrel and Under the Bus by Kelly Kay
These books are a phenomenal two part story and I had to review them as one as they are just that good. Over a Barrel takes place over one night with flashbacks over the previous thirty years, detailing the story of childhood friends Bax and Tabi. It ends with Tabi boarding the campaign bus to help Bax win a Senate race. Book two starts where book one left off, plunging us into a mad present, where all is not as it seems, and just as Bax and Tabi admit to their love, everything implodes with catastrophic consequences.
Kelly Kay is a writing force of nature. Her voice is vibrant and crackles with wit and energy, making her characters, locations and situations jump off the page. When you leap into one of her books, you're instantly drawn into a universe that is utterly believable, immersive and captivating. Tabi is one of the most heart-achingly wonderful characters I have ever read. She's bold, brash and fearless, with a heart bigger than anyone could ever know or comprehend. She's also fiercely intelligent and capable, yet always taken for granted, and overlooked because of her sex. Bax is the man who appears to have conquered life. But it turns out he's the most clueless of them all. Their love is an epic saga and these two books are just amazing.
Official Book Blurbs
Over a Barrel
Growing up in Sonoma, California, Bax took Tabi's hand when he was six years old and has never let go. But it's getting harder to stay just friends. The story takes place over the course of 30 years and the events of one night—two lifelong friends who can't stop crossing the line. But they need to learn, or they'll lose everything, including each other.
It's a friends to lovers, opposites attract story about the steamy and stormy history between US Senate Candidate Baxter Schroeder and bold, brash vintner Tabitha Aganos. Best friends who think they can ignore fate.
Tabitha
In 24 freaking hours, I ended up catfighting, homeless, arrested for peeing on a duck, and my boob popped out à la Janet Jackson style during a formal event. This further proves to my father why he was right in denying me more responsibility at our family winery. And then good ole, sexy as hell Bax, figures out a way for me to adult. My best friend once again catches me as I free-fall. Work for him to prove I'm responsible and can be trusted. If anyone can help me "grow up" in my father's eyes, it's the most adult person I know.
Bax & I have steered clear of spending time together since he decided to run for Senate and become engaged because we mostly end up naked when left to our own devices. But this is a grown-up job I don't want to risk losing. I don't want to let down the only person who has always believed in me. I can keep the secret of our history tucked away, just like I can tuck my boob back in my bra and get on with not being in love with Baxter Schroeder.
Under the Bus
A friends-to-lovers story about brash and bold Vintner Tabitha Aganos and US Senate Candidate Baxter Schroeder. Two lifelong friends who think they can ignore fate. But something is coming that will make them reevaluate everything.
Bax
Hurricane Tabi dominates my campaign bus as well as the world around her. Just like I knew she could. We're clicking as friends and coworkers. Tabi's stepping into her own light and commanding my campaign staff with ease and grace. It fills my soul to watch.
But I never expected to need my best friend even more. I never wanted to admit how empty my life is without Tabi filling every moment of it. I have a campaign to run. A destiny to fulfill. I have the life I planned, but the life that's calling to me is getting too loud to ignore. We've finally put our steamy and stormy past behind us.
But that's the thing about the past. It never stays there.
There's a threat to my candidacy, our relationship, and my future, and finally, choosing the path not taken might just save us all.
Get your hands on a copy of Over a Barrel by clicking here
and Under the Bus by clicking here!
And follow Kelly's work through her website here and on social media
______________________________________
Truth or Beard by Penny Reid
Jessica's back in her hometown, living with her parents and working at her local high school until she can pay off her student debts. After that, they won't see her for dust. She's always dreamed of seeing the world and nothing and no-one is going to stop her, not even her childhood crush.
Beau Winston has always been the man of Jessica's dreams: handsome, outgoing, charming. He makes her heart race in all the right ways. His twin brother, on the other hand, makes her heart race in all the wrong ways. Duane Winston is straight out of her nightmares. He's moody, argumentative, and growing up he made her life hell.
But the first time Jessica sets her eyes on one of the Winston twins since she came home, she makes a catastrophic mistake. It's not Beau who's got his lips on hers and his hand down her pants, but his surly twin. How can Duane be setting her body on fire when it's Beau she's always wanted? And how can this be any more than a casual fling when she's so determined to leave?
This is my first Penny Reid book and won't be my last. She's a master story-teller, pulling you into the Winston family effortlessly. I'm not usually a fan of beards, mechanics or bikers, but by the end of this book I wanted to hump a Hell's Angel. This book has humour, heat, angst, mystery, danger, and a cast of fabulous characters to fall in love with. The fact that Duane is such a hard man on the outside and so soft and gooey on the inside is panty-melting, and even though he's the star of the show, his brothers are so well drawn that I can't wait to read all of their stories. There's also unexpected suspense and foreshadowing of high drama that I hope will be resolved later in the series. I absolutely loved this book and hope you do too!
Official Book Blurb
Identical twins Beau and Duane Winston might share the same devastatingly handsome face, but where Beau is outgoing and sociable, Duane is broody and reserved. This is why perpetually level-headed Jessica James has been in naïve and unhealthy infatuation with Beau Winston for most of her life. Whereas Duane and Jessica have always been adversaries. She can't stand him, and she's pretty sure he can't stand the sight of her…
But after a case of mistaken identity, Jessica finds herself in a massive confusion kerfuffle. Jessica James has spent her whole life paralyzed by the fantasy of Beau and her assumptions of Duane's disdain; therefore she's unprepared for the reality that is Duane's insatiable interest, as well as his hot hands and hot mouth and hotter looks.
When Jessica finds herself drawn to the man who was always her adversary, how much of her level-head heart is she willing to risk?
Get your hands on a copy of Truth or Beard by clicking here!
And follow Penny's work through her website here and on social media:
______________________________________
A Lady of Rooksgrave Manor by Kathyrn Moon
What's a girl to do when she's about to lose her position as a maid, and has nowhere else to go? Try looking for another job, or meet up with a handsome doctor to discuss an alternative arrangement? Esther's a young woman with a broad mind and a very healthy appetite for the carnal. She's not perturbed when the doctor morphs into another creature altogether in the middle of having sex, then suggests she move to a place that can satisfy desires she never even knew she had. Her new home is Rooksgrave Manor; a very special establishment where human women are matched with non-human lovers. It's expensive, exclusive, and some patrons have been waiting for centuries to find the right woman for them. When word about Esther gets around, she's suddenly the most popular girl in the building.
But as Esther's harem builds around her, a sinister dark force is seeking to bring both her and Rooksgrave down. Can they fight to save their special life and each other, or is the love they are building about to be destroyed forever?
If you're new to monster romance and feeling brave, then A Lady of Rooksgrave Manor is the perfect place to start your journey. It's a reverse harem, paranormal, historical, erotic romance novel (try getting your mouth around that), featuring shifters, beasts, golems, vampires, sphinxes, witches, elves and an invisible man. A Lady of Rooksgrave Manor is beautifully written, fascinatingly captivating, and hot as hell. It also (at least in my mind), completely normalised both reverse harem and monster romance. The relationships started based on sex but ended based on love. I absolutely loved this book and hope you give it a go!
Official Book Blurb
On the brink of losing her position as a maid and with no prospects to go on, the offer of a place at Rooksgrave Manor—a house of ill and unusual repute—sounds like a perfect fit for a young woman with Esther's inclinations. Even better, the invitation comes by the hand of the handsome Dr. Underwood, a delicate gentleman with a ferocious alter ego who knows exactly what he wants from Esther.
Upon arrival, the men and the daily decadence of the manor feel too good to be true for a girl of Esther's station. There are rules to be followed, expectations to meet, and Esther is afraid she might be too wicked even for a place like Rooksgrave.
Temptations lurk around every shadowy corner and Esther has never been a girl able to resist. But the risk of disappointing her new gentlemen isn't all that's threatening Esther's new position. Rooksgrave Manor's protections for its unusual patrons are failing, the wards are crumbling, and Esther's new and exquisitely pleasurable life may all come tumbling down.
Get your hands on a copy of A Lady of Rooksgrave Manor by clicking here!
And follow Kathryn's work through her website here and on social media:
______________________________________
So there we have it, four fabulous reads for you to really get your teeth into. Have you read any of them yet? If you have then get in touch via email or social media to let me know your thoughts. And, as ever, if you've read a book that you think I should get my eyes on then please let me know. It's thanks to you that I've discovered so many incredible new books and authors. Happy reading and keep in touch!
Evie x