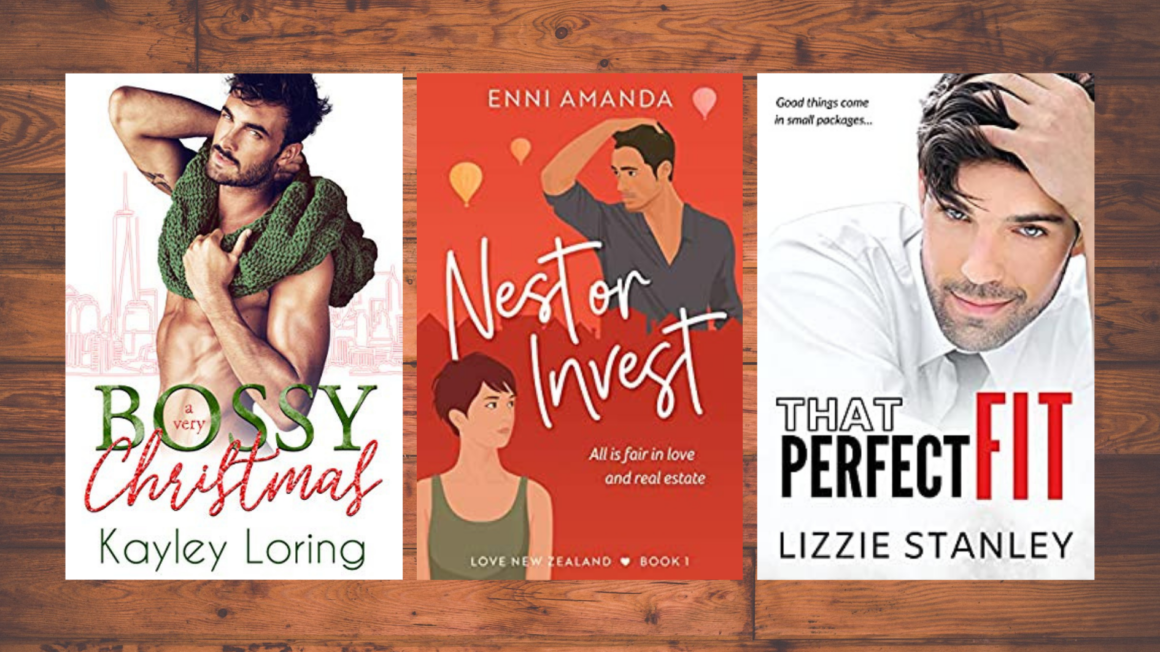 This month we've got secrets, lies, balloons, unicorns and miracles, with romances set in New York, New Zealand and the UK. That Perfect Fit is a small but perfectly formed one hour read, A Very Bossy Christmas is a hot and hilarious fake relationship romp, and Nest or Invest is a heartfelt and slow burn enemies to lovers romance between a property developer and an eco warrior. I loved these stories and couldn't put them down. Check out my reviews and let me know what you think!
Evie x
______________________________________
That Perfect Fit by Lizzie Stanley
From the first sentence of this fabulous novella I was laughing out loud. Lizzie Stanley proved her comedy chops in What we Deserve – a story that is not billed as a comedy, but had the sweetest and funniest moments. In That Perfect Fit we have humour front and central, as well as Lizzie's usual blend of heart, heat, and sensitivity with difficult issues.
Faith and Damon want to love and be loved, but have reconciled themselves to the fact their own happy-ever-after will never come. However, despite the seeming impossibility of a relationship, when sparks fly between them at work, they are irresistibly drawn to one another.
Novellas can be tricky, as you don't have a huge amount of time to let the story and characters breathe. That Perfect Fit may be small, but it is perfectly formed. It was an absolute joy to read and I loved every word!
Official Book Blurb
It's a dating minefield out there, isn't it? Definitely not one size fits all. And I'm feeling certain it's going to be harder for me to find my happily ever after, given my little problem…
…until the quiet new IT guy at my work starts giving me butterflies.
Damon's a sexy sweetheart, with eyes that could tempt anyone into delicious sin…sin I'm not sure I can handle anymore.
But my lady parts aren't listening to reason. They just want the hottie with the amazing smile.
Could he be my perfect fit?
Get your hands on a copy of That Perfect Fit by clicking here!
And follow Lizzie's work through her website here and on social media
______________________________________
A Very Bossy Christmas by Kayley Loring
It's the most wonderful time of the year…. Unless your name is Maddie, and your boss is a hot Grinch who expects you to work through the holidays. Yep, if he's not taking Christmas day off then why should you? But what Maddie doesn't know is that she's the brightest star in Declan's life, and if she's not around to torment him with her sassy attitude and knitted dresses, then the demons in his head might just take over for good.
Because Declan's got a big secret and an even bigger problem: Christmas. There are only so many excuses he can give his family before he has to face up to everything he's been running from for the past year. But if he can persuade Maddie to come with him as a fake girlfriend, maybe she will make the whole experience bearable?
Declan is a true alpha roll; bad ass on the outside, but gooey and delicious on the inside. His vulnerability and inner monologues were heart-wrenchingly beautiful and I fell head over heels in love with him. Maddie was just as wonderful, and how she handled Declan as well as her own emotions was masterful. And bonus points need to go to Piper – Maddie's niece, who even gets her own chapters featuring her fan fiction as she documents the burgeoning relationship of 'Maclan'.
This book is a swoonworthy, laugh-out-loud delight. It was so addictive I didn't want to do anything else except keep reading. It made me late for a meeting, and I accidentally dropped a packet of bacon behind a piping hot radiator because I was more concerned with finishing it than putting the shopping away properly. Oh, and I wept happy tears at the end…
A Very Bossy Christmas has everything you could want from a romcom book. It's hilariously hot, fantastically funny, and has side characters you love even more than your own family. Kayley Loring is an incredible author and I just adored every second of this book!
Official Book Blurb
What's the actual last thing you'd ever want your executive assistant to see you doing the morning after you had hot, drunk, angry sex with her in a terrible hotel room? Dancing around your terrible hotel room to "Come and Get Your Love" like Star-Lord in Guardians of the Galaxy—naked? Yeah. Me too.
And yet, here we are.
This isn't even the most unprofessional thing that's happened between us in the past couple of weeks.
The first was when I agreed to let her have Christmas Day off, but only if she goes with me to three family gatherings as my fake girlfriend.
The second was when she caught me belting out a Christmas song on stage in the awful hotel bar.
The third was the hot, drunk, angry sex that followed, but I do not regret it.
And she hasn't even found out the real reason I need her by my side this holiday season.
I need to pull it together before I do the dumbest, most unprofessional thing of all—fall head over heels in love with the only assistant who's lasted more than a month at the job and claims to hate me and my moods more than she hates eggnog.
And I've seen how much she hates eggnog.
Get your hands on a copy of A Very Bossy Christmas by clicking here!
And follow Kayley's work through her website here and on social media
______________________________________
Nest or Invest by Enni Amanda
I have a soft spot for romance novels set in New Zealand and this little gem was no exception. Shasa is a single mum, whose partner is more concerned with saving the whales than being there for his family. She's struggling to make ends meet, and now she's about to be made homeless by a very hot and very charming developer, Mac.
Desperate for a solution, she gets together with old friends and new to put together a bid for a community housing program. But if they're to succeed then they need to know what Mac is up to and what bid he's putting in. Shasa is tasked with getting closer to him, but when she does, she discovers he's not at all what she thought.
Nest or Invest is a mix of women's fiction and romance and I loved it. It's beautifully written, with complex and sensitive subjects handled extremely well. The characters are nuanced and well rounded, and the side characters fully developed with their own journeys. I thoroughly recommend this book!
Official Book Blurb
She's the single mum dreaming of owning a house. He's the hotshot developer about to make her homeless. This time, she's going to fight back.
Single mum Shasa Daniels is heartbroken to lose her beloved, cheap rental. Even worse, it's being sold to Mac McCarthy, a greedy developer about to replace the old villa with luxury condos. Determined to stop him, Shasa gathers her friends to outbid him and build community housing instead.
Mac, the man in thousand-dollar shoes, isn't as financially stable as he makes out. This deal promises to secure his future until Shasa the eco-warrior stands in his way. It's time to keep his eyes on the prize. Definitely not the time to get distracted by some bleeding-heart hippie, no matter how sexy and cute.
Looks can be deceiving. As Shasa learns more about (okay, snoops on) Mac, she's torn between her own building plans and the man who turns her insides into a wobbly mess. In the end, is it better to win in love or in real estate?
Escape into this absorbing, cheeky and heartfelt love story set against New Zealand's overheated real estate market.
Get your hands on a copy of Nest or Invest by clicking here!
And follow Enni's work through her website here and on social media:
______________________________________
So there you go, three very different but equally fabulous romance reads for you. Have you read any of them yet? As ever, please let me know, and if you've got any other reading recommendations for me then send them along! Thanks to your suggestions I've discovered so many amazing new authors to read and follow. Happy reading and don't forget to keep in touch via social media!
Big hugs,
Evie x