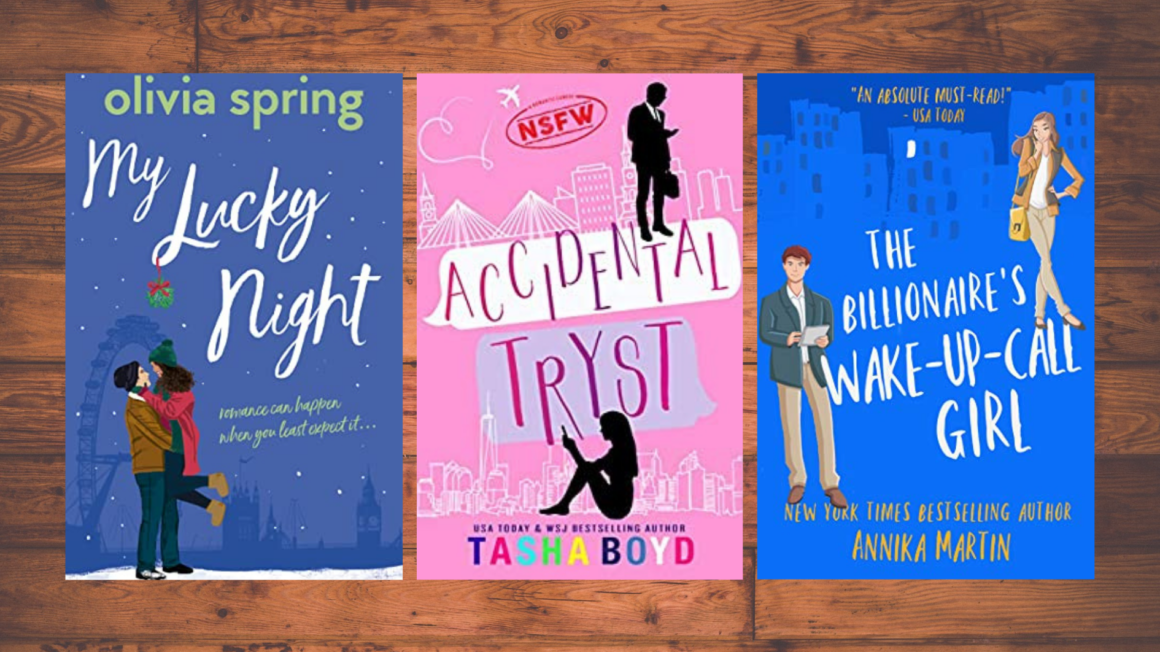 Three hot rich dudes, baby goats, stinky cats and Christmas. This month I was researching rom coms with illustrated covers, and discovered stories that will make you snort-laugh, tear up, and get all hot and bothered. Annika Martin, Olivia Spring, and Natasha Boyd are incredible indie authors at the top of their game. They've produced page-turning corkers that are brilliantly written and phenomenally edited. Reading them was an absolute delight and I loved every second. So, if you fancy a sexy Frenchman, a billionaire who puts the chemistry into chemist, or an alpha roll who can make you sizzle from thousands of miles away, then you need these books in your life!
Evie x
______________________________________
The Billionaire's Wake-up-call Girl by Annika Martin
Lizzie has a problem. Actually, scratch that, she's got several. Falling in love with a rich, sexy Manhattanite has resulted in the loss of her business, her home, and gained her some scary new friends armed with guns who she apparently owes money to. Luckily, she's got a job that promises a hefty bonus if she lasts a month. Unluckily, she'll lose it unless she can find some poor sucker to wake her Billionaire new boss up every morning at 4.30am.
Theo is a rich, sexy Manhattanite, who runs his company with the same touchy-feely care he gives himself – ie none. When he's woken up with a tirade of upbeat abuse from 'operator seven', rather than taking offence, he's intrigued. Soon these calls are the highlight of his day, and he is desperate to meet the woman on the other end of the line.
Lizzie can't let on who she is, but Theo won't give up. He's a man on a mission and Lizzie's beginning to realise her time is running out.
This book is just fabulous. It's laugh out loud funny, cute, clever, and hot as hell. I snorted so many times I lost count, and had to put aside the essentials of daily life (sleep, food, looking after my kid), just so I could finish it. If you like snarky heroines, brooding men, popcorn, cookies, and baby goats, then you'll adore this story! I can't wait to read the rest of this series!
Official Book Blurb
When my manager assigns me the task of finding a new wake-up-call service for our CEO, I think, how hard can this be?
Answer: practically impossible. It turns out that no wake-up call company in the world will take him on as a client. They've all had enough of his surly personality.
So in an effort not to lose my job, I secretly start making the calls myself, every day at 4:30 am sharp. OMG yes you read that right—four freaking thirty in the morning.
Confession: I'm not the nicest wake-up-call girl at that hour. Hello! Who wakes up before the roosters are even crowing? Luckily he doesn't seem to mind my get-your-ass-out-of-bed attitude.
Day by day we're becoming closer, and the calls start turning hot, like pay-by-the-minute hot and oh-so-wild. Snuggled under the covers with the moonlight streaming in the windows, we divulge our secrets to each other, but the one thing that he can never find out is that the sexy vixen who wakes him up every morning is just the lowly assistant who wears frumpy dresses. I can only imagine his disappointment.
Now he wants to take me out on a date and he's scouring Manhattan to find me.
He's an overachieving billionaire bent on a mission. How much longer can I keep up this charade?
Get your hands on a copy of The Billionaire's Wake-up-call Girl by clicking here!
And follow Annika's work through her website here and on social media:
______________________________________
My Lucky Night by Olivia Spring
Christmas isn't for Cassie. Food poisoning, family arguments, disastrous gifts, and being dumped twice. She'll leave the manufactured jollity for other people to enjoy. This year she's got a date with a pizza, a movie, and a new vibrator.
However her evil boss needs her to find the world's most sought after gift for his wife, and if she doesn't get it, then she can kiss goodbye to her job. She's stuck in the centre of London at her wits end, when she bumps into the sexiest man alive who says he can help, just as long as Cassie can do something for him in return…
I absolutely adored this book! It's cute, clever, and beautifully written. Cassie is instantly relatable to, and Nicolas smoulders off the page like a super hot French chestnut roasting on an open fire. The dialogue is gingersnap smart and the heat could melt a snowman. My Lucky Night is everything I could want in a Christmas romance and I can't wait to read more from Olivia Spring!
Official Book Blurb
She hates Christmas. He's about to change her mind…
Cassie isn't a fan of Christmas. After a string of unlucky incidents during the festive season—including getting dumped—this year she decides to spend the day at home. Alone. No men. No complications.
But then her nightmare boss demands she track down this year's most coveted Christmas gift—and the only person who can help is an annoyingly sexy Frenchman she's just met.
Nicolas might look hot, but Cassie can tell he's also arrogant, irritating and in love with himself. Exactly the kind of guy she hates. Plus, he'll only help her find the gift if she helps him with something in return…
Could Cassie's festive fortunes finally be about to change? Can she learn to love Christmas again? And will Cassie get lucky in more ways than one?
Get your hands on a copy of My Lucky Night by clicking here!
And follow Olivia's work through her website here and on social media:
______________________________________
Accidental Tryst by Natasha Boyd
Oh this book… It tickles your funny bone until you snort-laugh. It takes your heart and wrings it out to dry. It melts your underwear and it touches your soul. We first meet Trystan as an alpha arse. He's concluding a business deal in an airport and his personality is about as enticing as a marble wall. He's gorgeous, cold and hard. Trystan's used to hooking up with women and leaving once the deed is done, and has no time for any form of meaningful relationship. Emmy is also at the airport and has lots of time for meaningful relationships, just as long as they aren't romantic. When their phones get swapped and they're stuck in different cities, they have to open up the most private parts of their lives and help each other out.
This story is a complex and beautiful exploration of the beginning of a relationship between two damaged people scared to trust another with their heart. It's funny, emotional, and, in places scorchingly hot. Accidental Tryst is longer than a standard romance novel but I just didn't want it to end. It's page-turning, engaging, and fantastically written. I just adored this book so so much and hope you do too!
Official Book Blurb
Emmy
What a disaster! I only just made my flight to New York to help my uncle, and the phone I'm holding is not mine! It seems to belong to some commitment-phobic serial dater who's never made it past four dates (according to the constant notifications he's getting from his fake dating profile…) And worse? I have a sinking feeling it's that hot suit-monkey with the arctic grey eyes I just had a run-in with at the airport. Somehow, I have to persuade him not to get a new phone until I get back. My whole life is on that phone. I knew I should have backed it up. It's only a few days. Surely, we can handle it.
Trystan
This is a joke, right? My life could not get more effed up. I'm in the middle of selling my company and on my way to a funeral and that hot mess hippie-chick stole my freaking phone. I'm not sure how she convinced me not to immediately walk into a smart phone store and get a new one, but now she's going to have to play stand in and distract me while I deal with my long-avoided and estranged family. I don't have my dating apps after all, and frankly she's pretty funny. And sexy. And why can't I stop texting her? And now we're talking. And … look, I'll admit that I usually run for the hills the morning after, but the morning after phone sex? That's not really real, right?
Get your hands on a copy of Accidental Tryst by clicking here!
And follow Natasha's work through her website here, and on social media
______________________________________
So, there you go! Three fabulous reads guaranteed to put a smile on your face. Have you read any of these? If so, let me know what you thought! I'm an absolute sucker for a steamy romantic comedy, so if you have any recommendations, send them my way. You can get in touch via email, or via my social channels.
Big love,
Evie X