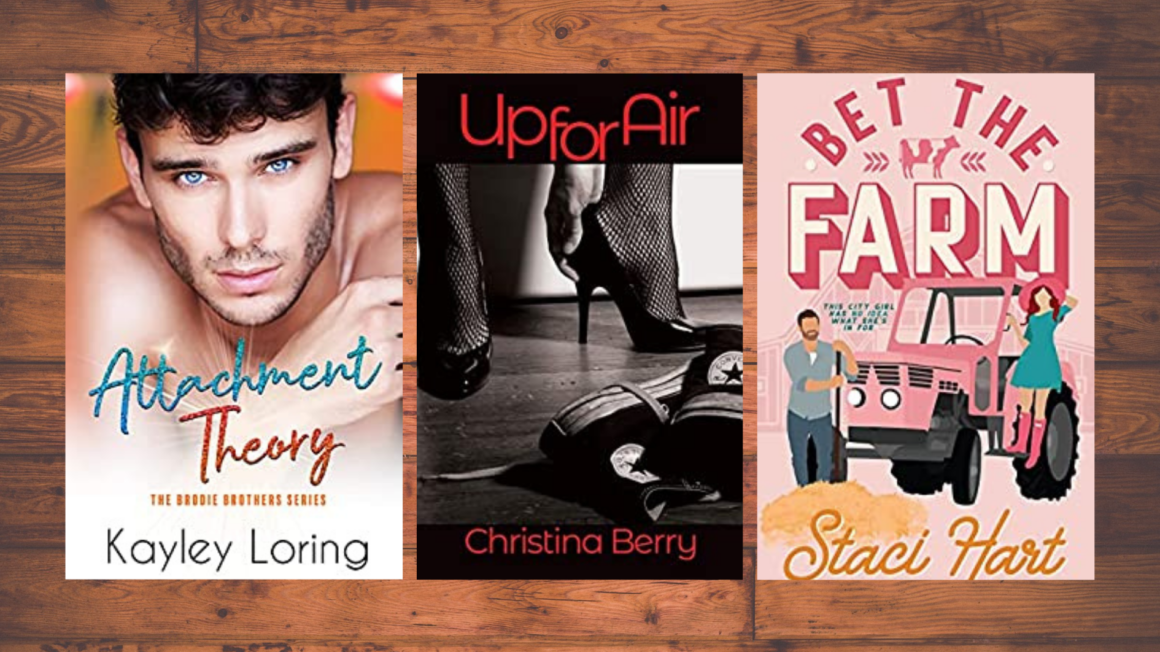 This month I've been saving a dairy farm, opening up my marriage to polyamory, and attending therapy sessions. Thank goodness through the power of the written words, these adventures have happened in my head, and not in reality… So get ready and strap yourself in for three fabulous adventures in romance land and see just what tickles your fancy!
Evie x
______________________________________
Bet the Farm by Staci Hart
I'm a sucker for a rural romance. Give me a brooding cowboy who can throw a tractor over a fence and me down in the hay and I'm a very happy lady. Olivia is returning home after the death of her beloved grandfather and a career in the big city. The family farm is ailing and she wants to make it work. But standing in her way is Jake. He now owns half the farm and he wants her gone. This book has humour, angst, mystery, steam, fabulous side characters and more small town sweetness than you can shake a stick at. Bet the Farm ticks so many of my boxes and I absolutely loved it.
Official Book Blurb
Olivia Brent has one summer to save the dairy farm she just inherited.
But there's one problem, and it's not her lactose intolerance.
Jake Milovic.
The brooding farmhand has inherited exactly fifty percent of Brent Farm, and he's so convinced the city girl can't work the land, he bets she can't save it in a summer.
Determined to prove him wrong, Olivia accepts what might be the dumbest wager of her life.
His strategy to win seems simple: follow her around, shirtlessly distracting her between bouts of relentless taunting. And it's effective—if his dark eyes and rare smiles aren't enough to sidetrack her, the sweaty, rolling topography of the manbeast's body would do the trick.
What they don't know: they'll have to weather more than each other.
Mysterious circumstances throw the farm into disarray, and with the dairy farm in danger, Olivia and Jake have to work together. But when they do, there's more to fear than either of them imagined.
Because now their hearts are on the line, and the farm won't be the only casualty if they fail.
Get your hands on a copy of Bet the Farm by clicking here!
And follow Staci's work through her website here and on social media
______________________________________
Up for Air by Christina Berry
This is an astonishing book.
I wasn't quite sure how the subject would pan out but it kept me engrossed. Ari has only ever known one man, her husband, but feels like her life is already over. She feels suffocated even though she loves her husband, and wants to experience more out of life. She suggests they open up their marriage but neither of them really know how it works or what to expect. A lot of Up for Air is uncomfortable reading, and this is what makes it so powerful. It's not a fantasy, it's a clear and sometimes traumatic depiction of the highs and lows of casual encounters and falling in and out of love.
It's also brilliantly written and well deserving of all the awards it has won! Highly recommended reading.
Official Book Blurb
At a funeral on her 29th birthday, Ari takes stock of her life and comes to a startling conclusion: she's not happy. Mired in a relationship that's gone stale, she approaches her husband Greg about opening their marriage. To her shock, he agrees.
Ari throws herself headlong into an adventure through the bars and bedrooms of Austin. For the first time in her life she's living in the moment – sex and kink, karaoke and drink – new friends, new lovers, new boundaries to cross. It's all just innocent, no-strings fun…until she meets Alex.
Alex changes everything. While Ari and Greg grapple with their changing relationship, Ari struggles to control her heart. During hedonistic self-discovery, has she stumbled across love?
Book one of the Lost In Austin series, Up for Air is a sexy, funny, heartfelt romp through life, love, and adulthood.
Get your hands on a copy of Up for Air by clicking here!
And follow Christina's work through her website here and on social media
______________________________________
Attachment Theory by Kayley Loring
Oh my goodness I absolutely loved this story! It's funny, sweet, steamy and has all the feels. It also has a mom who can't text properly which reminds me very much of me… Attachment Theory starts with a chance encounter between therapist Scarlett, and actor Dylan who is six years younger than her. He asks her out and she runs a mile, but three years on, they can't get the other out of their heads.
Dylan is lurching from failed relationship to failed relationship – always with his co-stars. Scarlett on the other hand has given up on love after her actor husband cheated on her. However when Dylan walks into her office wanting therapy, the attraction that was there three years before is even stronger than ever.
Attachment theory has fabulous families, an awesome little boy who writes fart jokes, emotion, laughs, and the most amazing group chat exchanges which I absolutely adored. I fell in love with Scarlett, Dylan and all the amazing side characters in this book. Kayley Loring has written a corker and I can't wait to catch up with the rest of her series!
Official Book Blurb
An actor, a model, and a younger man walk into a therapist's office… They're all Dylan Brodie. It's only funny if you aren't the single mom therapist he can't stop flirting with.
Dear Mr. Brodie,
I hope this email finds you well.
Your well-being and personal growth are of the utmost importance to me, as a therapist.
As such, I have decided it is in your best interest to continue individual therapy with another practitioner.
This is due to the potential for boundaries being crossed between us.
Attached is a list of colleagues I would recommend for you.
Sincerely,
Scarlett Shepard, MS, MFT
Dear Scarlett,
Cool.
Consider our sessions terminated.
Now I can tell you how beautiful you are and how attracted I am to you.
Let's start crossing boundaries over dinner tonight.
You'll say it would be unethical, and I'll point out that we've only had a few sessions.
You'll cite the age difference, and I'll tell you how hot it is that you're six years older than me.
You'll say you're a mom, and I'll remind you that I think your son is awesome.
We don't have to discuss my former attachments to former co-stars ever again.
This is due to the fact that clearly my only personality issue is that I'm irresistible.
Yours in well-being and personal growth,
Dylan Brodie, W.M.H.T.A.T.Y.E.H. (Way More Handsome and Talented Actor Than Your Ex-Husband)
Get your hands on a copy of Attachment Theory by clicking here!
And follow Kayley's work through her website here and on social media
______________________________________
So there we go! My favourite reads of the month. Have you read any of them yet? I'd love to know your thoughts. And don't forget, if you've read something awesome recently then let me know as I'm always looking to find new authors and books to add to my TBR list!
Evie x