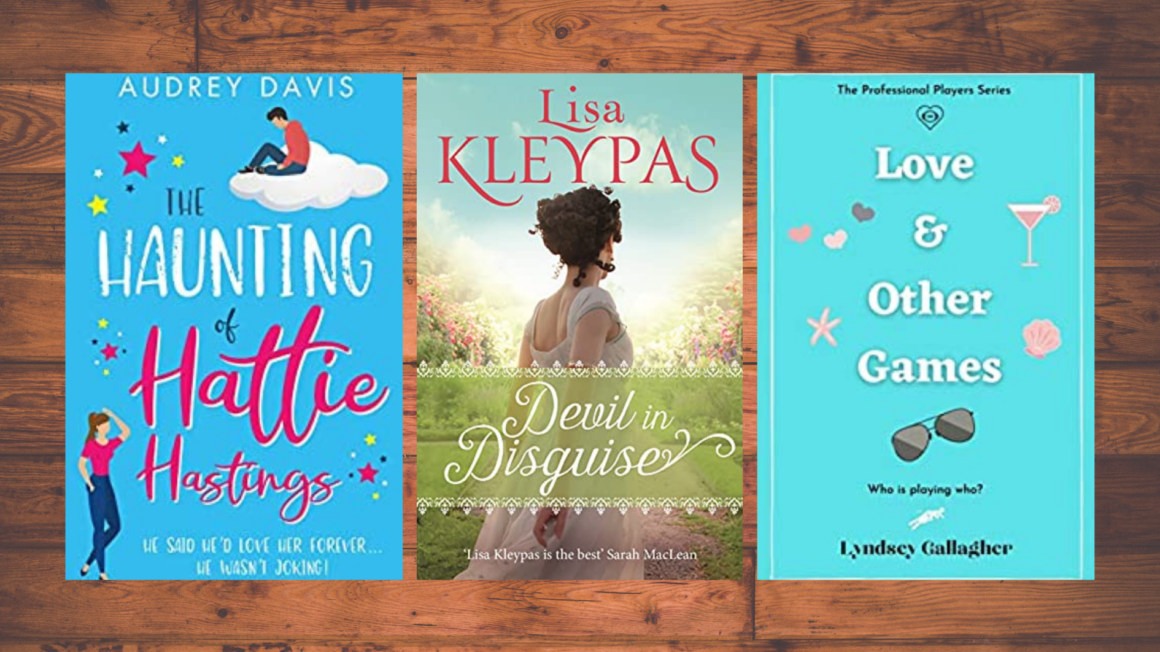 This month I'm taking you back in time to Victorian England, to a Croatian resort for a wedding, and into the afterlife with a self-styled Karaoke legend. Every book is full of love, humour, hanky panky, and stories to whisk you away to other worlds. I loved every word and hope you do too.
Evie x
______________________________________
Devil in Disguise by Lisa Kleypas
Oh Lisa Kleypas. How your writing continues to seduce me! I pre-ordered this book as soon as I knew it was coming out, and devoured it like a chocolate fudge cake with clotted cream being served to me by Joe Manganiello.
Devil in Disguise starts with our heroine Merritt, meeting our Scottish hero Keir, who is fuming and drenched in whisky. The attraction is immediate, and before you can say 'och aye', she's asking for a kiss and he's giving her a whole lot more. If the differences in their social status weren't enough, someone's out to kill him and he doesn't know why.
Devil in Disguise is packed with fabulous adventure, searing heat, crackling dialogue, and fantastic humour that is the staple of a Kleypas book. As always, her heroines are strong, independent, interesting, and likeable. And her heroes are everything you want and then some. When Keir takes Merritt to bed it's unexpected and absolutely fabulous. I adored this book and can't wait to read it again. Plus there are wonderful cameos from characters from previous books which die hard Kleypas fans will adore!
Official Book Blurb
Lady Merritt Sterling, a strong-willed young widow who's running her late husband's shipping company, knows London society is dying to catch her in a scandal. So far, she's been too smart to provide them with one. But then she meets Keir MacRae, a rough-and-rugged Scottish whisky distiller, and all her sensible plans vanish like smoke. They couldn't be more different, but their attraction is powerful, raw and irresistible.
From the moment Keir MacRae arrives in London, he has two goals. One: don't fall in love with the dazzling Lady Merritt Sterling. Two: avoid being killed.
So far, neither of those is going well.
Keir doesn't know why someone wants him dead until fate reveals his secret connection to one of England's most powerful families. His world is thrown into upheaval, and the only one he trusts is Merritt.
Their passion blazes with an intensity Merritt has never known before, making her long for the one thing she can't have from Keir MacRae: forever. As danger draws closer, she'll do whatever it takes to save the man she loves . . . even knowing he might be the devil in disguise.
Get your hands on a copy of Devil in Disguise by clicking here!
And follow Lisa's work through her website and social media channels
______________________________________
Love & Other Games by Lyndsey Gallagher
If you're after a fantastic contemporary romance novel then you must read this one. It's set in the world of the Irish national rugby team and in Croatia, where the team are assembled for a wedding. Emma is reeling after being dumped by her boyfriend, and steeling herself for an encounter with 'the one that got away'. She had a life-changing night of passion with rugby legend Eddie a year ago, but then he ghosted her. In the idyllic setting of Croatia, he wants to try again, and when they end up having to share the honeymoon suite, he hopes he's in with a chance to make amends.
I loved this book for so many reasons. It's brilliantly written, fantastically plotted, and is full of emotion. I particularly resonated with Emma's struggle to find acceptance from her mother, and her journey to realising her beauty did not depend on her make-up was perfectly handled.
Love & Other Games is a wonderful read for every occasion. Whether you're on a Croatian beach, or tucked up in bed, it's a book which ticks every box. I hope you enjoy it as much as I did!
Official Book Blurb
Successful beauty business queen Emma Harvey is not quite as astute when it comes to relationships. Ghosted, following an epic one night stand with a notorious Irish rugby hooker, she vows no more players, concentrating instead on securing the perfect beachfront property for her new luxury spa.
Irish rugby hooker Eddie Harrington is the team joker. Except the tragic events of the past year weren't funny at all. Determined to set things right, Eddie scours Dublin for the perfect beachfront property to ease his brother's less than idyllic return from the State's.
Crossed wires at a mutual friend's Croatian wedding result in Emma and Eddie reluctantly agreeing to share the honeymoon suite for a week. Their exotic reunion results in a seductive game highlighting what they almost had and could potentially have again. Unless the two happen to want the same beachfront property more than they want each other.
Will Emma stick to her game plan and put business before pleasure?
Or will Eddie's tactics win out?
Get your hands on a copy of Love & Other Games by clicking here!
And follow Lyndsey's work through her website and social media channels
______________________________________
The Haunting of Hattie Hastings by Audrey Davis
I wasn't sure what to expect when I picked up this book but I was hooked from the start. Hattie is married to Gary. He's the life and soul of the party and when a freak accident widows her, the shock is not as great as when he reappears as a ghost. Gary may be dead, but it's clear he still has work to do in life, even if he's not sure what it is he should be doing.
Meanwhile Hattie is trying to convince her best friend Cat that she's not going mad, stop Cat leaping back into bed with her slimy ex-husband, persuade her adult son he needs to get a life, and find out what health issue her mother is hiding. The Haunting of Hattie Hastings is packed with humour and I particularly loved all the bad dad jokes that Cat's new boyfriend spouts at every opportunity. The story is a rollercoaster of emotion, and there were many moments when I had a lump in my throat.
The Haunting of Hattie Hastings is a wonderful book. It's not your usual romance book but has love on every page. I thought it was absolutely brilliant and hope you do too!
Official Book Blurb
Some people won't let a little matter like death stand in their way…
A terrible tragedy leaves Hattie Hastings widowed and heartbroken. But her late husband isn't about to take his demise lying down.
Torn between delight and frustration, Hattie struggles to convince friends and family of her ghostly predicament. Then there's also the small matter of best friend Cat's ex-husband trying to worm his way back into her life. And Hattie's mum is battling her own demons …
Get your hands on a copy of The Haunting of Hattie Hastings by clicking here!
And follow Audrey's work through her website and social media channels
______________________________________
So there you go! Three fantastic books for your reading pleasure. Let me know if you've read any of these and what you thought. Also, keep your reading recommendations coming in for me as I'm always looking for my next new book. Get in touch via email or social media, and I look forward to hearing your thoughts!
Evie x