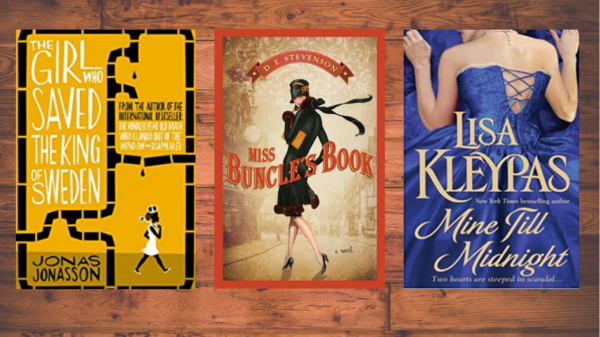 What Evie has read recently
This time I'm switching it up! Three fabulous books for your delectation, but away from my traditional path of contemporary romance. All three have romance and humour, but one follows a penniless South African girl with a prodigious intellect on her adventures via a nuclear bomb to saving the King of Sweden, another follows a spinster writing about her neighbours in the 1930s, and the third is set in Regency England and features an upper class lady and a gypsy.
I'd love to know if you've read any of these already, what you think, and if there are any books you think I should be reading now. Get in touch with me via email or social media and I look forward to your thoughts!
Evie x
______________________________________
'The Girl Who Saved the King of Sweden' by Jonas Jonasson
This was recommended to me by a friend who said it made her laugh out loud. I thought it was absolutely fabulous and I savoured every page.
The book is a tour de force charting the recent history of South Africa through the life of Nombeko, who is born into poverty but – against all the odds – has a remarkable life due to the prodigious size of her intellect and her winning guile.
The writing is clever, flows beautifully and is frequently wonderfully acerbic and shows the inherent fallibilities within all of us with humour and compassion. I've included an excerpt from the book below which gives a little of the flavour.
'Among many other things, she was a hardworking child. Even as a five-year-old she carried latrine barrels as big as she was. By emptying the latrine barrels, she earned exactly the amount of money her mother needed in order to ask her daughter to buy a bottle of thinner each day. Her mother took the bottle with a 'Thank you, dear girl,' unscrewed the lid, and began to dull the never-ending pain that came with the inability to give oneself or one's child a future. Nombeko's dad hadn't been in the vicinity of his daughter since twenty minutes after the fertilization.
As Nombeko got older, she was able to empty more latrine bottles each day, and the money was enough to buy more than just thinner. Thus her mum could supplement the solvent with pills and booze. But the girl, who realized that things couldn't go on like this, told her mother that she had to choose between giving up or dying.
Her mum nodded in understanding.
The funeral was well attended. At the time, there were plenty of people in Soweto who devoted themselves primarily to two things; slowly killing themselves and saying a final farewell to those who had just succeeded in that endeavour.'
Sometimes I get lost down a romance rabbit hole, reading countless books that aren't actually very good. Books such as The Girl Who Saved the King of Sweden are like palate cleansers for my brain, and inspire me to strive for the very best in my own writing.
I thoroughly recommend this book. I absolutely loved it in every way and am looking forward to reading more of Jonas Jonasson's work.
Official Book Blurb
Just because the world ignores you, doesn't mean you can't save it . . .
Nombeko Mayeki was never meant to be a hero. Born in a Soweto shack, she seemed destined for a short, hard life. But now she is on the run from the world 's most ruthless secret service, with three Chinese sisters, twins who are officially one person and an elderly potato farmer. Oh, and the fate of the King of Sweden – and the world – rests on her shoulders.
Want a sneak peek inside The Girl Who Saved The King of Sweden by Jonas Jonasson? Click on the image below!
Follow Jonas' work through his website and social channels –
______________________________________
'Miss Buncle's Book' by D E Stevenson
I have the hard copy of this book, which was given to me as a present, and I cherish every page. The story is about Barbara Buncle, a thirtysomething spinster, living in a small country village in England between the wars. She comes from a genteel background, has never worked, but is in trouble: the investments made by her parents and left to her have depreciated in value to the point where she barely has enough money to live and pay for her 'cookmaid', who has been with her since birth.
So she decides to write a book and, because she has 'no imagination', writes about her neighbours in the village, describing them exactly as they are, and giving some of them the happy endings that they deserve. When the book is published and people in the village read it, they are up in arms and scandalised, never once realising who the author is. The book turns their lives upside down and life in the village is never the same again.
When I first started reading the book it was a little confusing as I had to get my head around a large cast of characters as well as their fictional counterparts. However, once I settled into it, the story flowed easily and was an absolute delight. Miss Buncle's Book is hands down one of my favourite books and I have read it cover to cover at least five times. I love this book so much and doubt I will ever tire of reading it.
DE Stevenson (1892-1973) sold 4 million copies of her books in the UK and 3 million in America and Miss Buncle's Book was one of her most popular titles.
Want a sneak peek inside Miss Buncle's Book by D E Stevenson? Click on the image below!
______________________________________
'Mine till Midnight' by Lisa Kleypas
A few years ago my husband gave me a random selection of romance novels. I had never heard of any of the authors before so excitedly ploughed through them. All were unremarkable and instantly forgettable, bar one: a book by Lisa Kleypas.
Lisa has written contemporary romance novels but the main body of her work is set in the Regency period. This is not a time I'm overly familiar with, apart from the work of Jane Austen, and is not a genre I would normally seek out. However Lisa's writing is just so good that I have read her books over and over again. Her heroes are dashing, gorgeous and described so perfectly they leap from the page, fully-formed and real. The heroines are fabulous, complex women with minds of their own, who achieve happiness and success in life despite the odds being stacked against them in a regimented, patriarchal society where they have no rights.
Despite the era, the novels are feminist in nature without being overtly so. I just adore her story and characters and have read her Regency books at least four times each. I am so glad I was given that first Kleypas book by my husband as I would have never thought to buy one myself. The titles do not tell you anything about the books and nor do the covers; there is just enough there to draw you in. With the work of Lisa Kleypas you must never ever judge a book by its cover.
I am such a fan that I pre-order every new release and mark the publication date in my diary, counting down the days until I can read it. It's very difficult to know which book to start with, but the first in the Hathaway series – following Amelia as she finds unexpected love with a gypsy – is an excellent opener for new readers. 'Cold-Hearted Rake', the first novel in the Ravanels series is another one guaranteed to get you hooked on her writing. You pretty much can't go wrong with a Lisa Kleypas book. They are brilliantly written, have fantastic historical detail, are filled with wonderful humour and the sex is, well… hot!
I have no interest in writing historical romance and am not usually drawn to reading it. However Lisa Kleypas is such a fabulous author that I adore her work and I hope you do too.
Official Book Blurb
When an unexpected inheritance elevates her family to the ranks of the aristocracy, Amelia Hathaway discovers that tending to her younger sisters and wayward brother was easy compared to navigating the intricacies of the ton. Even more challenging: the attraction she feels for the tall, dark, and dangerously handsome Cam Rohan.
Wealthy beyond most men's dreams, Cam has tired of society's petty restrictions and longs to return to his "uncivilized" Gypsy roots. When the delectable Amelia appeals to him for help, he intends to offer only friendship–but intentions are no match for the desire that blindsides them both. But can a man who spurns tradition be tempted into that most time-honored arrangement: marriage? Life in London society is about to get a whole lot hotter.
Want a sneak peek inside Mine Till Midnight by Lisa Kleypas? Click on the image below!
Follow Lisa's work through her website and social channels –
______________________________________
So there you go, this blog covers some of my all time favourite stories, as well as a fabulous new book I've just read. Are you a fan of Lisa Kleypas and have you ever even heard of D E Stevenson? I hope this inspires you to check out their work as well as the amazing The Girl Who Saved the King of Sweden.
Get in touch via social media to let me know and share your top picks. I want to know what you recommend and what you think I need to read next.