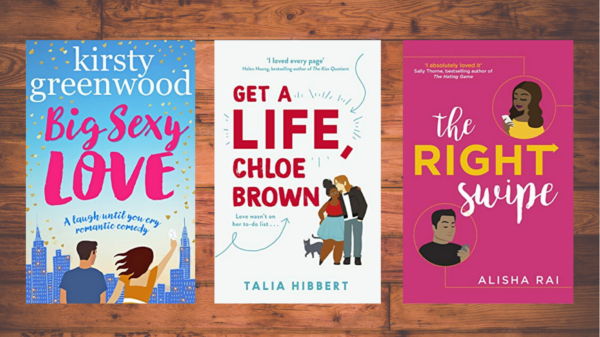 Evie's latest favourite reads
My latest reads to share with you include a fabulously funny and sexy romance with a disabled heroine, a painfully sweet romance with a bucket of laughs about how to really live a life in the face of death, and a steamy hot tale of internet dating and learning to trust again. These were such wonderful books and I can't wait to share my thoughts about them with you.
Don't forget, if you think of a book I should be reading then please let me know via email or social media.
Evie x
________________________________
'Get A Life, Chloe Brown' by Talia Hibbert
Get A Life, Chloe Brown was recommended to me by my editor and right from the get-go I fell in love. It's tight, carefully crafted, nuanced, and real. It is laugh out loud funny, breaks off tiny pieces of your heart, and it makes you all hot and bothered. Reading it was an absolute joy.
Chloe Brown is in constant pain with chronic fibromyalgia and lives as a bad tempered recluse. After a near-death experience she decides that she needs to get a life, so writes out a list of everything she needs to do to feel like she's achieved this goal. Helping her on this quest is 'Red' Morgan, the superintendent of her building and tortured artist with his own demons.
Get A Life, Chloe Brown spoke to me on so many levels. I have many friends with fibromyalgia, and see their daily battle to be taken seriously and get the help they need. On a personal level, I've always struggled with fatigue and was finally diagnosed with an auto-immune thyroid disease in my thirties. The way Talia describes Chloe's pain is so real and engaging that I believe every reader will have a greater understanding of what it is like to live with pain and exhaustion.
The book was also funny without trying to be. The writing and humour was absolutely effortless and so cleverly done. The way the relationship developed between Chloe and Red was carefully crafted, subtle and joyous, I just loved it. Plus there were some funny parallels with my book, Highland Games, which you can try and spot when Highland Games is released!
Official book blurb
Chloe Brown is a chronically ill computer geek with a goal, a plan and a list. After almost – but not quite – dying, she's come up with a list of directives to help her 'Get a Life':
– Enjoy a drunken night out
– Ride a motorbike
– Go camping
– Have meaningless but thoroughly enjoyable sex
– Travel the world with nothing but hand luggage
– And . . . do something bad
But it's not easy being bad, even when you've written out step-by-step guidelines. What Chloe needs is a teacher, and she knows just the man for the job: Redford 'Red' Morgan.
With tattoos and a motorbike, Red is the perfect helper in her mission to rebel, but as they spend more time together, Chloe realises there's much more to him than his tough exterior implies. Soon she's left wanting more from him than she ever expected . . . maybe there's more to life than her list ever imagined?
Want a sneak peek inside Get a Life, Chloe Brown by Talia Hibbert? Click on the image below!
Follow Talia's work through her website and social channels –
________________________________
'The Right Swipe' by Alisha Rai
The Right Swipe takes the well-worn trope of 'second chance love' and puts it into the very modern arena of dating apps. It's a fantastic story that deftly deals with issues of misogyny and gender inequality, whilst also giving us a real man of a hero to swoon over.
Rhiannon works for 'Swype', an online dating app, as an executive but gets into a relationship with the abusive and controlling CEO. When she finishes their relationship he hounds her out and makes sure everyone knows not to hire her. Thanks to investment from a friend, she sets up 'Crush', a female-focused dating app and vows never to let herself be open to another man again. Feelings, trust and relationships are for other people. When she needs sex, she uses her own app for a hook-up with clear boundaries.
But when she meets and sleeps with ex-American football star Samson Lima, their connection is so intense she breaks her rule and agrees to meet him the next day. Only Samson doesn't show. Months later she's on the hunt to buy out 'Matchmaker', the oldest dating agency in the market, only to discover Samson's their new representative and desperate to explain to her what happened all those months ago.
Samson's got his own shit going on, with a chequered history involving the NFL, traumatic brain injuries and his family. He's struggling to cope with life after football and the death of his beloved uncle and father. The one thing he's certain of, however, is how he feels about Rhiannon. If only he could break down the walls she's built around herself.
Rhiannon is a fantastic character. She is clever, hard-working and hides her big, soft heart under a bolshy exterior. I was rooting for her to get over her own insecurities and learn to love and trust Samson, who's every girl's dream. Not only does their love prevail, but the other story threads are tied together satisfactorily to give a wonderful book great depth.
Official Book Blurb
Rhiannon Hunter may have revolutionized romance in the digital world, but in real life she only swipes right on her career – and the occasional hookup. The cynical dating app creator controls her love life with a few key rules:
– Nude pics are by invitation only
– If someone stands you up, block them with extreme prejudice
– Protect your heart
Only there aren't any rules to govern her attraction to her newest match, former pro-football player Samson Lima. The sexy and seemingly sweet hunk woos her one magical night . . . and then disappears.
Rhi thought she'd buried her hurt over Samson ghosting her, until he suddenly surfaces months later, still big, still beautiful – and in league with a business rival. He says he won't fumble their second chance, but she's wary. A temporary physical partnership is one thing, but a merger of hearts? Surely that's too high a risk . . .
Want a sneak peek inside The Right Swipe by Alisha Rai? Click on the image below!
Follow Alisha's work through her website and social channels –
________________________________
'Big Sexy Love' by Kirsty Greenwood
I read Big Sexy Love in my search to track down romantic comedy authors from the UK and it was a great read. Olive is not living a life at all. She works at a fish market (I used to visit one while a student so I know exactly how fishy it is), doesn't go out, and doesn't date.
The only fun in her life comes in the form of her best friend Birdie, an American tornado who is unfortunately dying. Birdie wants to track down the love of her life, the titular Big Sexy Love, so she can tell him how she feels before she dies. But she's too sick to do it, so she bullies Olive into doing it for her.
Olive isn't prepared to even travel outside of Manchester, so the idea of going to New York scares her stupid. There is lots of comedy from the moment she gets on the plane as she meets Saturday Night Live writer Seth, and takes him into the toilet under false pretences. From there on in it's chaos as she ends up on the news, being arrested and having a unicorn updo.
In my eyes, the biggest strength of Big Sexy Love is the denouement and in particular Olive's relationship with Birdie. This latter facet of the novel is so poignant and so beautiful that I cried big messy tears as it played out. To have a friendship detailed with such depth and compassion in a novel is a wonderful thing and is right at the heart of this fabulous book.
Official Book Blurb
Olive Brewster is living a small, safe life. She's happy enough with her job at the local market, it's no big deal that she doesn't have a boyfriend, she even likes that she still lives in her childhood home. No drama and no fuss means no problems! And that's just how she likes it…
Except … Olive's best friend in the world, Birdie, is dying.
Birdie has one final wish. She wants to track down her first love, her epic once in a lifetime love, her "Big Sexy Love", Chuck. And because she's stuck in the hospital she needs Olive's help to do it. But there's a teeny problem: Chuck is somewhere in New York and Olive has never even left her hometown, let alone roamed the crazy streets of Manhattan!
As if the big city isn't scary enough, Olive has to contend with Seth, a cocky comedy TV writer who thinks she's a joke; Anders, a bored socialite who's taken a shine to her; and the fact that no matter how hard she tries to track down Chuck, he does not seem to want to be found.
Can Olive learn to overcome her fears, abandon her old safe routine and fulfil her best friend's dying wish? It's going to take extra bravery, one badass attitude and a whole lot of Big Sexy Love to make it happen …
Want a sneak peek inside Big Sexy Love by Kirsty Greenwood? Click on the image below!
Follow Kirsty's work through her website and social channels –
________________________________
So there you have it, my current top reading picks for you. I'd love to know if you've read any of these yet, and if you have, what you think. Get in touch via my social channels to let me know. You can also find up-to-the-minute news on what books are currently coming to bed with me via my social media, and I'd love to know what's currently floating your boat in the book department.
Evie x