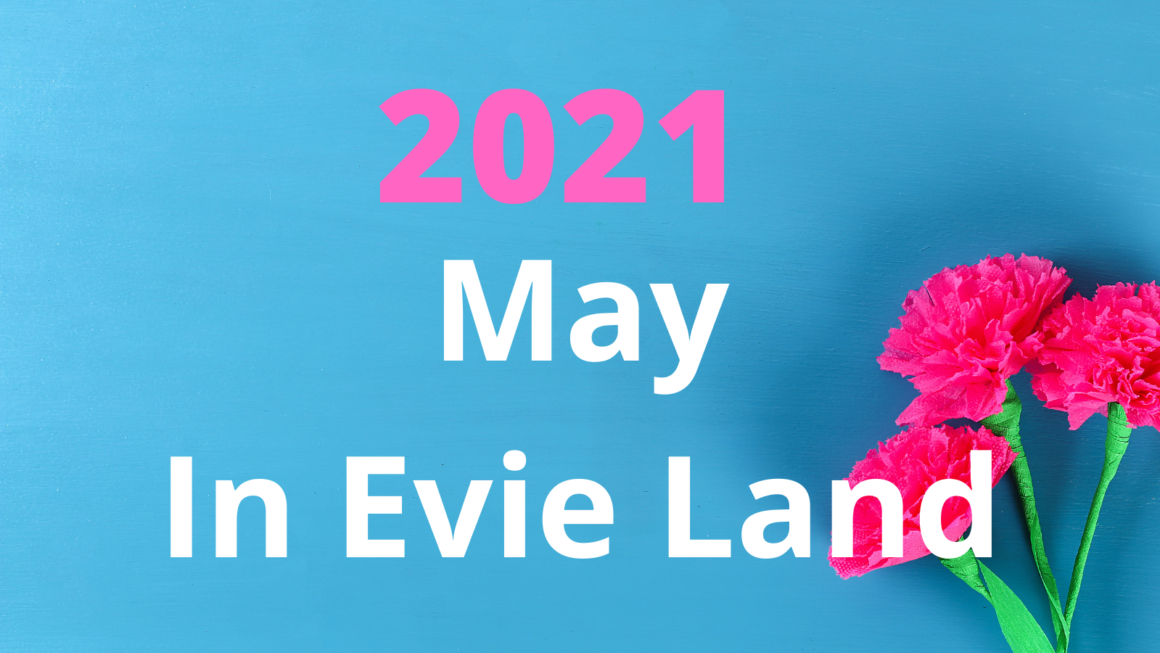 Behind the Scenes in Evie Land – May 2021
May the Fourth be with you!
This month I've taken the sponge of intensity and squeezed it dry. If what doesn't kill you makes you stronger, then I'm currently the love child of Wonder Woman and The Hulk. May has been a month of extremes, from the macrocosm to the microcosm, from the current global insanity, to the roller coaster of my life. My stress levels have rocketed off the chart, I've been gloriously creative, and it even hailed. Yes, on the 4th and the 24th May, balls of ice fell from the sky. So, strap yourself in, say a few words to the deity of your choice, and read on!
May started with an intensely traumatic event that was utterly unexpected. Thank goodness no-one died, but I know the experience will stay with me forever. Luckily I was able to see my therapist a couple of days after it happened. I also sought solace in the puppies, and spent a couple of days in the arms of a drop dead gorgeous Italian Billionaire courtesy of Rachael Stewart. If you want to check out what I was reading, then go and get yourself a copy of Our Little Secret now…
Back in April I'd started outlining book four, but come the start of May I was getting frustrated. There were huge gaps, particularly in the first and third acts, and I was getting anxious that it would never be started at all. Meanwhile, the part of me that wants to be spending all my time writing, was rebelling against my inactivity. Very early in the morning of Friday the 7th, when I was fighting to stay asleep, the following piece of dialogue came to me. I have no idea who the characters are, or what future story they will appear in, but it is very, very 'me'.
———-
He folded his arms across his chest and stared at her, his jaw set. 'You think you've got me all figured out, don't you?'

She folded her arms back. 'Yup.'

He raised an eyebrow. 'Really?' She nodded. 'What's my favourite colour?'

She didn't hesitate. 'Black.'

'Favourite food?'

'Babies.'

'Favourite song?'

'The Imperial March from Star Wars.'

'Middle names?'

'Damien, Lucifer, Sauron.'

'Wow,' he deadpanned. 'On the money all the way.'
———-
That weekend, in between work and reading a fabulous screenplay by Heather Grace Stewart, I had a heart to heart with my amazing author friend Margaret Amatt about book four. She told me to have faith and just start writing. The longest journey starts with a single step, and the longest book still starts with a single word. In the case of book four, this word was 'Oy!'
So, on Sunday the 9th of May, I started writing the fourth book in the Kinloch series. Here is the title, tagline and hook:
Musical Games.

Can music bring them together? Or will life tear them apart?

After lying to a Hollywood megastar, Sam needs Jamie to write an album with her in one week. He's got the voice of an angel and the body of a god, but fame is the last thing on his mind. Will he help make her dreams come true?
It has been an absolute joy to be writing again. I was worried that book three, which I finished in January, had been some kind of magical fluke, but book four seems to be just as bonkers. So far, I've used the words 'zombie apocalypse' and 'heat seeking missile carrying a payload of rabid cats', as well as referencing Shakespeare, and e e Cummings. Whether you're going to be reading my books for the comedy, the humour, the sex, or the obscure literary references, I've got all bases covered.
Every day, I send what I've written to my alpha reader, Pash. She keeps me going and is always there to bounce ideas off. The screenshot below is her comments after I sent her the opening scene. She then visited a couple of weeks later for work, and it was so amazing to have her reading what I'd written 'live'.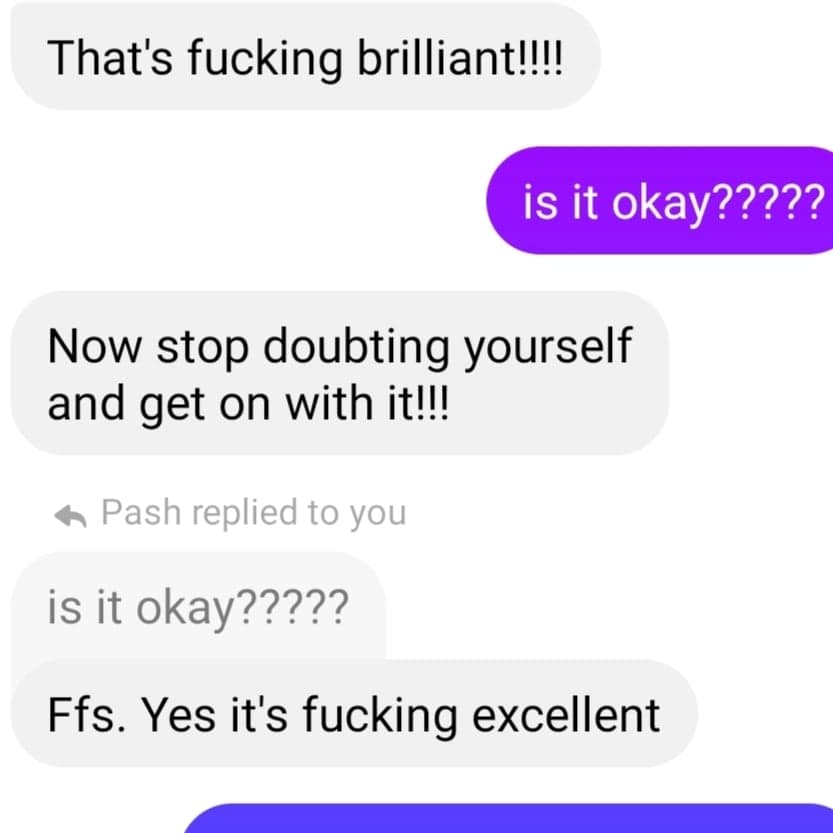 Because life is so crazy busy at the moment, I've set myself a goal of writing just five thousand words a week. Week one I wrote 6,524, week two I wrote 10,720, and as of today, (the Friday of week three), I've written 8,041. I'm now over 25,000 words in, and over the moon with how it's going. I'm so pleased in fact, that I've been giving sneaky peeks exclusively to my newsletter subscribers. They've already read the opening, and next week are getting a read of an insane meeting between Sam and her agent. If you want to read what I've been writing, then make sure you subscribe now!
In other news, at the end of the month I got the final edits of book one and two back from my editor. They're having one last proofread now, then they're being formatted, ready to send out to my ARC team. My editor is currently editing book three, and we expect that to be finalised completely by the end of June. My cover designer, Bailey, is working on covers for all four books at once, and I'm really excited to see what she comes up with.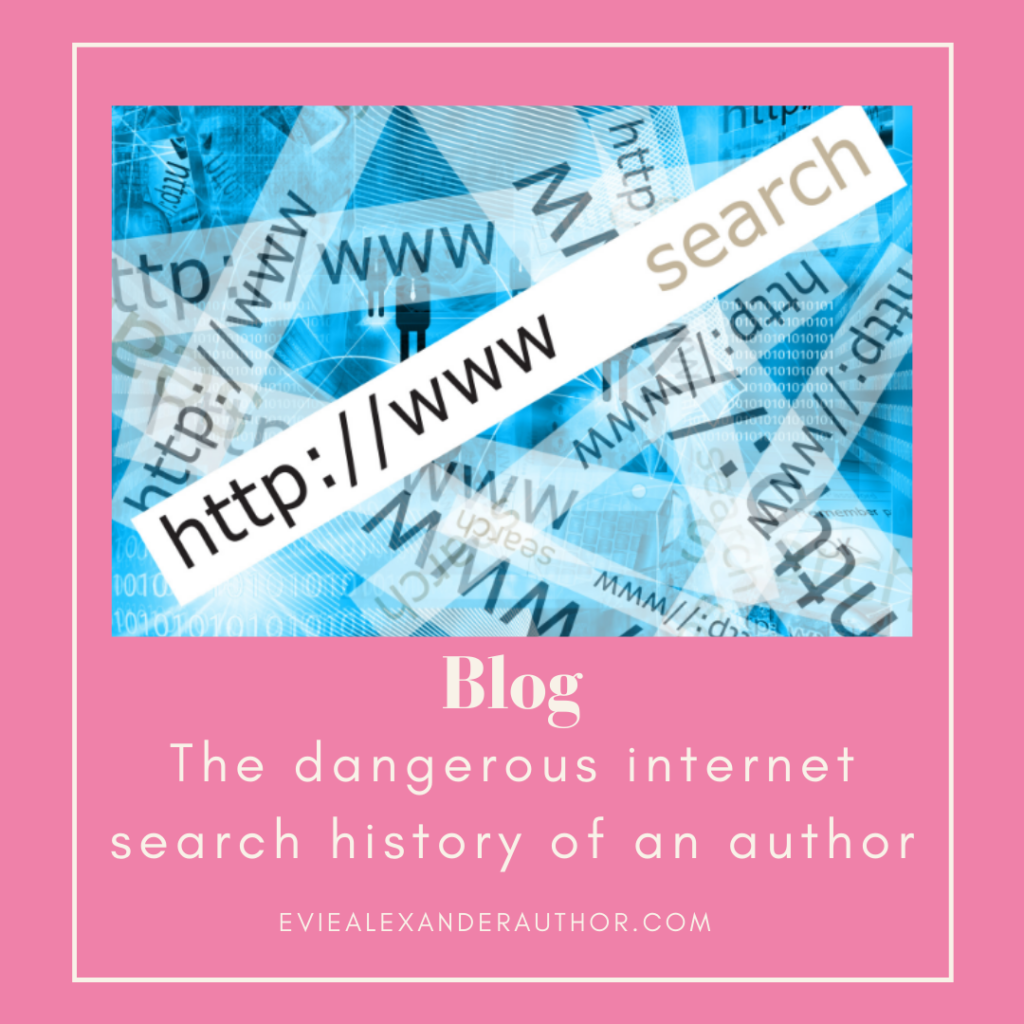 In terms of blogs this month, I've written a blog about The Dangerous Internet Search History of an Author, and one on Three Things I Wish I Knew Before I Started Writing, and Three Things I'm Glad I Didn't. I've also got two book review blogs out. The first features The Rearranged Life of Oona Lockhart, Bonk, Early Riser, and the second features The Alice Equation, Hot Mess, and The Kiss Quotient.
A stand out moment this May was winning at Scrabble against my professional copywriting husband. Unfortunately I wasn't allowed 'clit', but 'acquit' bagged me fifty-four points and the win! He was not best pleased, so I'm immortalising it in this blog forever and ever and ever…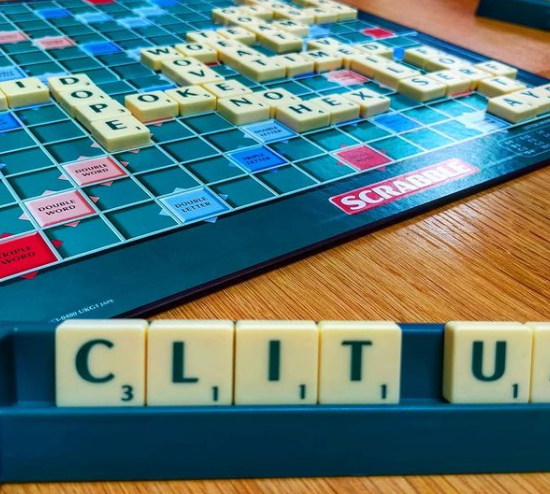 And of course, the month can't go by without another PUpdate. This month they have been mostly cute…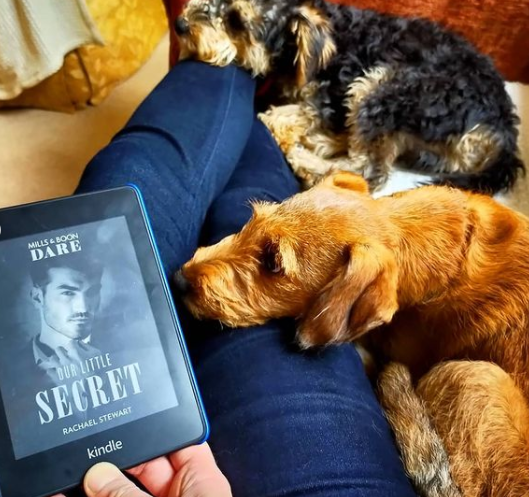 So, May 2021 is over. I've survived hail, near death experiences, and I'm a quarter of the way through writing book four. I think I'll take that as a major #win. If you've enjoyed reading this, and want to have a daily laugh at my expense with me, then follow me on Instagram and Facebook. And if you want to have a sneak peek at the prologue and chapter one of Highland Games, as well as two exclusive excerpts, AND a peek at book four, then sign up for my newsletter!
Stay something,
Evie X